If you want to know about the auditorium design or terminology used in landscape or introduction of landscaping and its role, please click the link.
---
A landscape garden is a type of garden design that seeks to create a natural-looking and aesthetically pleasing outdoor space that blends in with the surrounding environment. The goal of a landscape garden is to create a harmonious and functional relationship between the garden and its surroundings.
1) Hanging garden of Babylon (Mesopotamian civilization)
The garden is listed as seven wonders of the world as it existed in hot dry region
The garden was constructed by Nebuchadnezzar II for his queen Amytis
It existed in during 600-400 BC near Iraq
This was a structure in steps like Ziggurat on the bank of Euphrates River and irrigated by chain bucket system
It is called hanging garden as it looked projected when seen from top
Trees were planted by filling soil in sunken courts
Excellent example of Architecture and Hydrology Engineering

2) Persian Landscape style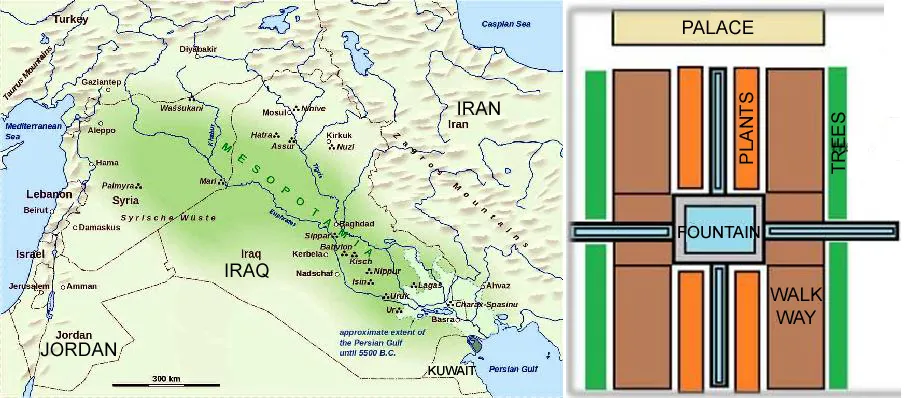 The land of Mesopotamian civilization is called Persia
It lies between the rivers Tigris and Euphrates
The climate of the region was hot –dry
The garden has rectangular geometry with division into four sectors
Symmetrical about central axis
Persian garden symbolizes Eden (Paradise on earth) and its division in to four sectors depicting four sacred elements soil, water, wind and fire
Shape made easy to precisely locate point for planting of trees and execution of structural elements
Wide application of thick brick wall around the rectangular garden as enclosure
The Persian gardens have been enlisted in world heritage site due to their OUV
Maintenance of circulation of water in channels creates functional and aesthetic exigencies
Cannels carrying water in rectangular layout
Arrangement of trees and plants create lower temperature microclimate
There are pools at regular interval to distribute water by gravity
The pool serves as a focus and source of humidity
The purpose of gardens are relaxation and socialization
The water channels, buildings, vegetation and terrain integrate together to create unique man-made environment
Music accompanied constantly to enhance the effect of flow of water in channels
The landscape design during Mughal period in India has been inspired by Persian style garden
3) Mughal Landscape style (1526-1857 AD)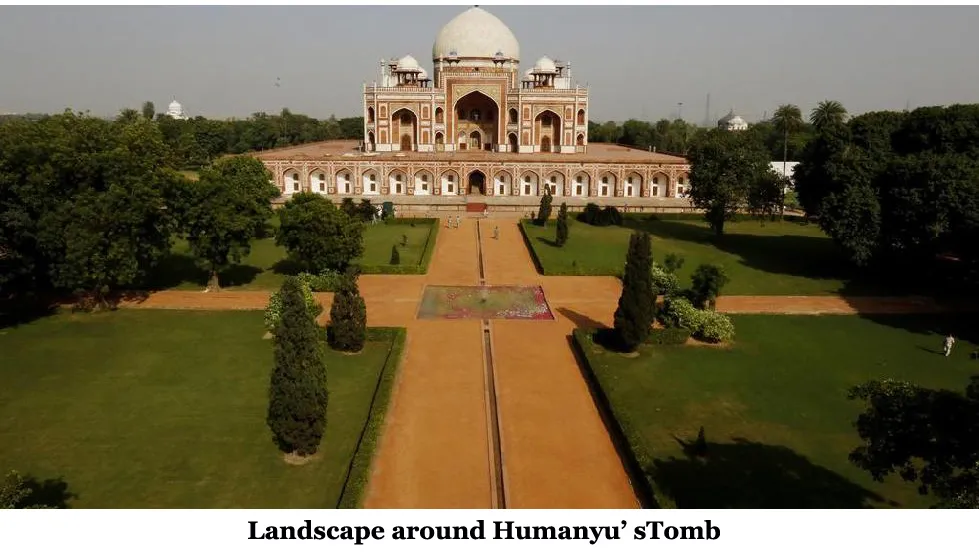 Mughals style landscape were inspired by Persian Landscape
The Mughal garden introduced by Babur to Indian was used to decorate surrounding of the buildings
The use of running water in their palaces and pleasure resort was a special feature of the Mughal garden
A notable feature of the Mughal Architecture was the used of red sand stone
Significant use of rectilinear layouts are made within the walled enclosure
The famous char bagh gardens are at Taj Mahal, Shalimarbagh at Lahore
Garden in which river flow is a phrase used in the Koran more than 30 times to describe Paradise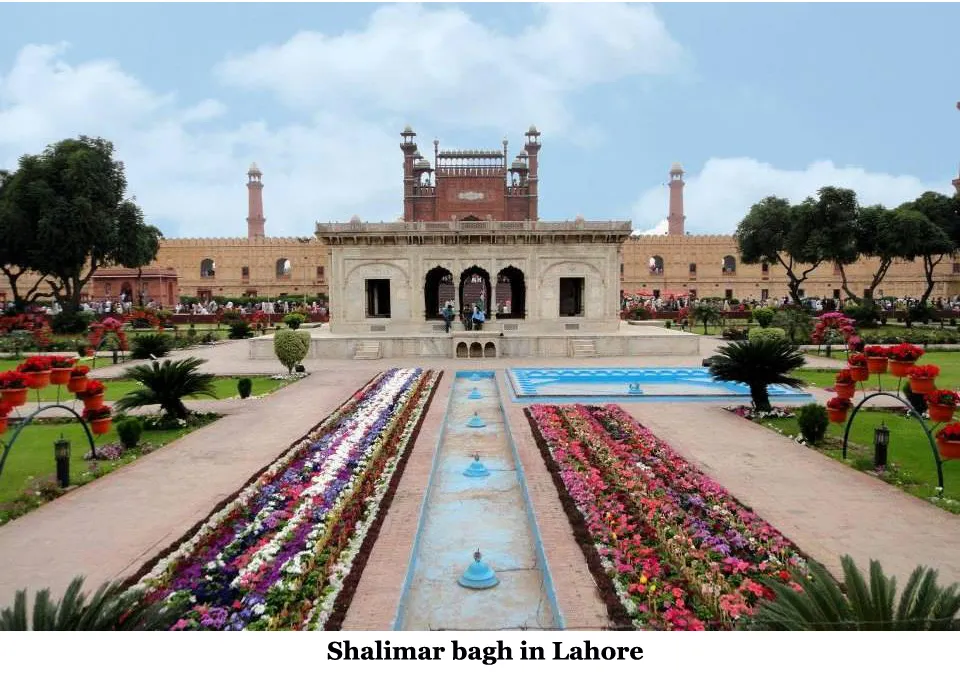 The Muslim rulers of subsequent times tried to create man-made reflections of the Koranic paradise on earth
Cool pavilions, flowing springs, gushing fountain shady and fruity trees, mentioned in Koranic description of Paradise are essential feature of Mughal garden
Salient features of Mughal landscape gardens
Walls
Gates
Fountains
Tomb
Baradari or Pavilion
Trees, flowers and birds
Connecting path to cross the water channel
4) Spanish gardens
The Paradise garden is interpreted with a central cross axis in four cardinal directions
Spanish gardens are symmetrical along central axis
Long water channels set in a walled courtyard where water, reflects and flows
The remaining four quadrants often had fruit trees and fragrarant plants
The characteristic sensory experiences are refreshing coolness, humidity, sounds, greenery and fragrance
This type of garden is compatible with the Spanish climate of sun and heat
Provision for shade are given with the use of arcade, pergolas, trellising and the garden pavilions
Ceramic elements and tiles are used in water feature, for structural, decorative and as paving

In Spanish garden style, Walled section create patio areas, courtyard house, and terraces offering views into landscape area
In the garden, tiered Spanish fountains and Moorish lantern are impressive landscape elements
Planting along walkways in Spanish garden is arrange as smaller plants to trees away from edge of path
Plants in Spanish garden are of wide variety like, fruit trees, Flowering and fragrance plants
Water is important constituent of Spanish garden with reflection of plants in the pool as in Islamic landscape
Sculpture and street furniture are important features
5) Japanese gardens (Zen Gardens)
Earlier Gardens in Japan were designed in order to bring spiritual sense to the garden
It was designed to give peaceful environment to people and can meditate
i) Characteristics features of Zen Gardens
No symmetry is followed
Planning is organic in shape
Harmony is key factor
Emphasis and dominance is strictly on the natural elements
The flow in organic shapes depicts rhythm
Hierarchy and variety can be seen in softscape
ii) Elements of Japanese garden
Water
Rock stone and sand
Garden bridges
Stone lantern and water basin
Garden fences and gates
Trees and flowers
Fish
Water
It is the most important element of Japanese garden
Water is present in the form of pond or stream
Japanese have learnt to exploit the sound of water in all its various forms, powerful water fall water basin
The banks of the water body are bordered by rocks in order to preserve natural shapes, Man- made ponds are unsymmetrical
In case of dry rock garden it is depicted by sand in wave form
In Buddhist tradition (Followed by Japanese), Water and stone are opposite and complement each other
As per the tradition, stream and ponds and stones are put at a place where it is most likely to be, as it attracts fortune
Rocks, Stone and gravel
Rock, Sand and Gravel are essential feature of the Japanese garden
Rocks act as coordinates for garden project
Variation in rock sizes offer greater contrast & interest resulting in more dynamic arrangement of rocks
Flat stepping stone provided to protect the grass from foot
Effect of ocean ripples through a swirling arrangement of stones and aggregate
Zen gardens have a unique feature of implementation of dry water bodies in the form of stone aggregate (depicting water) and rock depicting island
The ripple effect conveys a sense of calmness, tranquility and serenity.
Garden bridges
Bridges can be constructed with stones or wood
Bridges if made of wood can be painted red if it is used for temple
Stone lanterns
Stone lanterns are placed beside the water bodies to illuminate and enhance aesthetics
Fishes
Fishes of different colours in ponds are important feature of the Japanese garden
---
Overall, landscape gardening is a highly versatile and rewarding pursuit that allows individuals to connect with nature and create beautiful outdoor spaces.
---
Related video