If you want to know about the circulation in architecture or interrelationship of spaces or disabled parking space, please click the link.
---
In architecture, parking and turning radius refer to the amount of space required for a vehicle to park or make a turn within a certain area. The parking radius is the minimum amount of space required for a vehicle to park, including space for doors to open, while the turning radius is the minimum amount of space needed for a vehicle to make a turn.
These are important considerations in the design of parking lots, driveways, and other vehicular areas to ensure that vehicles can maneuver safely and comfortably.
Introduction
The growing population of India has created many problems – one of the challenging ones being car parking which we confront almost every day.
Parking spaces are usually outlined by 12-20mm wide yellow or white painted lines.
When parking is facing a wall, these lines are often painted at a height of up to 1 m for better visibility.
Guide rails in the floor along the side have also proved popular for demarcation of parking limits, and can be about 50-60cm long, 20cm wide and 10 cm high.
Where vehicles are parked in lines facing walls or at the edge of the parking deck in a multi-Storey carpark, it is common practice to provide buffers, restraining bars or railings up to axle height to prevent cars from going over the edge.
Where cars are parked face to face, transverse barriers about 10cm high can be used to act as frontal stops.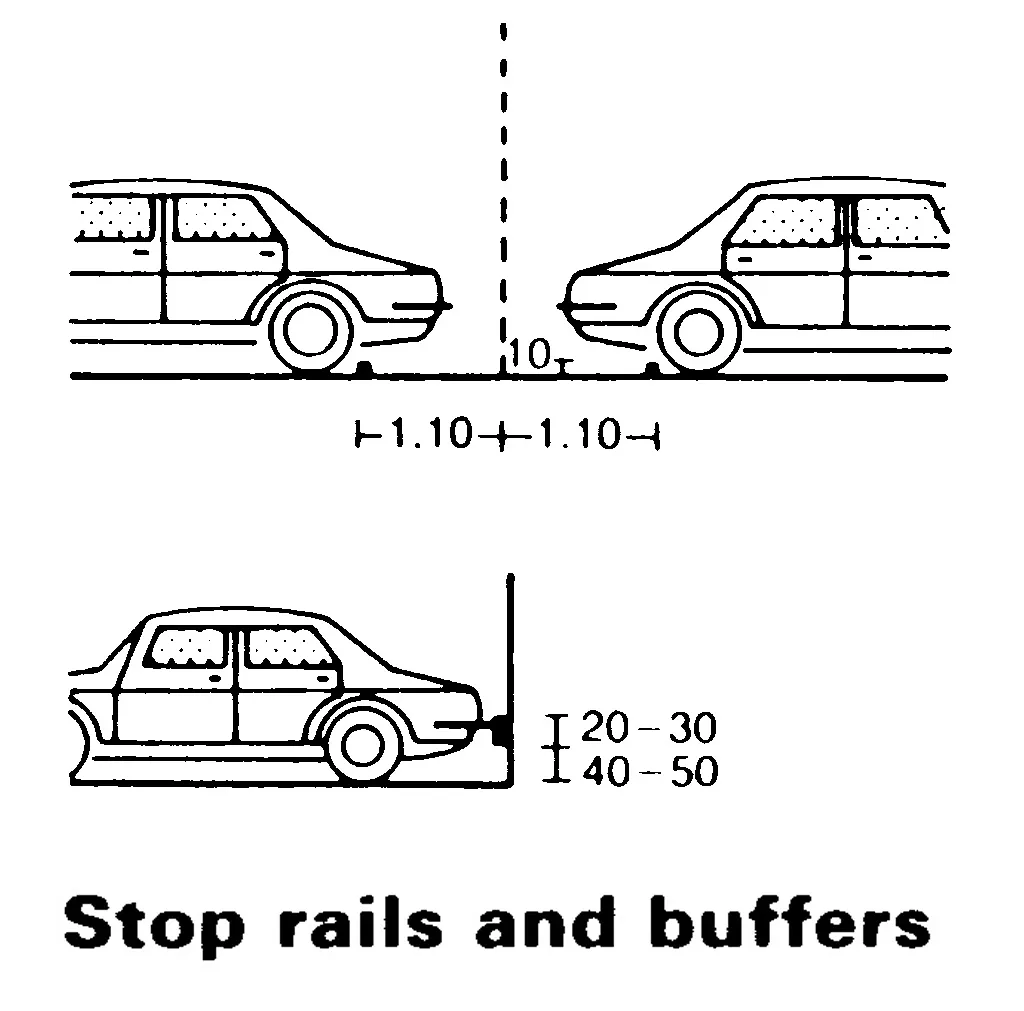 1) Type of parking
i) On street parking
On street parking means the vehicles are parked on the sides of the street itself.
This will be usually controlled by government agencies itself. Common types of on-street parking are as listed below.
As per IRC (Internet Relay Chat) the standard dimension of a car is taken as 5× 2.5 m and that for a truck is 3.75× 7.5 m.
ii) Off street parking
Off street parking means vehicles are parked off the street itself. This will be usually controlled by commercial agencies itself.
iii) Parallel parking
The vehicles are parked along the length of the road.
Here there is no backward movement involved while parking or un parking the vehicle.
Hence, it is the most safest parking from the accident perspective.
However, it consumes the maximum curb length and therefore only a minimum number of vehicles can be parked for a given kerbed length.
This method of parking produces least obstruction to the on-going track on the road since least road width is used.
iv) 30-degree parking
In thirty-degree parking, the vehicles are parked at 30 with respect to the ruined alignment.
In this case, more vehicles can be parked compared to parallel parking.
Also, there is better maneuver-ability.
Delay caused to the track is also minimum in this type of parking.
v) 45-degree parking
As the angle of parking increases, more number of vehicles can be parked.
Hence compared to parallel parking and thirty-degree parking, more number of vehicles can be accommodated in this type of parking.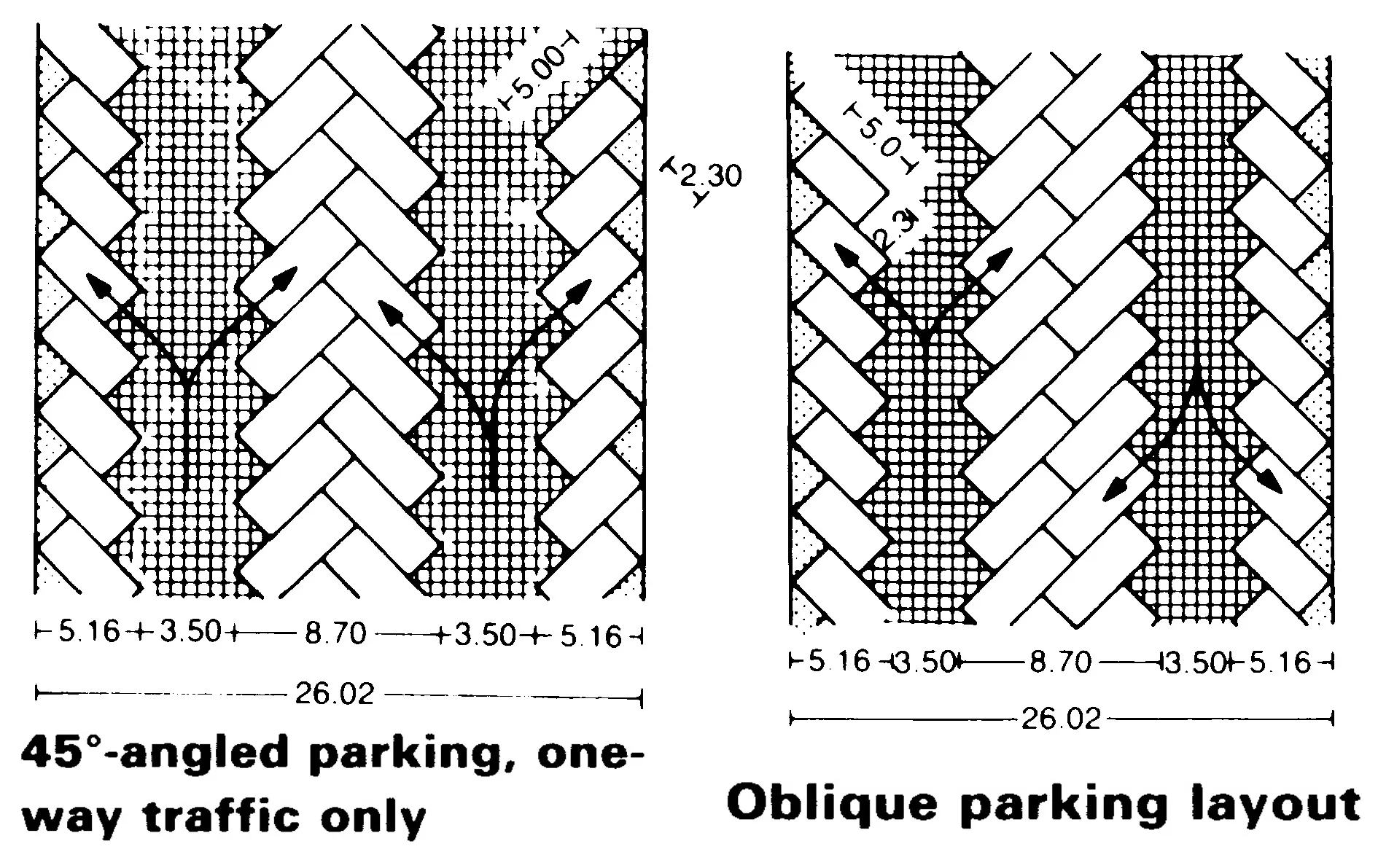 vi) 60-degree parking
The vehicles are parked at 60 to the direction of road.
More number of vehicles can be accommodated in this parking type.
vii) Right angle parking
In right angle parking or 90 parking, the vehicles are parked perpendicular to the direction of the road.
Although it consumes maximum width kerbed length required is very little.
In this type of parking, the vehicles need complex maneuvering and this may cause severe accidents.
This arrangement causes obstruction to the road track particularly if the road width is less.
However, it can accommodate maximum number of vehicles for a given kerbed length.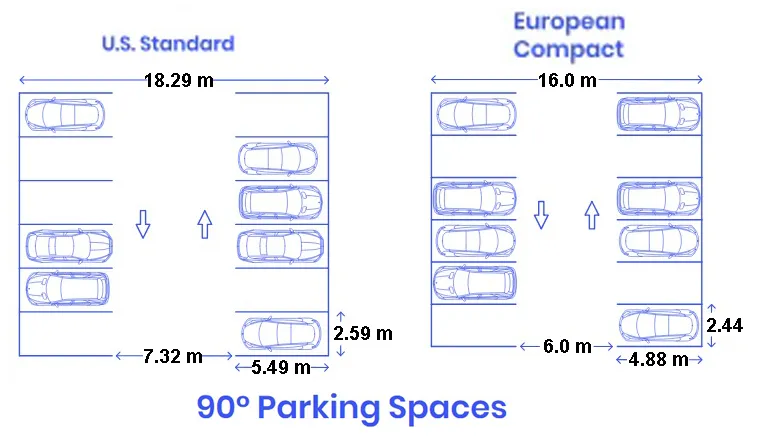 2) Turning path
The turning radius, or turning path, of a vehicle is the smallest circular turn that it can make.
Turning circles are used to evaluate how easily a specific car can make a U-turn or park.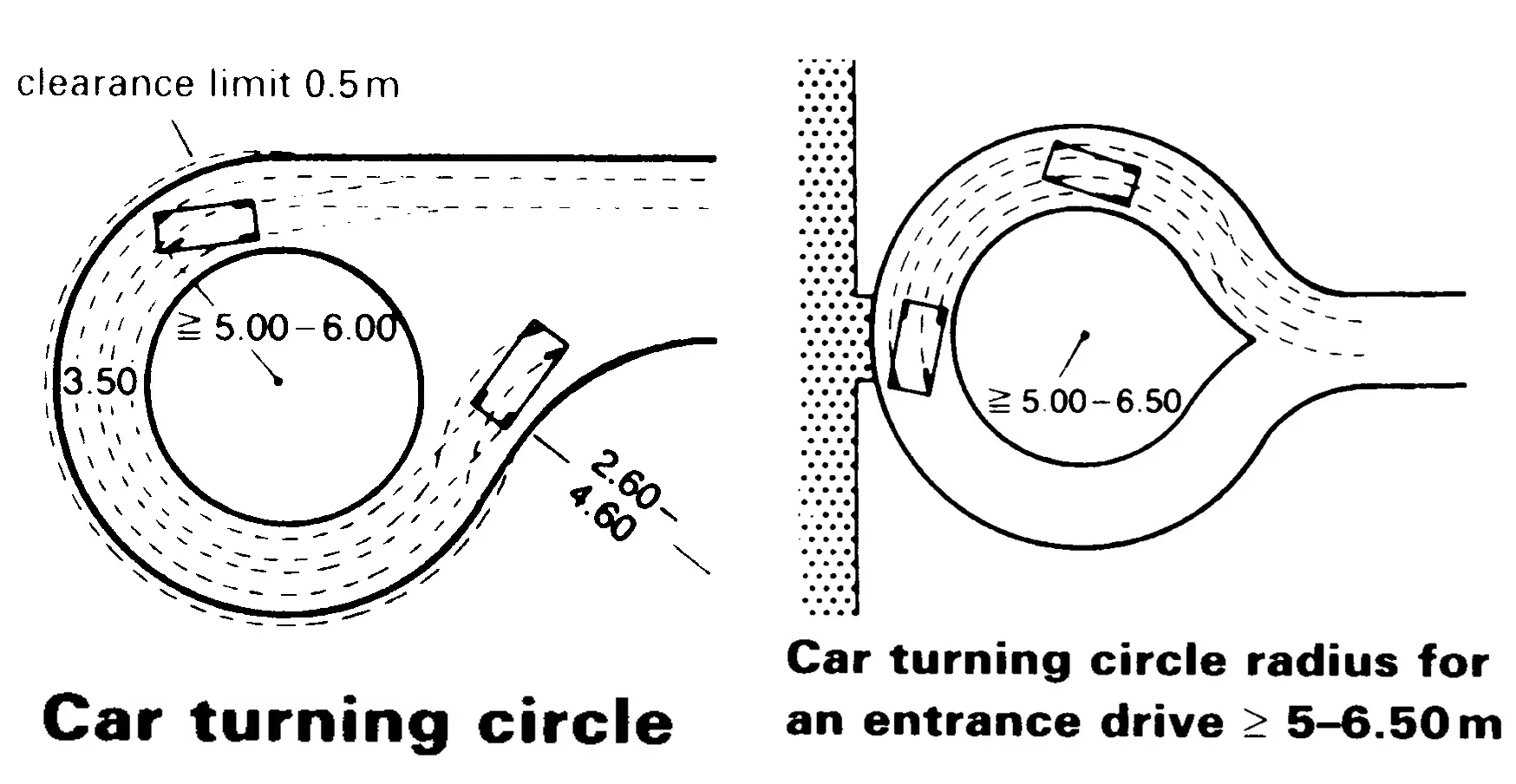 The type, size and shape of a turning place in a road depends on the road use in that particular area.
It also has to be suitable for the needs of the road users and must meet town planning requirements.
It is difficult to make recommendations for a correct choice of road turning place which is valid in all cases.
The interests of the fire and refuse collection services have to be taken into account in deciding on road turning places.
Many authorities refuse to service areas with dead-end roads or lanes, where refuse collection lorries can turn only by manoeuvring backwards and forwards or must reverse quite a long distance.
Road turning places can be designed as hammerheads, Turning, circles or loops as shown in the figure below.
The hammerhead type turning place calls for backwards and forwards manoeuvring.
Turning circles and loops are preferable, as motor vehicles can drive straight round them without having to stop.
To facilitate steering, road turning places should be arranged asymmetrically on the left, or on the right in the case of those countries like the UK which drive on the left-hand side of the road as shown in the figure above.
Adequate clear areas should be left along the outside edges of the turning areas to safeguard fixed obstructions from the overhang of turning vehicles.
In the case of turning loops, the central area to be driven around can be planted as shown in the figure.
Hammerhead turning places are really only suitable for cars.
They are not required for carriageways over 6m wide, if garage forecourts or footpath crossings are available for turning purposes.
---
---
Proper design of parking and turning areas can improve the flow of traffic, reduce the risk of accidents, and ensure compliance with regulations.
---
Related video