If you want to know about general building requirements or sanitary facilities requirements in building or cinemas design, please click the link.
---
There are several types of auditoriums, each designed for a specific purpose and use. The types of auditoriums include Conventional Auditorium, Multi-Purpose Auditorium, Black Box Auditorium, Acoustically Engineered Auditorium, Experimental Auditorium, Cinema Auditorium, and Lecture Hall.
1) What Is An Auditorium?
An auditorium is a room designed to host a range of audio and/or visual performances and their audiences. They can be found in entertainment venues, schools, community halls, and theaters. They may be used for rehearsals, presentations, performing arts productions, or as a learning space.
2) Auditorium Designs
An auditorium may be designed for a playhouse with stages for dramatic performances, a concert hall with orchestras for musical performances, or a theater house consisting of screens to watch movies or presentations.
Forms of auditoriums include:
Lecture halls
Opera houses
Concert halls
Theaters
Playhouses
3) Parts Of An Auditorium
Auditoriums come in many shapes and sizes, but designs typically consist of three main components:
The main seating area
The stage
Support spaces
4) Types of auditoriums (history)
i) Arena theatre
An arena auditorium is a large, circular or oval-shaped space with seating surrounding the stage. This type of auditorium is ideal for concerts, sporting events, and large-scale performances, as the seating is arranged to give everyone a good view of the stage.
A central stage surrounded by the audience on all sides, these styles of stage are some of the best for sightlines.
An example of an arena stage in an auditorium is the Glenn Hughes Penthouse Theatre in Seattle Washington, which was the first theater-in-the-round venue built in the US.
A theater in that the audience fully surrounds the stage or Playing space.
Actor entrances to the playing area are provided through vomitories or gaps in the seating arrangement.
The oldest type of stage
Used by ancient man
Originally used by the ancient Greeks
Audience sits on all sides of the stage
ii) Thrust theater
A thrust stage auditorium is similar to a proscenium auditorium, but the stage extends into the audience, creating a more intimate atmosphere. This type of auditorium is ideal for plays and other live performances, as the actors are closer to the audience and can interact more easily with them.
A stage that "thrusts" the performers into the audience for a greater sense of intimacy and drama, which is achieved by seating the audience on three sides of the stage.
Usually thrust stages are in a square performance area, surrounded by raked seating.
A theatre within which the stage is extended so the audience surrounds it on 3 sides.
The theatre stage could also be backed by an interior proscenium stage, providing an area for background scenery, however audience views into the proscenium opening are usually limited.
Actor entrances are usually provided to the front of the thrust through vomitories or gaps within the seating.
Second kind of stage Developed in ancient Greece Popular within the Renaissance
Developed in ancient Greece
Popular in the Renaissance
Audience sits on three sides of the stage
iii) Proscenium theatre
This type of auditorium has a large rectangular stage that is surrounded by a large, deep stage. The audience is typically seated in front of the stage, with a large opening called the proscenium arch separating the stage from the audience. Proscenium auditoriums are ideal for large-scale theater productions, operas, and ballets, as the stage is large enough to accommodate elaborate sets and special effects.
These styles of stage utilize space effectively and are an excellent choice for lecture halls and film presentations. The seating arrangement is usually multiple aisles, ideal for small spaces.
However, this is not the most intimate method of staging, so not as great for performances that require that level of intimacy.
In a proscenium theatre, the stage is located at one end of the auditorium and is physically separated from the audience area by a proscenium wall.
This is sometimes called a "two-box" arrangement—the auditorium and stage occupy two separate "boxes" or rooms.
The stage box (stage house) provides fly space and wings and permits a wide variety of scenic and lighting effects.
The auditorium box is the audience chamber, which may take many forms— fan-shaped, courtyard, lyric, etc.
Developed during Italian Renaissance
First example from Parma, Italy,1618
Audience sits on only one side of the stage
iv) Thrust and open stage
A stage that "thrusts" the performers into the audience for a greater sense of intimacy and drama, which is achieved by seating the audience on three sides of the stage.
Usually thrust stages are in a square performance area, surrounded by raked seating.
Some larger drama theatres take the form of a thrust stage, with the audience surrounding 3 sides of the performance platform.
The term open stage may be used interchangeably with thrust, however implies a a lot of frontal arrangement.
These and similar forms can accommodate a high seat count within a suitable distance to the stage. Audience balconies will increase the intimacy of the area.
v) Flexible theater
Flexible theatre could be a generic term for a theatre within which the playing area and audience seating are often designed as desired for every production.
Often, the theatre are often configured into the theater, thrust, and end stage forms described on top of.
Environmental, promenade, black box, and studio theatre are different terms for this type of space, suggesting particular features or qualities.

Recently developed for theatre (1960's & 70's)
A "catwalk" setup
Seating on two sides
Common in Europe – less so in the USA
Environmental theatre
A found space during which the architecture of the space is intrinsic to the performance, or a theatre house that's transformed into an entire surroundings for the performance.
The audience space and performance space are generally mixed, and therefore the action is also single-focus or multiple-focus.
In environmental theatre, the physical space is a necessary a part of the performance.
Recently developed (1960's USA)
Flexible Stage
Audience can move during performance
Promenade theatre
A theatre without fixed seating in the main part of the auditorium—this allows the standing audience to intermingle with the performance and to follow the focal point of the action to different parts of the room. Multiple-focus action and a moving audience are the primary characteristics of the promenade theatre.
Black box theatre
A black box auditorium is a flexible space that is used for theater, dance, and other types of performances. This type of auditorium is characterized by its simple, unadorned design, with the focus being on the performers and their work.
Black box theaters are usually created in "found" or converted spaces, with big empty boxes painted black to create an auditorium-like space. Neither the stage nor the seating is fixed, so the theater can be altered to meet the whims of the director.
A flexible theatre usually without character or embellishment—a "void" space that may indeed be black, but isn't always.
Usually, audience seating is on the main floor, with no audience galleries, though a technical gallery may be provided.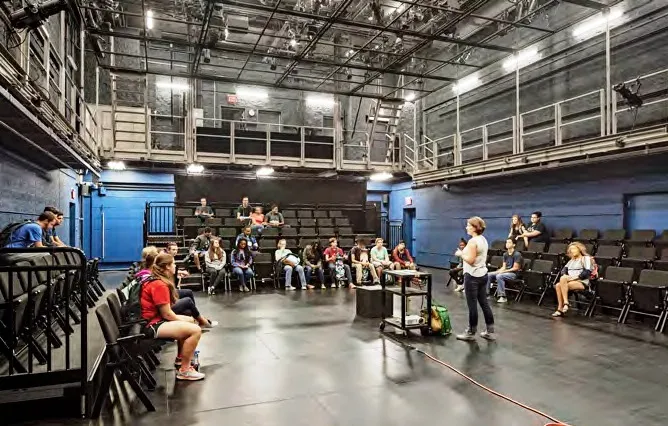 Most recent (1970's – today)
Usually a large, flat room painted black
Minimal and mobile seating
Studio theatre
A studio auditorium is a smaller space, typically used for rehearsals, small performances, and television or film production. This type of auditorium has a stage and seating, but the seating is typically arranged in a more flexible manner, allowing for multiple configurations.
A flexible theatre with one or more audience galleries on three or four sides of a rectangular space.
The main floor will sometimes be reconfigured into arena, thrust, end stage, and flat floor configurations. The space sometimes has some architectural character.
Courtyard theatre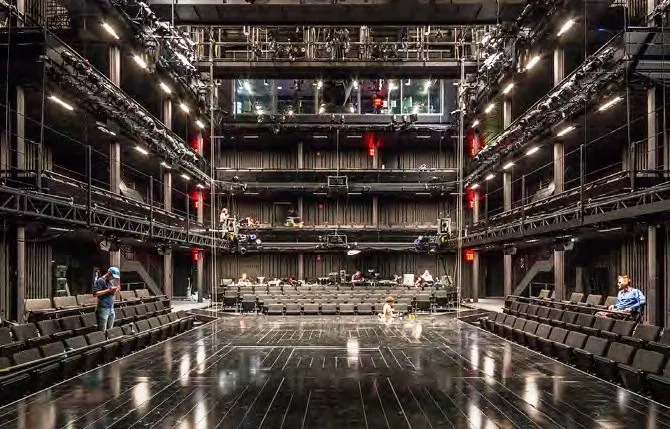 The term courtyard theatre embraces a variety of theatre forms, all with the common characteristic of a minimum of one raised seating gallery surrounding a central space.
Usually this central space is flexible, and might be organized into arena, thrust, end stage, and flat floor configurations.
Typically the central area has fixed seating that faces a proscenium opening and stage.
---
The design and functionality of each type of auditorium is tailored to meet the specific needs of the events it will host, and features such as the seating arrangement, stage size, and acoustics are carefully considered to ensure an optimal experience for both performers and audience members.
---
Related video