If you want to know about the types of lamps or introduction of electricity production or placement of electric equipment in building, please click the link.
---
Lighting design is an important aspect of any building design, as it can greatly impact the functionality and aesthetics of the space.
A light fixture, light fitting, or luminary is an electrical device used to create artificial light by use of an electric lamp.
All light fixtures have a fixture body and a light socket to hold the lamp and allow for its replacement.
Fixtures may also have a switch to control the light. Fixtures require an electrical connection to a power source; permanent lighting may be directly wired, and moveable lamps have a plug.
Light fixtures may also have other features, such as reflectors for directing the light, an aperture (with or without a lens), an outer shell or housing for lamp alignment and protection, and an electrical ballast or power supply.
Portable light fixtures are often called "lamps", as in table lamp or desk lamp. In technical terminology, the lamp is the light source, what is typically called the light bulb.
1) Types of luminaries / fixtures
Hall/Foyer Fixtures can create a congenial atmosphere, while providing you with the general lighting you need to greet guests and assure safe passage into other areas of your home. Use ceiling, chain-hung, or close-to-ceiling fixtures in hallways, stairways, and entranceways.
Chandeliers can add sparkle and style to your dining room while giving you the general lighting you need for dining and entertaining.
They are also used in bedrooms, foyers, or over a living room grouping or a grand piano.
Some are designed with down lights to provide task lighting for homework or table games, or to accent table settings.
Pendants can provide both task and general lighting.
Equipped with shades or globes to avoid glare, they are suspended from the ceiling over dinette tables, game tables, kitchen counters, or other work areas. When used over end or night tables, they free up the space occupied by table lamps.
The use of a dimmer control gives you the flexibility to vary the light to suit the occasion.
The main difference between pendant and chandelier lighting is how it is hung from the ceiling.
Pendant lights hang from one cord or chain system with usually just one, or maybe a pair of lights, on the end.
Chandelier lights hang in a branched system, utilized for hanging many lights; historically candles and now light bulbs.
Ceiling Fixtures usually provide general lighting. They are practical in busy areas such as foyers, hallways, bedrooms, kitchens, baths, laundry rooms, playrooms, and dens. They are available with incandescent, fluorescent, and energy-efficient compact fluorescent bulbs.
Wall-Mounted Fixtures can furnish general, task, and accent lighting. Many are designed to match and supplement dining room chandeliers, or to provide hallway, bedroom, or living room lighting. Wall brackets are often used for task lighting at the bathroom mirror. They are available with a choice of incandescent, tungsten-halogen, and energy-efficient compact fluorescent bulbs.
Portable Lamps can deliver general, task, and accent lighting, while giving you the flexibility to move the light whenever you want.
Table lamps, floor lamps are available in a variety of styles to complement your decor. Small specialty lamps, such as clip-on lights, up light cans, adjustable task lights, mini-reflector spotlights, desk and piano lamps fill a variety of task and accent light needs.
These lamps are available with incandescent, tungsten-halogen, and energy-efficient compact fluorescent bulbs.
Track Lighting can provide general, task, or accent lighting all at once in one flexible lighting system.
You can move, swivel, rotate, and aim the individual fixtures in any direction along the track, giving you the versatility to change your lighting scheme when the need arises.
You can also hang chandeliers and pendants from the track. Track fixtures are available in standard or low-voltage current, and a choice of incandescent, tungsten-halogen, and energy-efficient compact fluorescent light sources.
Recessed Lighting can provide general, task, or accent lighting inconspicuously.
Installed in the ceiling with only the trim showing, recessed fixtures can be used anywhere in the home, including outdoors under eaves.
They are ideal for low-ceiling areas, and with a special adapter they can also be used in cathedral ceilings.
They are available as down lights, adjustable accent lights, and wall washers in both standard and low-voltage current and a choice of incandescent, tungsten-halogen, and energy-efficient compact fluorescents.
3) Designing lighting for the Living Room or Family Room
When designing a lighting plan for a living room or family room, you need to consider the variety of activities that occur there.
You'll want to include general lighting for entertaining and watching television, task lighting for reading or sewing, and accent lighting for artwork, plants, and interesting architectural features.
Fireplaces made of brick or stone can be emphasized with recessed down lights installed in the ceiling over the mantle to create an intriguing grazing effect across the surface.
Wall sconces on each side of the fireplace are an attractive addition that draws attention to the fireplace area, while providing general lighting for the living room.
Reading requires task lighting that comes from behind the reader's shoulder. This can be accomplished by placing a floor lamp either at the right or the left of the reading chair. The bottom of the shade should be located at eye level to avoid glare.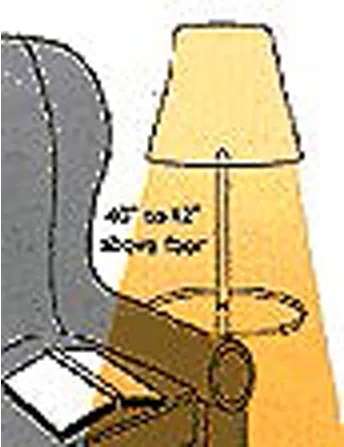 Paintings can be highlighted with low-voltage, tungsten-halogen picture lights. These frame-mounted lights spread a beam of bright, white light across the face of the painting.
Designing with Light in the Dining Room Dining room lighting should be both beautiful and functional.
This requires a mix of general, task, and accent lighting that can set the mood for a number of functions, including a formal dinner, a family get-together, and other activities such as homework, hobbies, or family bookkeeping. Dimming controls will enable you to vary the light for each occasion.
Recessed or track lighting provides general lighting, while enabling you to highlight prized possessions throughout the room. A ring of four recessed down lights around the dining table supplements the light from the chandelier, while providing accent lighting for your tableware. The pure white light of low-voltage fixtures with tungsten-halogen bulbs will make your crystal and silverware sparkle.
A buffet or sideboard can be flanked with wall sconces on either side. Choose fixtures that complement the style of your chandelier. Displayed objects can be accented with recessed down lights installed the ceiling above.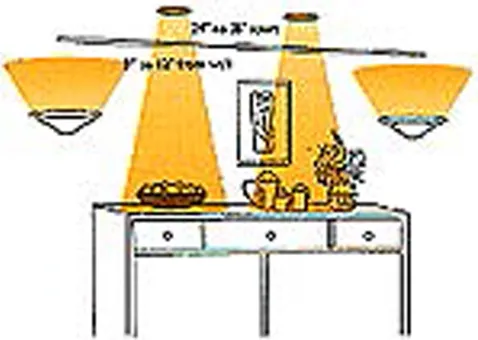 A family portrait can be dramatically lighted with recessed adjustable accent fixtures.
Ask the certified lighting consultants at your local showroom to help you choose fixtures that are best suited for this purpose.
4) Designing with Light Outdoors
Outdoor lighting enhances the beauty of your property, makes your home safer and more secure, and increases the number of pleasurable hours you spend outdoors. And it is an investment that pays off handsomely in the value it adds to your home.
A well-lighted front entrance enables you to greet guests and identify visitors.
Wall lanterns on each side of the door will give your home a warm, welcoming look, while assuring the safety of those who enter.
Under a porch or other overhang, you can use recessed, chain-hung, or close-to-ceiling fixtures.
A separate rear or side entrance can be lighted with a single wall lantern installed on the keyhole side of the door.
To conserve energy, consider post and wall lanterns that use new compact fluorescent or high-intensity discharge light sources such as mercury vapour or high pressure sodium .
Steps, paths, and driveways should be illuminated to make sure family members and guests are able to move about easily and safely after dark.
You can install path lights or post lanterns or attach lights to the side of the house.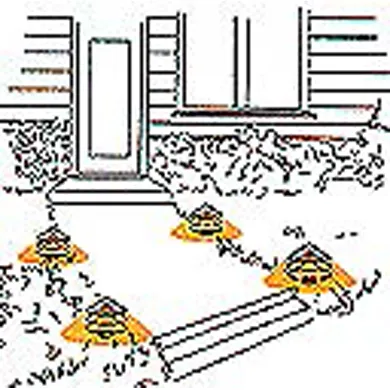 Low-level path lights, which spread circular patterns of light, will brighten your walkway, while highlighting nearby flower beds, shrubs, and ground cover.
These close-to-the-ground lights are available in fixtures using energy-saving low-voltage current. They are simple to install and can easily be moved to reflect changes in your landscaping.
Low-level path lights can also be used to define the boundaries of long driveways. Bollards, which stand 30 to 36inches off the ground, also work well. Use shielded fixtures to avoid glare.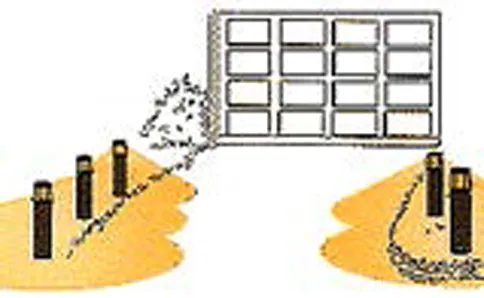 Hospitality, by definition, is "the quality or disposition of receiving and treating guests and strangers in a warm, friendly, generous way."
Lighting plays a significant role in setting the mood and atmosphere in an establishment, whether it be a restaurant, hotel, resort or casino.
There is no single formula to abide by or a "one size fits all" approach. It is important to create a careful balance between style, simplicity, functionality, and energy efficiency.
5) Considerations for hospitality lighting
Size and shape of the space
Traffic patterns through the space
Ceiling height and shape: light will be reflected off of these surfaces and contribute to the ambient light level in the room
Color of the walls: darker walls absorb more light and may require higher levels of illumination
Art work or highlight areas: determining the pieces and places to be highlighted helps determine the number of accent lights needed
Families of luminaires: recessed downlights used as adjustable accents and wall washers should match in aperture size and trim finish, as well as use similar lamp types. Compliment these choices with the same, or similar, finished fixtures to avoid drawing attention to the lighting system.
Hospitality lighting systems are complex: the key is to create an attractive, comfortable and functional environment. A common goal of any lighting design, but here, the guests' satisfaction with the environment determines the business's success.
When done successfully, hotel lighting should go completely unnoticed; it should integrate with the architecture and décor, it should feel comfortable and natural, it should welcome guests and provide a sense of comfort and safety.
No where else will you find as many space types – guest rooms, restaurants, meeting rooms, banquet halls – that create the whole experience. Each element must be addressed as an individual component, yet all are interconnected: by the mood and atmosphere that the lighting conveys, by the style of the architecture and décor.
6) The lobby
The hotel lobby gives the first impression about the hotel. Lighting here must focus on detail as much as the overall design; it must compliment the architecture, provide a safe exterior-to-interior transition, and reinforce brand identity.
The balance of the lobby must be warm, welcoming, and navigational. The registration area needs higher light levels to attract guests' attention, as well as provide adequate task lighting for desk staff.
Consideration should be taken to light the front desk staff's faces so they appear approachable. Consider using mono-point pendant fixtures with one of ConTech Lighting's exclusive shades to compliment the décor.
7) Meeting rooms, conference centers, halls & ballroom
The key to lighting these areas is flexibility and versatility; as rearranging the seating and partitions, as well as the use of the space and, therefore, the lighting schemes, are important.
Using two or more adjustable lighting systems is ideal.
The general lighting in the room, at a comfortable and navigational level, needs to be dimmable to vary the illuminance level for audio/visual presentations.
8) Corridors
Hallways and corridors are very important elements of the hotel as they connect the lobby to all other areas of the facility.
A safe, navigational, and energy conserving light level is around 5 foot candles, a conventionally low to moderate level.
The corridors must remain continuously illuminated for safety and clear passage; therefore, it is important to use energy efficient lighting.
All corridors must also have emergency lighting and exit signs, as they are paths of egress movement.
9) Guest rooms
When guests arrive in their room, they must feel a sense of total privacy, safety, and comfort. This is their home away from home for the extent of their stay. The lighting should be easy to maintain, and not easily broken or damaged. While primarily a bedroom, anything from reading, to watching TV, to entertaining, to sleeping, can occur in the space. Cost is a significant concern, as each guest room lighting plan is multiplied by dozens, or even hundreds, of rooms. With guest room lighting, high quality, energy efficient lighting is a necessity.
Guest Room Lighting Needs
Light at the bathroom mirror/vanity
Light at the entry hall to illuminate the path and the closet or clothes storage area.
Light by each side of the bed at an adequate foot candle level for reading
Light at the desk or work table
Adequate ambient lighting so the room does not seem dim
10) Restaurants, Bars
Lighting design for restaurants all depends on the type of venue, and the desired atmosphere. The perfect formula for lighting restaurants is a mixture of ambient and accent lighting that blends into the architecture and becomes unnoticeable.
This allows the addition of decorative luminaires to be just that – decorative – adding to the atmosphere and mood of the restaurant.
It is important to consider zoning.
the overall ambient lighting should be subtle, but passageways, service areas, and hallways should be more brightly lit. The light levels should be appropriate for the space.
A low voltage mono-point pendant is a perfect option for over dining tables; the light will be concentrated on the table. Color rendition is extremely important in a restaurant setting; not only for the appearance of the space, but also the patrons and most crucially, the food itself.
---
Overall, a well-designed lighting plan can greatly enhance the functionality and aesthetics of a building, while also providing energy efficiency and cost savings.
---
Related video