If you want to know about the cost-effective architecture or site analysis or cost-effective materials, please click the link.
---
Cost-effective construction technologies are innovative solutions that are designed to reduce the cost of construction while still maintaining high standards of quality and safety. These technologies range from new building materials to advanced construction methods and techniques.
Foundations
Walls
Roofs
Opening supports
Doors and Windows
2) Foundations
Rammed Earth
Random Rubble
Brick Masonry
Split Bamboo Piles
Under Reamed Pile Foundation
Arch Foundation
i) Rammed Earth Foundation
Rammed earth, also known as pisé (French), is a technique used in the building of walls using the raw materials of earth, chalk, lime and gravel.
It is an ancient building method that has seen a revival in recent years as people seek more sustainable building materials and natural building methods.
Rammed earth walls are simple to construct, incombustible, thermally massive, very strong and hardwearing.
Conversely they can be labour-intensive to construct without machinery (powered rammers), and if improperly protected or maintained they are susceptible to water damage.
Traditionally, rammed earth buildings are found on every continent except Antarctica.
From temperate and wet regions of north Europe to semi dry deserts, mountain areas and the tropics.
The availability of useful soil and building design for the local climatic conditions are the factors which favour its use.
Rammed earth foundations are made of well graded soil, preferably with a stabilizer for water resistance and higher strength.
The site must be well drained and great care is needed to protect the foundation from ground moisture, especially with a plastic foil or bitumen felt.
Bitumen paint, or a facing of rubble stone or burnt bricks are alternatives.
When in doubt about suitability of rammed earth foundations, they should not be used.
Stabilised soil blocks can be used instead, but similar protective measures are necessary.
Wherever possible, the earth foundation should be placed on a concrete footing.
The foundation is made in formwork, in the same way as the walls: layers of 10 cm soil are tamped down to 6 – 7 cm, before the next layer is filled up.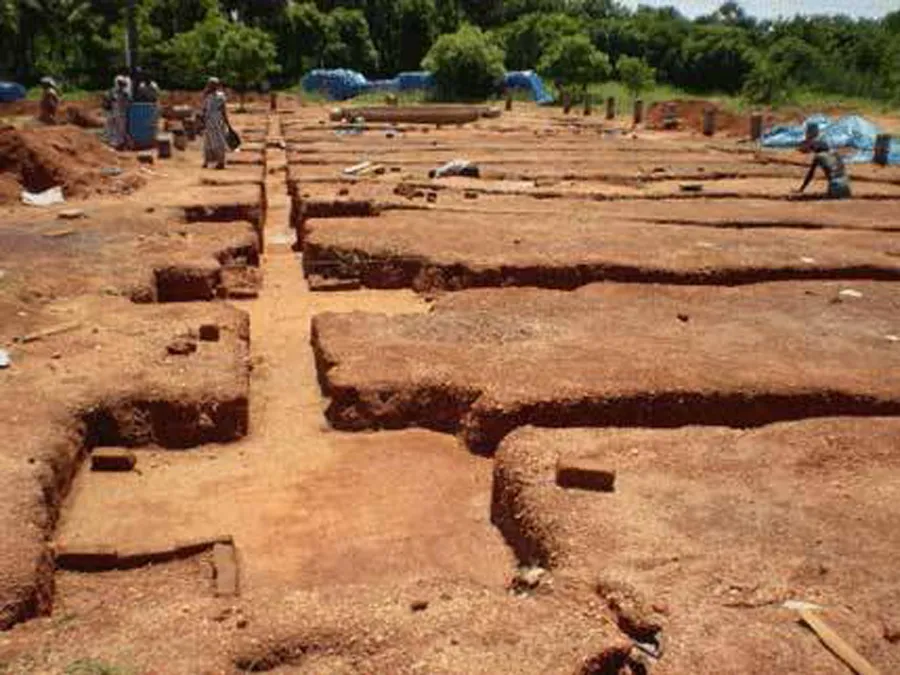 ii) Random Rubble Foundation
These foundations are made of rubble (undressed stone).
The quality of mortar is of importance to achieve good strength. An example of a good mix is:
– 4 parts cement,
– 1 part lime,
– 12 parts clean sand, and
– sufficient water to make a workable mix.
Construction should start on firm, uniform strong subsoil. It should not be started on grass, black fertile soil, filled up materials or mud.
Under the foundation there should be a layer of lean concrete (min. 5 cm) or tamped sand; minimum depth 40 cm.
In earthquake areas, reinforcement with wire mesh or steel rods is required, but professional advice should be sought.
iii) Brick Foundation
iv) Split Bamboo Piles
Split-bamboo piles filled up with loosely wound coconut coir strands of about 6 mm diameter each tied up with spirally wound jute thread along its length and wrapped with a layer of thickly knit jute burlap have been successfully used.
Treated split-bamboo steps were holed at random points and tied up together at regular intervals with galvanized iron wire after putting the coconut coir wicks inside along its entire length.
These specially made split-bamboo piles are used in stabilizing the soft compressible subsoil of an actual construction site which consists of a top layer of about 2 m thick, soft to medium stiff sandy clayey silt underlain by a layer of about 6 m thick very soft silty clay which is again underlain by a layer of medium dense silty clayey sand.
The split-bamboo piles, each about 8 m long, 80 to 90 mm diameter, are driven by a drop hammer at 2 m spacing in a square grid. After installation of the piles the entire area is covered with about 2 m surcharge of sandy materials.
v) Under Reamed Pile Foundation
Such type of foundations is ideally suitable in the areas where the black cotton soil or expansive soil is beyond 2.50 metres.
The basic principle of under reamed pile is to anchor the structure at a depth where ground movement is negligible due to moisture variation or other reasons.
Simple tools are required for construction of under-reamed piles like spiral auger, under reaming tool, and boring guide.
This is a well proven and established technology for construction of foundation in expansive soils.
For speeding up the construction, bore and under ream for large diameter and deeper pile, a mechanical rig can be used.
The construction and design of such foundation can be done in accordance with Indian Standard Code of Practice IS 2911-Part III.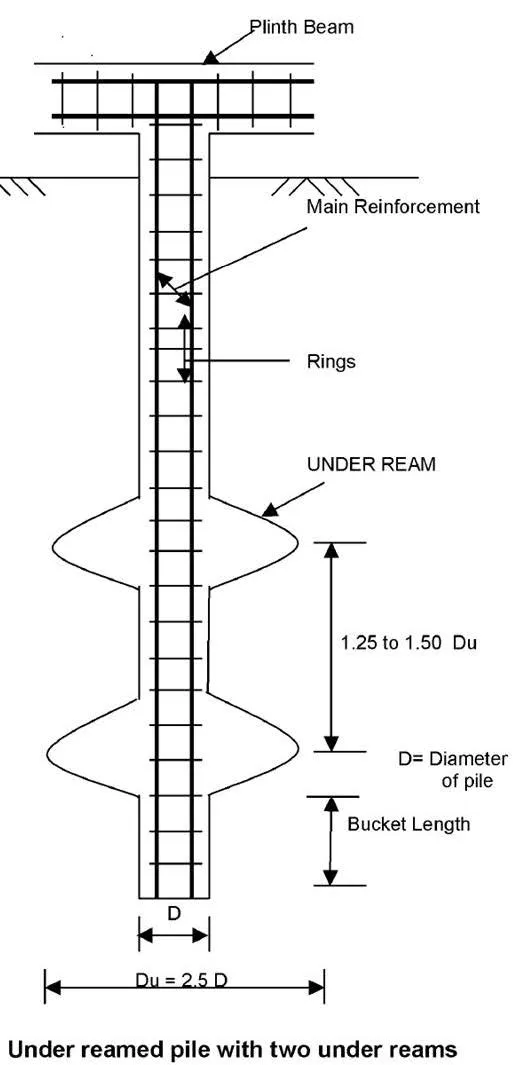 vi) Arch Foundation
In an arch foundation, the walls are supported on brick or stone masonry arches springing from a series of square cement concrete bases as in the sketch.
When to use arch foundation?
– If condition of the soil is good.
– Generally, for low rise buildings.
Advantages
– Saves materials like cement, coarse rubble stone, sand, etc.
– Labour intensive system.
Disadvantages
– Requires high degree of technical supervision.
Method
– Square bases of designed dimensions and positions to be
excavated and then 150 mm thick plain cement concrete (1:3:6) should be laid.
– Soil between these pockets should be cut as per designed profile and 75 mm thick lean concrete (1:5:10) to be laid on it.
– Coarse rubble stone masonry arch and wall should be constructed as a monolith.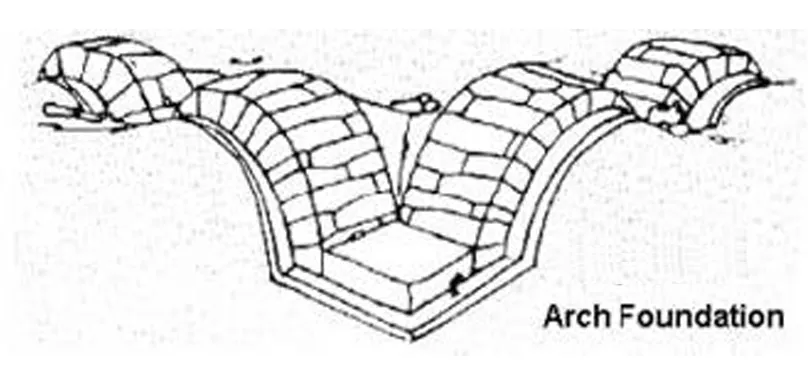 3) Walls
Cob Wall Construction System
Wattle & Daub Construction System
Straw Bale Construction System
Rammed Earth Wall
Adobe Block Construct Technology
Compressed Stabilised Earth Blocks Technology
Rat-Trap Bond Brick Masonry
Ferrocement Wall Construction System
Interlocking Cement Stabilised Mud Block (ICSMB) Masonry
Stone Concrete Block Masonry
Combined Wire-cut and Country Brick Masonry
4) Roofs
Precast Reinforced Cement Concrete Channel Roofing
Precast Reinforced Cement Concrete Plank & Joist Roofing
Prefabricated Brick Panel Roofing
Precast Hollow Slabs Roofing
Precast Ferrocement Channel Roofing
Filler Slab Roofing
Jack Arch with Bricks and Precast RCC Joist Roofing
Stone on Precast RCC Joist Roofing
Micro Concrete Tiled Roofing
Corbelled Brick Pyramid Roofing
5) Opening Supports and Doors & Windows
Opening Supports
Precast Reinforced Cement Concrete Lintel
Brick and Reinforced Cement Concrete Lintel
Brick Arch
Brick Corbel Arch
Doors & Windows
Frameless Doors and
Windows
Brick Jalis
---
Overall, cost-effective construction technologies offer a range of benefits, including reduced construction costs, improved sustainability, and increased efficiency, which can make building construction more accessible, affordable, and environmentally friendly.
---
Related video