If you want to know about the elements of design or cost-effective architecture or methods for reducing cost in design, please click the link.
---
Cost-effective materials are materials that provide good performance and functionality at a relatively low cost. These materials can be used in a variety of applications, from building construction to consumer goods.
1) Introduction
Construction of cost-effective buildings by using the low cost building materials increases the access to buildings by low income group peoples.
Cost-effective buildings can be achieved by use of
efficient planning and project management,
low cost materials,
economical construction technologies, and
use of alternate construction methods.
The use of such methods can decrease the cost of construction and make the cost-effective buildings accessible to all.
2) Selection criteria for CEBMs
The first step to cost-effective building material selection is to select eco-friendly building materials.
This also enhances the sustainable design principle.
The life cycle of a building material can be divided into three stages –
Pre-construction,
Building construction & use/maintenance, and
Post-building construction & use.
Each stage of building material should be such that they help conserve the energy.
Pre-construction stage consists of manufacture which is subdivided into processing, packing and transport.
The building construction & use phase mainly consists of construction, operation and maintenance whilst the last stage would be disposal where the material can be recycled or reused.
3) Classification
Cost-Effective Materials can be classified on the basis of the building structure:
Foundations
Walls
Roofs
Floors
Opening supports
Non-structural items
4) Exercise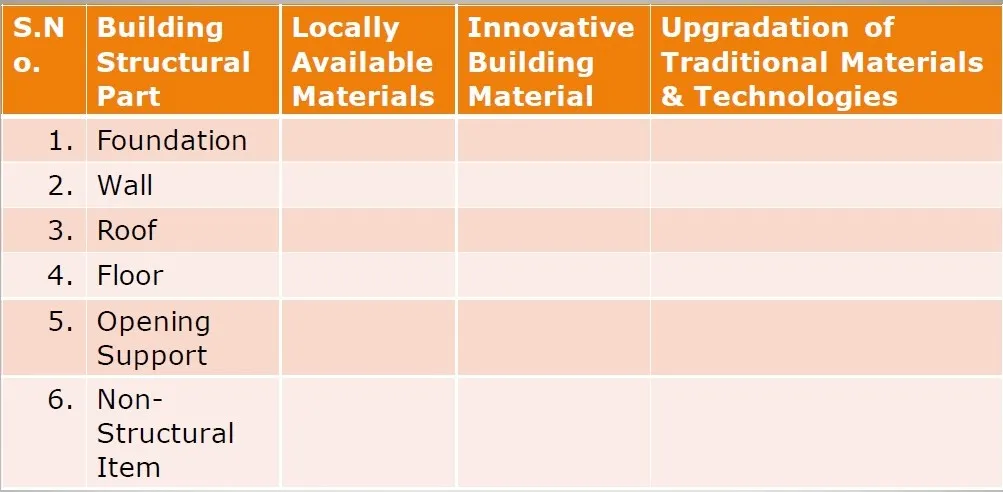 i) Foundations
Locally available materials
Mud (Rammed Earth Foundation)
Brick
Stone (Random Rubble Foundation)
Bamboo
ii) Walls
Locally Available Materials –
Adobe
Brick (Sun-dried / Country / Wire-cut)
Stone
Bamboo (Split / Whole)
Fly-ash Bricks
Bamboo Reinforced Plaster Composite
Pre-fabricated
Light-weight Concrete Block Panels
Upgradation of traditional materials & technologies-
Compressed Earth Blocks (CEB)
Stabilised Mud Blocks (SMB)
Cement Stabilised Mud Block (CSMB)
Interlocking Cement Stabilised Mud Block (ICSMB)
Stone Concrete Block (SCB)
Timber/Bamboo Mat Wall (Ikra Walling)
iii) Roofs
Locally Available Materials –
Thatch (Reed/Straw)
Clay Tiles (Mangalore / Pan / Spanish)
Stone (Slate)
Wood (Shingles)
Bamboo
Upgradation of traditional materials-
Stone Patti Roofing
Pyramidal Brick Roof
Extruded Structural Clay Unit
Ferro-cement Roofing
Plastered Bamboo
Bamboo Mat Corrugated Sheet
Coconut Fibre And Wooden Chips Roofing Sheets
Cement Bonded Fibre Roofing Sheets
Micro Concrete Roofing Tile
Pre-fabricated Roof Panels / Trusses
iv) Floors
Locally Available Materials
Mud
Brick
Stone
Timber
Bamboo
Bamboo boards
Bamboo Reinforced Plaster Composite
Upgradation of traditional technologies –
Red / Black oxide
Cement Concrete
Terrazzo or Mosaic
Jack arch
Bamboo mats
Broken Brick
v) Opening Supports
Flat Arch
Corbel Arch
Semi-circular Arch
Segmental Arch
Pointed Arch
Brick & RCC lintel
vi) Doors & Windows
Precast RCC Doors & Windows / Frames
Brick Jalis
Bamboo
Wooden Planks
---
Overall, cost-effective materials are important in many industries, as they allow for the production of high-quality products at a lower cost, making them accessible to a wider range of customers.
---
Related video