If you want know about Dpc and water proofing or Introduction of pile foundation or Types of concrete and its uses or Types of foundation or Types of footing please click the link above.
---
1) D.P.C. (Damp proof course)
A damp proof course ( DPC ) is a physical barrier inserted into the fabric of a building to stop water passing from one place to another.
It is of two types: Horizontal, Vertical

2) Function of DPC
Keeping moisture from entering through the foundations
Blocking moisture passage at exterior walls
A horizontal DPC is usually placed 6 inches above ground level and used in conjunction with a damp proof membrane which stops water rising to any part of the ground floor from the ground.
In many older properties a non porous stone allow water to be soaked up through it. It is not practical in most cases, to remove a course of stone to place a plastic, lead or slate DPC in the wall they require the injection of chemicals into the walls
3) Application
Moisture in wet ground is very likely to soak up into the walls from the foundation, thus causing the building to be very unhealthy and producing rot in the woodwork.
To prevent the moisture from rising through the foundation walls, a horizontal damp-proof course should be placed in all walls .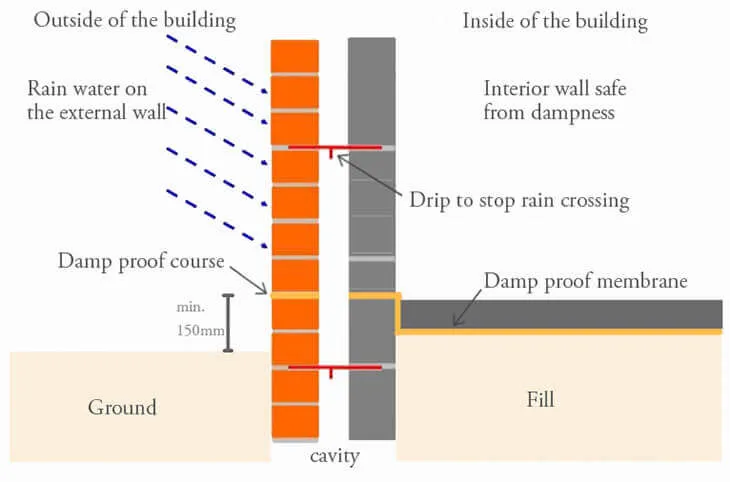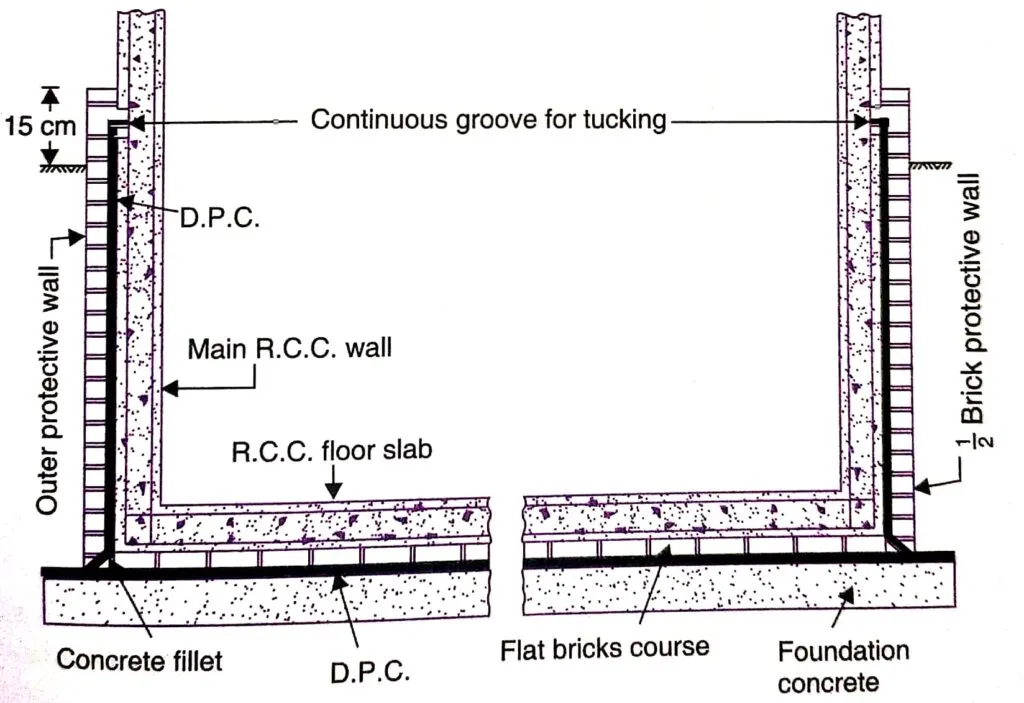 In many cases, when buildings are finished with parapet walls, it is customary to put in a damp-proof course just above the flashing of the roof or gutter, in order that the dampness produced by driving rains may not soak down into the woodwork of the roof, and from there to the walls below.
4) Materials
Acrylic Modified Cement
Bituminous
Asphalt
Coal tar pitch
5) Protecting damp proofing
Thin sandwich of asphalt saturated felts, polythene film and modified asphalt with mineral filler. Metal oxide water Proofing receives a mortar or concrete protective course.
7) Surface preparation
Should be smooth, hard, dry.
Free of bond breaking substances.
Oil free concrete or masonry surfaces.
Free from holes, projections, severe cracking.
8) Laying and installation
Cover full thickness of wall
Base should be clear even and free from projections.
Side shuttering should be strong
Concrete surface should be prepared
Desired material should be laid
9) Water proofing
Waterproofing products are designed to "prevent" water penetration even under wet conditions such as hydrostatic pressure in the soil after heavy rain storms or spring thaws.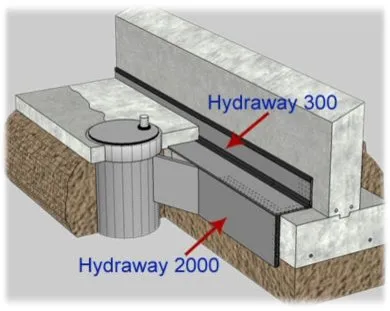 Aquaseal's products contain rubber which provides superior waterproofing protection and allows the product to remain flexible even when it dries. This flexibility allows the waterproofing membrane to stretch as the foundation settles and bridge small hairline settlement cracks that can occur in the concrete or block
10) Types of water proofing
Positive face
Negative face
11) Materials
Acrylic modified cement
Metal oxide
Bituminous – Asphalt, Coal tar pitch
Lead
bentonite – Panels Sheets
11) Difference DPC and waterproofing
Damp proofing is tar based, while water proofing is rubber based.
Damp proofing slows the process of water absorption.
Water proofing prevents the process of water absorption.
Water proofing is friendlier when it comes to environmental concerns.
Water proofing is initially more expensive.
Damp proofing is cheaper in the beginning, but leads to more expensive problems later on.
Damp proofing cracks along with the foundation, while water proofing stretches to cover those cracks.
Water proofing prevents hydrostatic pressure from ruining a foundation
---
Related video