If you want know about Dpc and water proofing or Introduction of pile foundation or Types of concrete and its uses or Specifications in architecture work or Types of footing please click above.
---
1) Infill wall
The infill wall is the supported wall that closes the perimeter of a building constructed with a three dimensional framework structure
Non – load bearing
Resist wind loads applied to the facade
Supports cladding
2) Infill wall material selection criteria
Lightweight
Fire resistance
High durability
Rigid
Less maintenance
Resistance to load ( wind load )
Thermal comfort
Acoustic comfort
Water leakage
3) Burnt clay bricks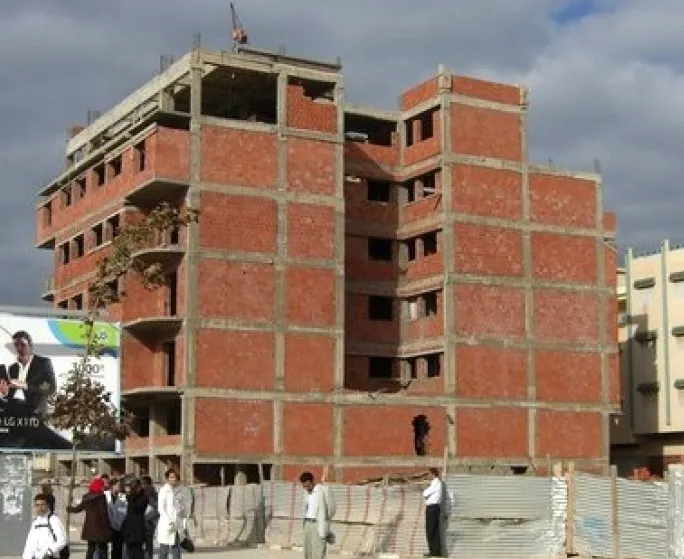 3) Foam concrete or cellular lightweight concrete blocks
Foamed concrete typically consists of a slurry of cement, fly ash or sand and water.
This slurry is further mixed with a synthetic aerated foam in a concrete mixing plant.
Foamed concrete mixture is then poured or pumped into moulds (this requires up to 24 hours to solidify).
i) Advantages
Weight reduction of superstructure using foam concrete walls: less steel reinforcements required for slabs, columns, beams and foundation due to lesser load.
Earth quake resistant due to lesser weight of building
Suitable for buildings in hurricane, cyclone and flood affected areas as the damage caused by foam concrete walls and roofs are minimal compared to conventional concrete based structures.
Reduced cost of raw materials: By adding air, enclosed in foam bubbles, the volume of concrete can be increased at very low cost.
Environmentally-friendly/Energy savings
Faster construction using cast-in-situ application
Improved thermal insulation: Foam concrete can achieve the same insulation results as normal concrete with only 20% of the weight and 10% of raw materials.
Improved fire protection: A wall of 13 cm thickness and 1,250 kg/m³ can withstand a fire for 5 hours. A wall of 10 cm thickness and only 400 kg/m³ achieves the same result, due to the air enclosed in the cellular concrete.
Easy to use/ produce/ handle
Low investment: Just one simple machine required.
5) Hollow concrete block
Hollow concrete blocks are precast masonry units made out of fly ash concrete mix with hollow cavities and are intended for use in the construction of both load bearing and non-load bearing wall structures.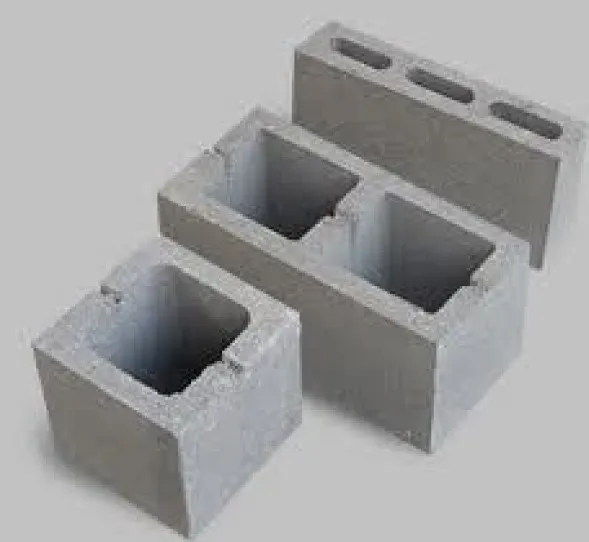 i) Advantages
Highly Durable: The good concrete compacted by high pressure and vibration gives substantial strength to the block. Proper curing increase compressive strength of the blocks.
Low Maintenance, Color and brilliance of masonry withstands outdoor elements.
Load Bearing, strength can be specified as per the requirement.
Fire Resistant
Provide thermal and sound insulation: The air in hollow of the block, does not allow outside heat or cold in the house. So it keeps house cool in summer and warm in winter.
Economical
Environment Friendly, fly ash used as one of the raw materials.
8) Autoclaved aerated concrete block
AAC material was developed in 1924 in Sweden.
Cement + Sand + Lime + Water + Rising Agent = AAC
SIZE : 600 X 200 X (75 to 300)
Contains 60% to 85% Air by Volume.
It has a porous structure
i) Properties
Fire Resistance – Depending upon the thickness, AAC blocks offer fire resistence from 2 hours upto 6 hours.
Pest Resistence – AAC blocks consist of inorganic material in its constitution, so helps preventing termites.
Sound Proof – The porous structure of AAC blocks results into enhanced sound absorption.
Earthquake resistant – The light weight property of the AAC blocks results into higher steadiness of the AAC blocks in the structure of the buildings.
Faster Construction – AAC blocks come with larger sizes and fewer joints which results in faster construction work as the installation time is significantly reduced due to fewer amounts of blocks and the masonry amount involved is also lowered resulting into reduced time-to-finish.
Long Lasting – Higher level of strength of these blocks gives
higher stability to the structure of the building.
Cost Saving
Non-Toxic
Thermal Insulation – The thermal conductivity of the AAC blocks helps maintaining the inner temperature to be warm during the winters and cool during the summers which ultimately leads to savings in air conditioning load and consequently enhanced energy efficiency.
Moisture Resistance – AAC has a very porous structure which is characterized by "macro" pores. Macro pores are small air bubbles evenly distributed throughout the material. Therefore, absorption of water into the AAC material is minimal.
Environment Friendly
Lightweight
ii) Application
The thickness of the external plaster should be 15 mm and internal plaster should be 10 mm.
6) Glass block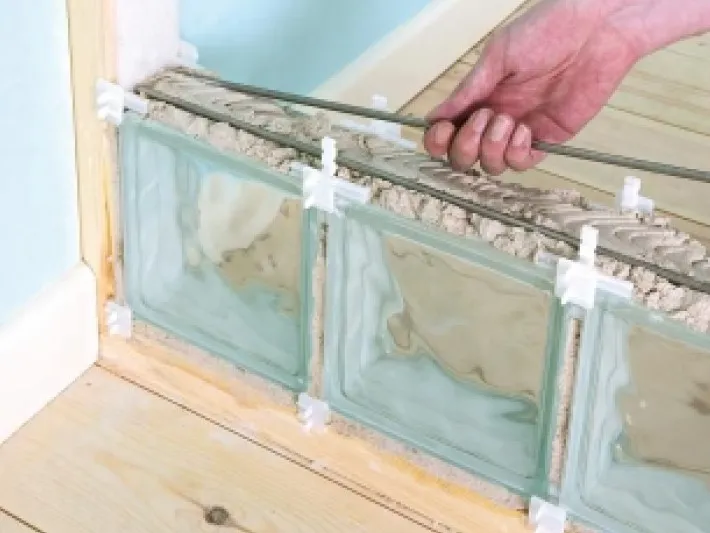 Glass bricks provide visual obscuration while admitting Light.
These can be used for both interior and exterior walls.
These are available in different colours and sizes.
i) Advantage
Energy Conservation: Glass bricks are vacuum sealed, so they are considered highly energy conserving building materials.
Weather Resistance: These are sturdy blocks which repel
different weather elements. They are highly thermal resistant too.
Attractive: Glass Bricks add to the aesthetic appeal of the place. There are different shapes, sizes, colours and surfaces available to meet personal choices.
Light Transmission: Glass Bricks transmit 80% of light in both directions. Different textures and surfaces are available for control light transmission. They permit good amount of day light
Safety: Since glass blocks are fire and sound resistant, they have an added safety feature. Moreover, they are difficult to break, hence better than conventional glass.
Durable: Glass blocks are durable and scratch resistant too. Hence, the chances of damage when compared to conventional glass are lower.
Cost Effective: Due to their durability and longer life cycle, these blocks require lower maintenance. Moreover, replacing the glass block is easier than replacing the entire glass plate.
---
Related video