If you want to know about the tile flooring or terrazzo and mosaic flooring or introduction of pile foundation, please click the link.
---
Wall cladding refers to the process of covering a building's exterior walls with materials such as wood, metal, vinyl, or brick. The purpose of wall cladding is to protect the building from the elements, improve its appearance, and provide insulation. Wall cladding can be installed over the existing wall or used as part of a new construction project.
Cladding is an exterior finishing system meant to protect the underlying structure (like a home) and provide an aesthetically appealing finish.
How long it lasts depends on the type of cladding, but most cladding systems are quite durable and last up to 50 years.
While the term cladding is widely used in Europe and Australia, these exterior finish materials are typically known as siding in North America.
Cladding can serve both a decorative and a functional purpose.
Non-load bearing exterior wall enclosure.
Most visible, most subject to attack by natural forces.
Separates indoor environment from outdoors in such a way that the indoor environment can be maintained at a level suitable for the building's intended use.
Wall cladding is a type of decorative covering used on building exteriors.
Though usually non-structural in Cladding can take a number of different forms, be made from many different materials, and is often used to create a decorative building facade.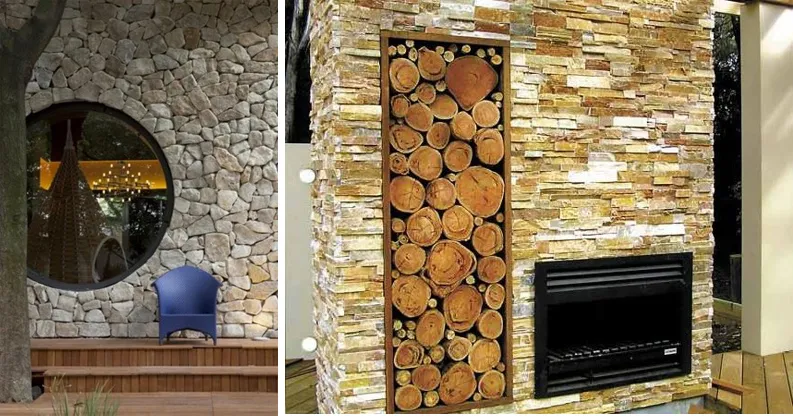 1) Wall cladding v/s wall paneling
Wall cladding is a type of decorative covering used on building exteriors.
Though usually non-structural, it may be functional in addition to decorative.
This can include a degree of waterproofing, a barrier against the wind, or other protections.
Wall panelling is single piece of material, usually flat and cut into a rectangular shape, that serves as the visible and exposed covering for a wall.
Wall panels are functional as well as decorative, providing insulation and soundproofing, combined with uniformity of appearance, along with some measure of durability or ease of replaceability.
2) Functional Requirements of Cladding
Strength and stability
Compatibility with Integration with vertical and horizontal frame members/elements
Weather resistance
Durability
Thermal insulation
Fire requirements
Sound insulation
Aesthetic
Sandwiched into panels or added in the form of batts, blankets, rigid boards of fills. Example: Gypsum board
Ease of construction between panelised systems.
Compensate for movement.
Holds the exterior material to the building.
Transfers loads imposed on exterior to structural frame.
Architectural treatment applied to interior face of supporting frame.
3) Functions of cladding
Primary functions
Keep Water Tight
Prevent Air Leakage
Control Light (heat,glare,UV)
Control Radiation of Heat
Control Conduction of Heat
Control Water Vapour
Control Sound
Secondary functions
Resist Wind Forces
Resist Fire
Weather Gracefully
Adjust to Movement:
Thermal expansion and contraction,
Moisture expansion and contraction,
Structural deflections.
4) Installation system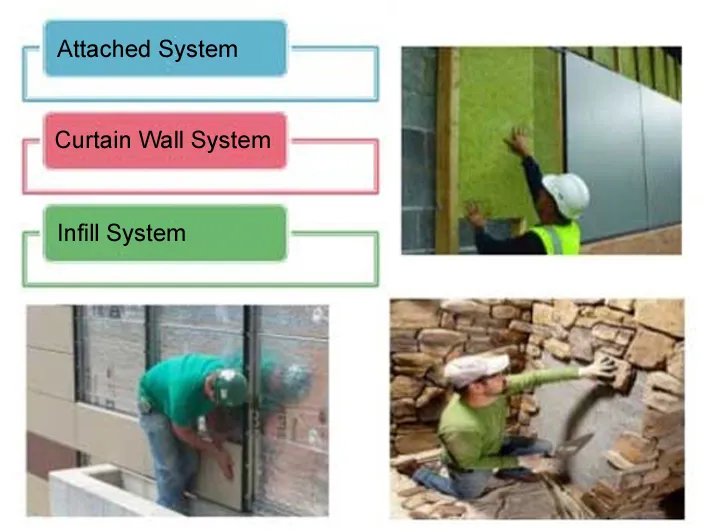 i) Attached system
Has exterior cladding attached directly to structural frame in large panels which span one or more bays.
Example: precast concrete or steel-stud frames welded or bolted attachments built into the structural frame.
Primary advantage: ability to fully insulate the exterior walls and protect the structural frame from deteriorating effect of weather.
ii) Curtain walls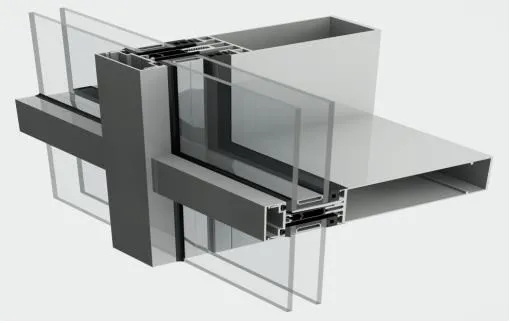 Similar to attached system except it is attached to the structural frame with clip angels or sub-framing.
Examples: metal of glass walls which enclose most modern skyscrapers. Also, natural stones and light weight precast panels.
Primary advantage: standard design requiring less time in pre-construction and manufacturing.
ii) Infill system
Cladding material is installed between exterior floor slab edges and the exposed exterior column of structural frame being the identifying feature.
Example: pre-cast concrete, masonry, glass or combination of these.
Primary advantage: installed from the interiors without relying on external scaffolding.
Disadvantage:
Structural frame is difficult.
Differential movement between structural frame and cladding resulting additional heat loss and heat gain to the interior environment.
React to climate and change volume as they age.
5) Types of cladding's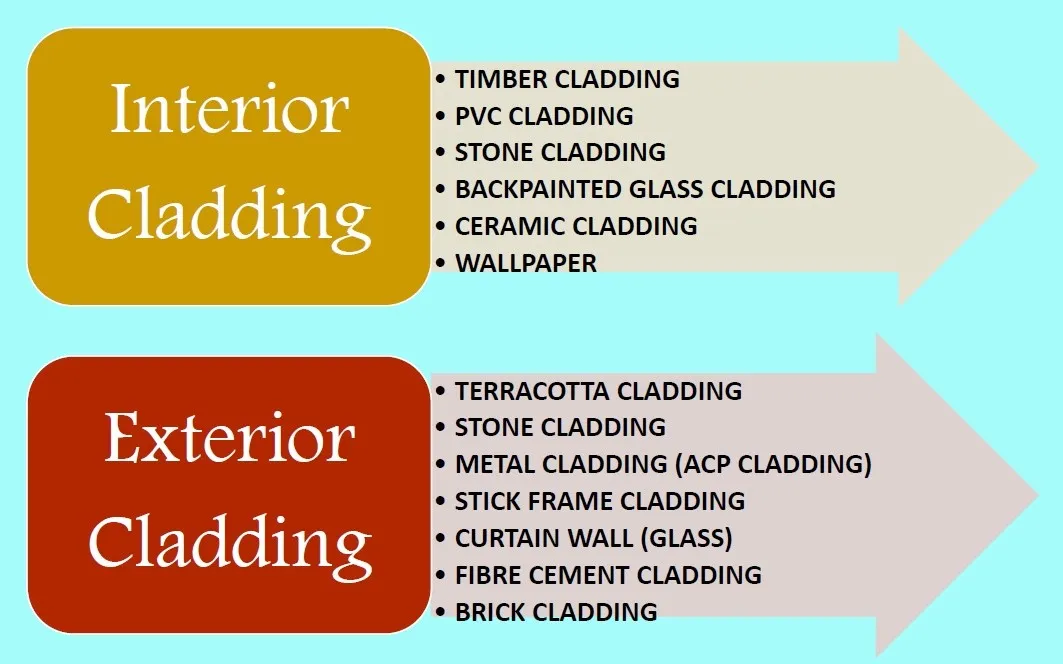 i) Interior cladding
Timber cladding
Look of elegance and warmth and can be painted any colour.
PVC Cladding
Great looks, long lasting, low maintenance, provides stone, timber etc. look, moisture resistant and can be used in wet areas.
Stone wall cladding
Back painted glass (Glass art colour spray)
Popular interior wall cladding feature in homes and commercial buildings. Provides posh, clean and sophisticated look.
Colour Spray is a uniquely formulated resin-based paint system which is ideal for the back painting of glass for wall claddings in any colour imaginable.
Ceramic cladding
Ceramic cladding resists changes in temperature and atmospheric attack from pollution, acid rain and smog.
Fixed to the buildings by an adhesive.
Available in different colours and style.
Long lasting
Wall papers
Used for completely aesthetic purposes they are available in infinite number of patterns and designs. Due to their texture and sheen, they score over paints. They are paper, vinyl and real fabric based.
ii) Exterior wall cladding

Great way to brighten up the outside of a house.
Available in different materials such as metal sheeting, composite, panels etc..
Used to transform a bland and boring brickwork into a major feature in the landscape.
Metal cladding
Aluminium composite panels (ACP) & extruded aluminium are used. They are light weight, non-corrosive and recyclable in nature, have high strength-to-weight ratio and come in diverse colours and finishes.
Copper, another type of metal cladding is used for its aesthetics alone.
Zinc is very expensive but aesthetically eye-catching and durable.
---
Stone cladding
Bring a feel of natural style and elegance. Uses thin layers of natural or stimulated stones.
Expensive and labour intensive.
Stone wall bond patterns can be roughly divide into two main groups.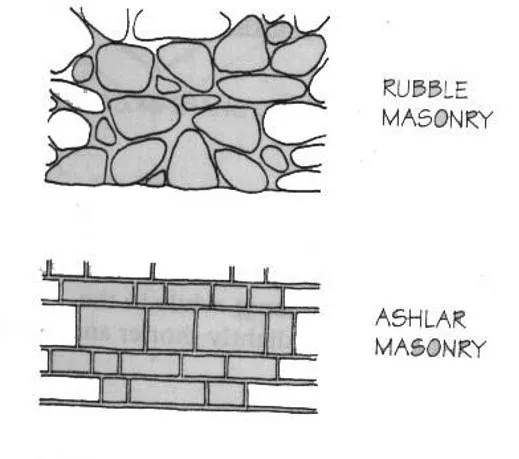 We can use two types of stone:
Natural stones
Marble, Granite, Travertine, Limestone, Sandstone…
Manufactured stones
Concrete bkocks, terrazo…
It is a simulated stone veneer made from lightweight concrete.
It is colourfast, weather proof and has the look and feel of natural stone.
Application techniques for stone cladding
Typical thickness of marble and slate slabs might be 18 mm, while limestones and sandstones tend to be thicker.
Stone slabs are fixed back to the wall surface by many of non-ferrous metal cramps (such as phosphor, bronze, brass or copper) as illustrated in the following figures.
One end of the cramp is built into the wall, while the other end hooks into a recess in the slab. The cramps may be built into the wall by such means as either:
setting the cramps into mortar joints as a brick wall,
cutting a "pocket" (or mortise) in a concrete wall, and bedding the cramp into the pocket with mortar.
The manufactured stone can be cut with a brick trowel, hatchet or similar tool to achieve sizes and shapes required for fitting stones and keeping mortar joints to a minimum.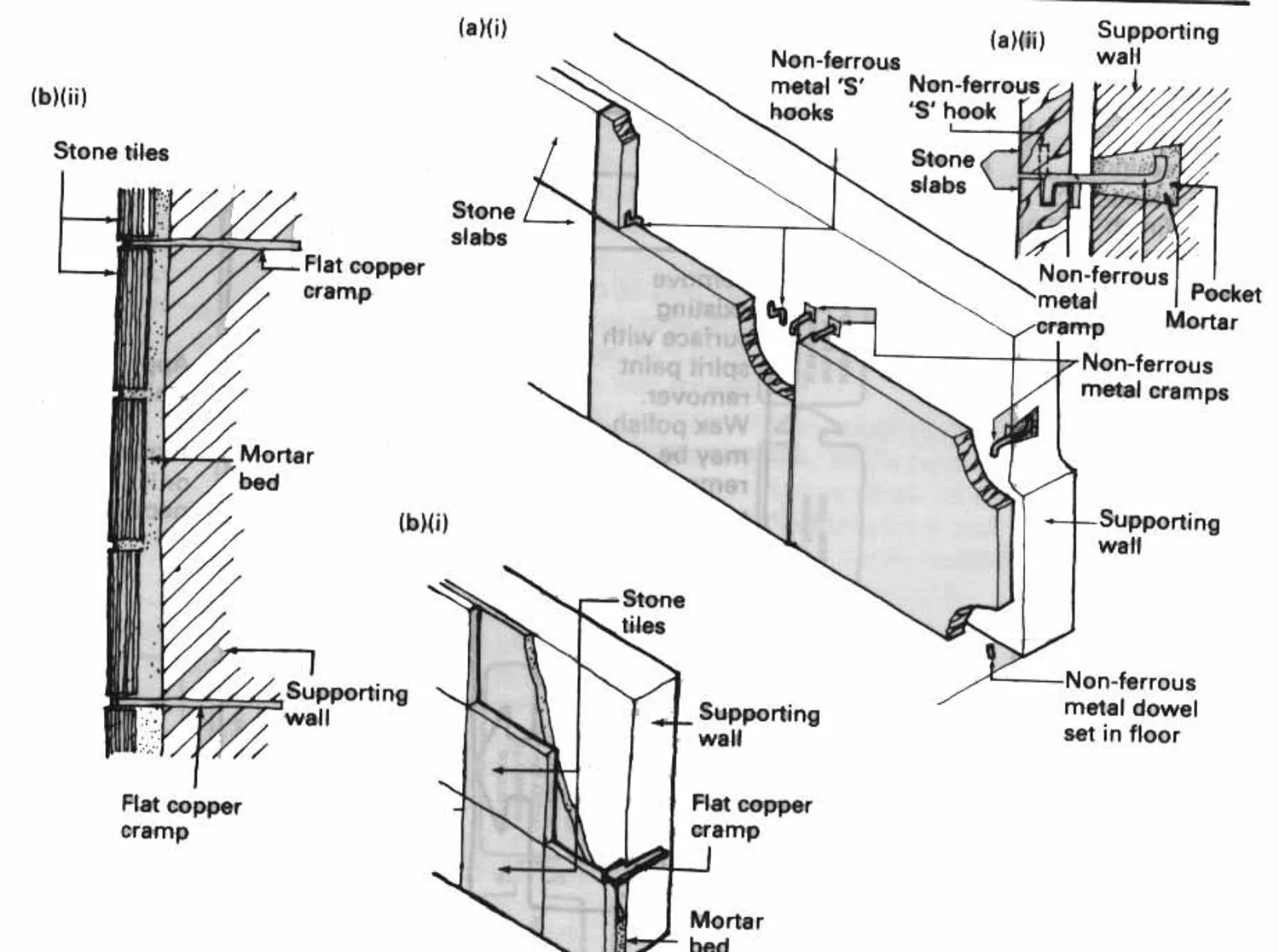 ---
Teracota cladding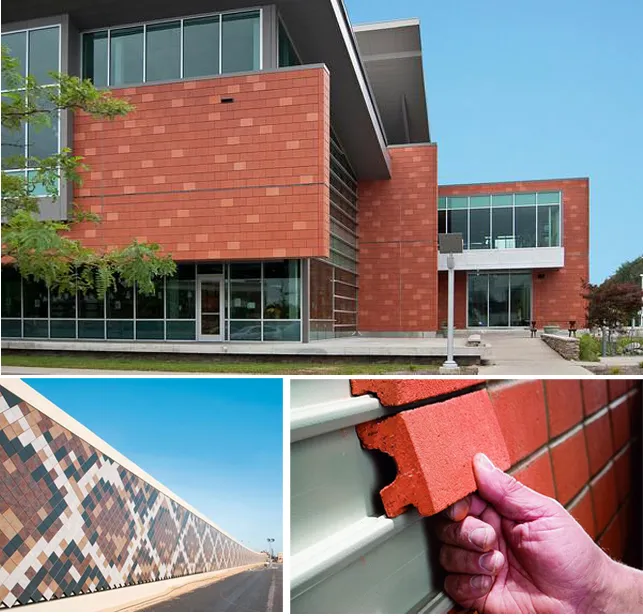 Natural clay-based tiles factory extruded, and kiln dried to provide a durable cladding product. Colour is created by adding specific dyes, custom shapes also possible.
Tile cladding – Terracotta & Ceramic
Terracotta tile cladding
Curtain wall cladding's
Brick cladding
For safety reasons, brick cladding is not recommended in seismically active areas, where Bricks could collapse during an earthquake.
Brick cladding is designed to shed and repel water so that the water cannot reach the internal Farming of the building. This reduces the risk of damage to the framing caused by cold and mildew. It also keeps the interior dry and pleasant.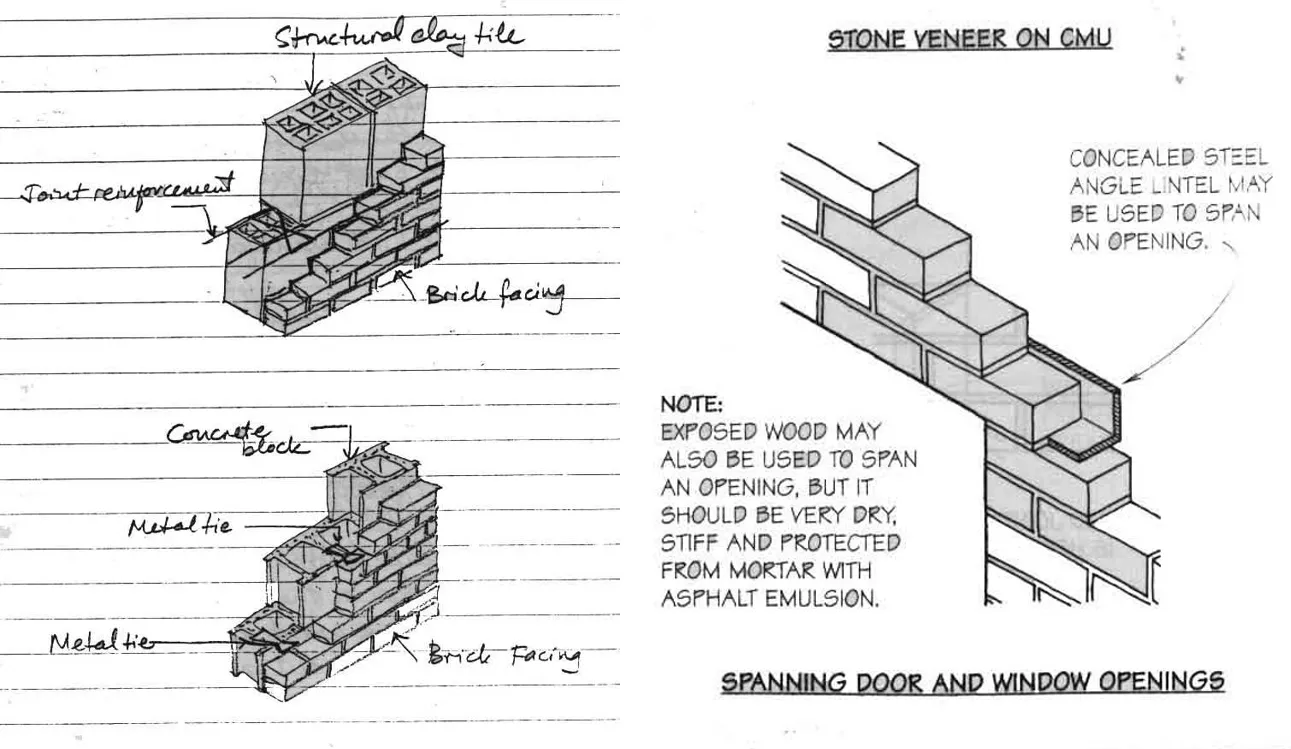 Hollow brick cladding
Mainly hollow brick Cladding is uses for aesthetic Purpose & for heat resistance As well..
---
Mortar & its applications
Mortar used for manufactured stone should be a mixture of one part cement to three parts clean sand.
To this is added from ¼ to ½ part lime, mortar cream or fire clay.
Packaged dry mix mortar that requires the addition of water also works well with manufactured stone.
In any case mortar should be mix to a consistency similar to that of brick mortar. While the mortar is still soft and pliable the stone should be pressed into place with enough pressure so that the mortar is squeezed out around the edges of the stone. This will insure a good bond between the stone and wall surface.
When the mortar joints become firm (from one to three hours depending on suction of the base and climate) they should be pointed up with a wood and metal shrinking tool.
Excess mortar should be raked out and in the stone sealed around the edges to give the finished job the appearance of a natural stone wall.
At the end, the finished wall should be broomed or wire brushed to remove loose mortar and to clean the face of the stone.
The exposed of the mortar joint can be finished with a variety of techniques, each producing a unique effect. The process of shaping the mortar edge when the mortar is fresh and wet is called jointing. Many odd these methods were developed to minimize the effects of exposure to the weather, but this is not a factor in interior vainer application, where Appearance is the primary concern.
---
Timber cladding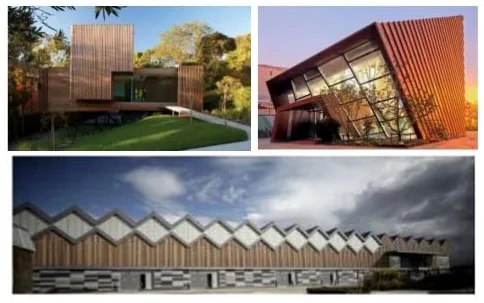 Timber cladding in dry areas and hilly areas.
Effective temperature insulator as it keeps the interior cool..
Fitted by tongue and groove joints Mostly.
Requires thorough maintenance..
Mosaic cladding
Small titles paltered onto the wall surface for aesthetic appeal.
Has no insulation property.
Available in variety of colours.
Special types of claddings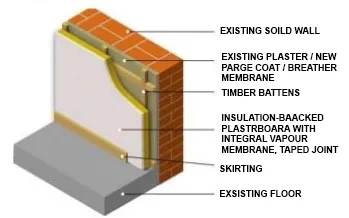 Plasterboard is generally used to clad internal walls. It is pliable material that can be easily cut with a craft knife. Plasterboard should be cut a half inch shorter than the wall and should be nailed onto the wall framework. Jointing tape should be placed over the joints of plasterboard to give a smooth finish.
Rain-screen cladding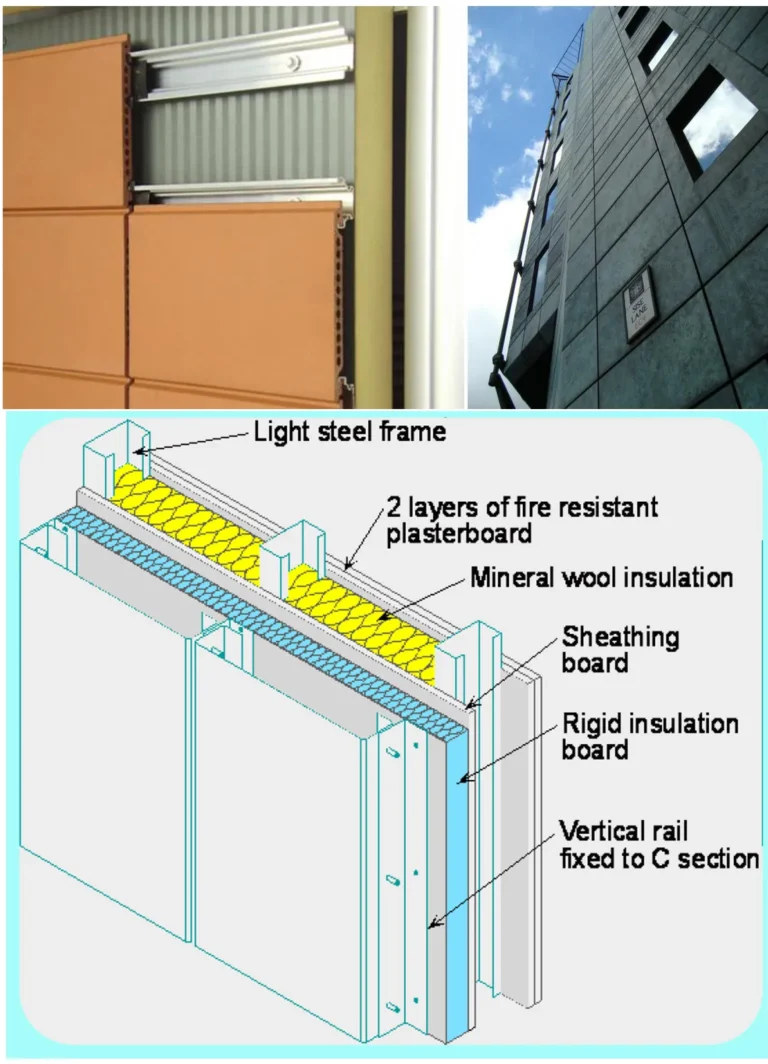 Rain screen cladding includes an outer skin (of rear-ventilated) cladding attached to the exiting/ new building. While the outer layer takes care of the exterior weather elements, the inner layer provides thermal insulation and carries the wind load, hence conserving energy.
Green wall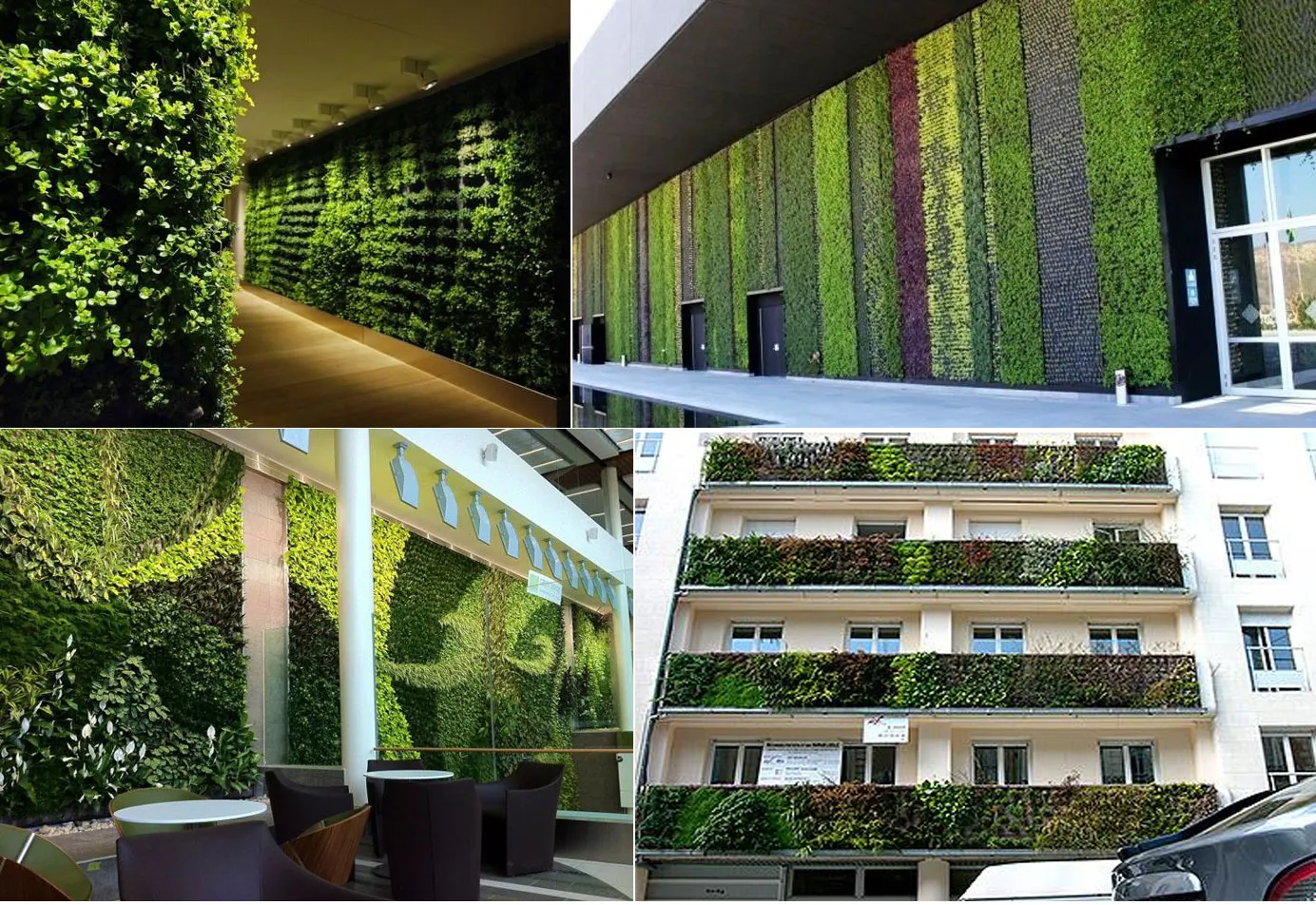 With the advent of green building, the trends of green walls have come into place. It can be installed Both the interiors and the exterior.
6) Methods of Cladding
Direct Adhered – This is one of the most common methods. It is thinner, less expensive and doesn't require any onsite drilling
Spot Bonding – similar to the direct adhered but epoxy is only applied to about 10% of the area resulting in gaps or pockets of air between the stone and the wall reduces the chances of water staining.
Mechanical Bonding – This method involves fixed or embedded anchors or ties being used to attach the stone to the surface
7) Pros & cons
Advantage
Low Maintenance
Can be easily cleaned
Protect from whether elements
Noise, heat control
Light weight
Aesthetic appeal
Disadvantage
Initial installation is costlier than normal paint.
Needs timely maintenance..
If not installed properly the units tend to fall off.
Installation time is huge depending on surface of the building.
---
Overall, wall cladding is an important aspect of modern building design and construction, providing both functional and aesthetic benefits to the built environment.
---
Related video