If you want to know about the tile flooring or terrazzo and mosaic flooring or introduction of pile foundation, please click the link.
---
Ceiling finishes refer to the materials and methods used to cover and decorate the upper surface of a room, such as paint, wallpaper, tiles, wood paneling, or textured plaster. The choice of ceiling finish can affect the acoustics, lighting, and overall style of a space.
Ceilings are often the largest uninterrupted space around us, and although they can have a huge impact on a room's ambiance, we rarely mention them when describing a space.
The material used for a ceiling should be appropriate for the room's purpose.
The strength of a finish material depends on its stiffness and /or brittleness and the rigidity of its backing, whether a planar material or a network of thin framing members.
The finished materials should be,
Acoustical
Thermal resistant
Fire resistant
Light reflectant
---
1) Ceiling: Types finishing
The ceiling is a very important element of interior.
Its quality finishing attached housing additional comfort and elegance, and high reflecting ability of the ceiling (not necessarily white) can substantially save on electricity spent on lighting facilities.
Kind ceiling, its geometric shape, color surface, the material from which it is implemented, a significant impact on human health, his emotional state.
It used various finishing materials.
Wood
Carpet
Drywall
Mirrors
Paneling
Plank
Plaster
Plywood
Tile, marble
Tile, metal
Tin
Tongue and groove
2) Ceiling finish and its functions
The ceiling finish or product is attached to the ceiling battens under the roof framing and is generally a plasterboard of some form.
Typically, ceilings are seen as the flat plane above that hides the roof. These are usually made of plasterboard on a light timber frame attached to the roof.
However, ceilings can be made from a variety of materials and perform a number of functions.
i) Aesthetics
Ceilings can be made of different materials such as timber or PVC, be suspended within a grid with different panels giving different properties, be coloured, textured, vaulted, have recessed elements to it or have a suspended bulkhead.
All these different treatments can add another dynamic element to the space.
We can create a much more interesting effect and or evoke a different mood by adjusting the finish or shape of the ceiling.
ii) Sound
Ceilings are one of the main areas that reflect sound.
Different sound reflection and absorption properties can be achieved by using different shapes and materials to either enhance the reflective properties or reduce them.
Sound can be absorbed by using softer materials like padded fabrics, soft boards or by using perforated ceiling tiles.
iii) The ceiling space
The ceiling space often acts as one of the principal areas that services are carried through.
These may include ventilation and heating ducts, electrical and data cabling, recessed lighting and also areas for fixing suspended lighting, plumbing and to some extent drainage from the bathroom or kitchen above may be carried in the ceiling and in these cases adequate heat and noise or sound insulation should be used.
iv) Cornices
The simplest form of ceiling, where style is attempted to be portrayed, is divided into compartments or panels, and may have a very plain cornice with a bed and frieze Moulding, and the usual architrave fillets on the lower edges.
As a higher display is aimed at, the panels in the ceiling are deeply sunk and moulded, and the openings decorated with pilasters and entablatures in accordance with the fixed proportions of the style.
5) Types of ceiling
Ceilings are interior elements that basically have little to do with building enclosure.
i) Unfinished Ceilings
In this type no additional effort is made to treat the underside of the structure overhead.
These types are referred to as unfinished ceilings.
This could even be an exposed structure.
This may develop an attractive view overhead.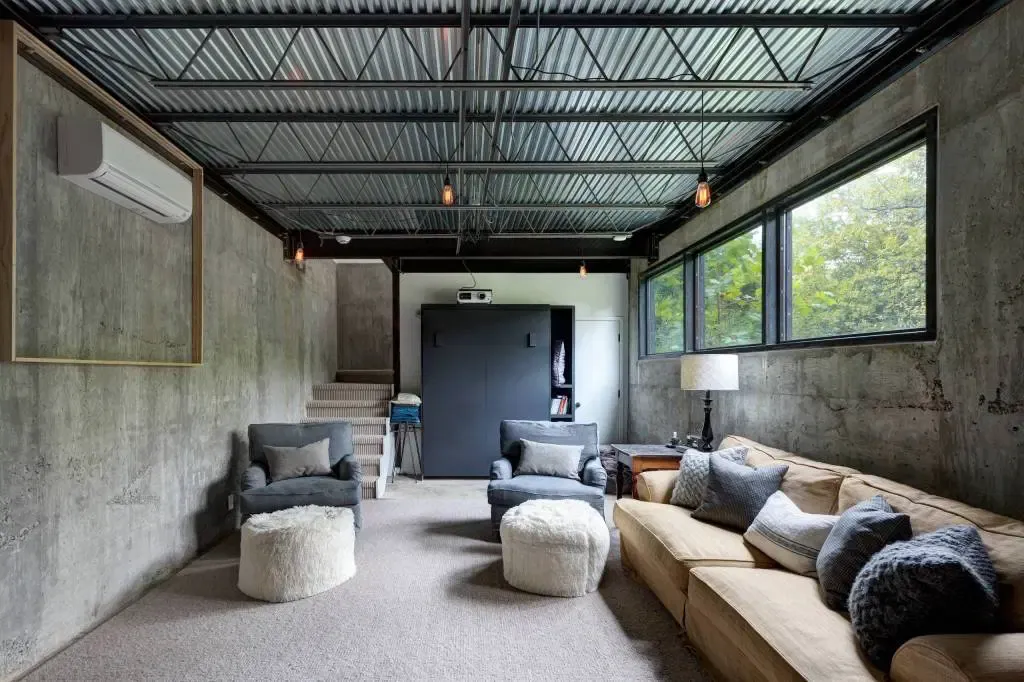 ii) Directly Applied Ceiling Finishes
This could simply be a paint, a stain or a texture producing material in a thick coating.
This is the easiest and most economical form of ceiling construction.
If there are a lot of beams overhead, it is advisable to use pre-finished beams.
iii) Direct Finish
Direct finish is thick plaster-like paint on concrete.
It brings a smooth or textured finish.
iv) Direct Surfacing
This could be Gypsum, Drywall or other panel material attached directly to underside of Structure.
v) Adhered Finish
This is tile, Stride or Panel units directly adhered to under side of concrete slab.
vi) Suspended ceiling (accustical tile)
Acoustical tile ceiling may be suspended to provide a plenum space for mechanical ductwork, electrical conduct, plumbing and recessed light fixtures.
The depth of plenum may vary according to the space requirement. The suspension system consists basically of a grid of metal channel, runner and splines.
Grid can be Exposed, Semi-concealed, or Completely Concealed.

6) Suspended ceiling system
There are other systems that use suspension wires to support the ceiling.
Commonly known as the Donn system or suspended ceiling system.
The ceiling is either mounted in, or in the case of a flush suspended ceiling screw fixed to a metal grid that may or may not be exposed.
Panels which are usually 1200mm x 600mm or 4ft x 2ft. made of various materials from styrene to plasterboard, or paint or vinyl coated soft board are inserted or dropped into the ceiling grid to form a paneled and suspended ceiling system.
This system can also be used to form recessed or dropped ceilings and is very common in commercial applications.
7) T & G (Tongue & groove ceiling)
There is another common form of ceiling and was used in many older homes.
Today it is an expensive finish but aesthetically pleasing and can create a feature.
Even though it is attached to a timber frame, specific framing design may be necessary because of its increased weight.
Dressing up old ceiling is simple with plank paneling.
In fact, plank paneling is so versatile that one can even use it to cover porch ceilings
8) TIN Ceiling system
Tin ceiling system adds the stylishness of a three-dimensional feature to the ceiling panels.
Face dimensions are 22 7/8" x 22 7/8" x 3/8" and overall dimensions are 23 3/4" x 23 3/4".
Tin ceiling system provides the elegance of hiding the grid system (t-bars) and the flexibility of removing the ceiling panels without panels without damaging or affecting adjacent panels.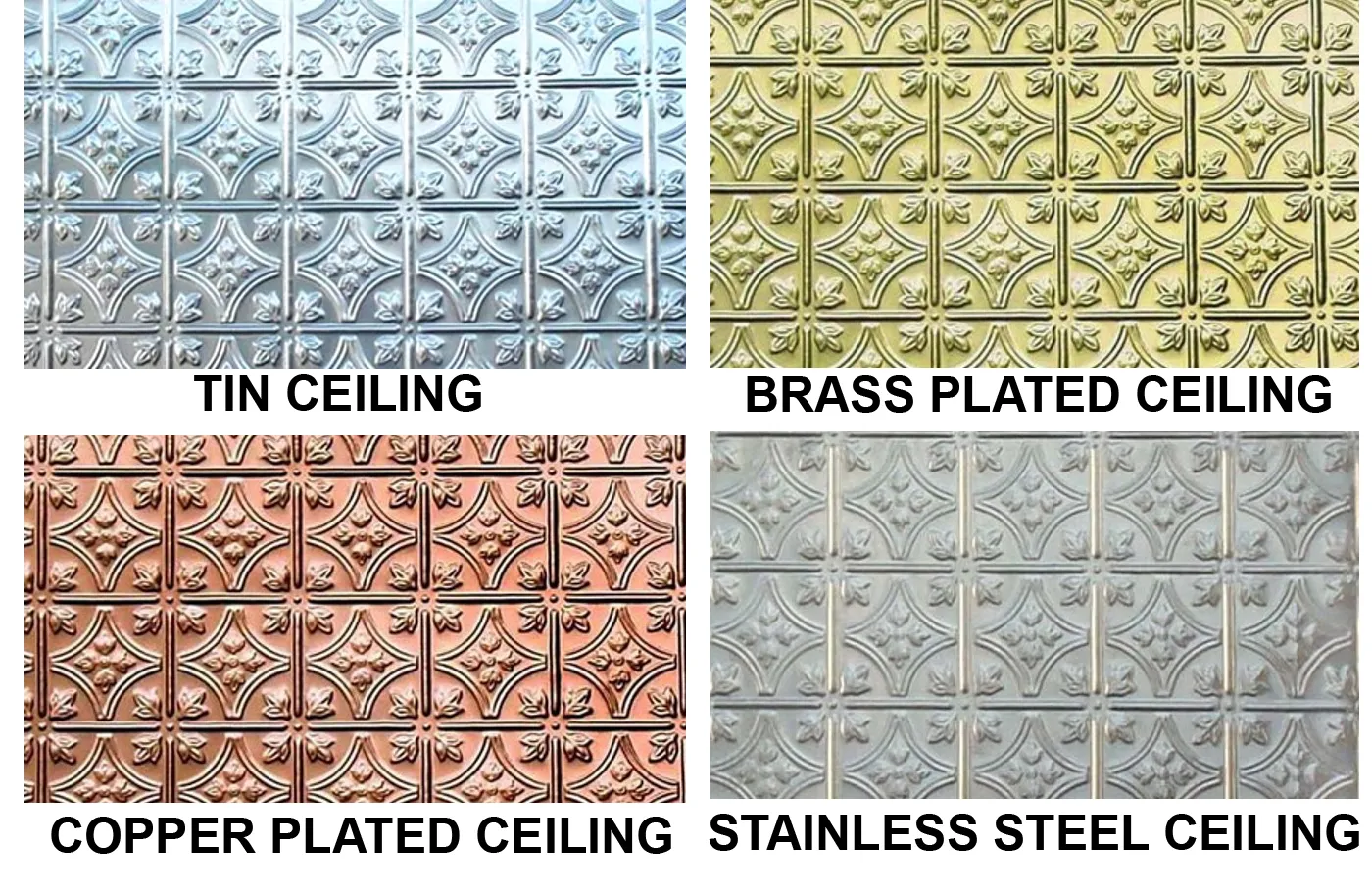 9) Timber ceiling
TIMBER ceilings may be divided into three broad classes:
Open timber roofs, such as we see in churches and large halls
Ceilings with visible beams in conjunction with boarded or plastered surfaces,
Boarded ceilings, plain or decorated and those of carved wood.
The simplest form of timber roof and ceiling is composed of a series of rafters resting on the top of the walls, or supported by one or more long principal beams running the whole length of the room, upon which a platform of boards or laths is placed to sustain the tiles or thatch of the roof proper, or the floor above.
10) Finishing a Textured Ceiling
Textured ceilings provide a rustic and earthy feel to a room while absorbing sound and hiding any imperfections in a wall or ceiling.
The texture is achieved by spraying dollops of compound onto the ceiling and flattening them out with a trowel.
Though the process is fairly simple, it can be quite messy, so it is important to secure the room with protective sheets.
The process is sometimes referred to as "knock down," because the dollops of compound are essentially flattened or "knocked down" by a trowel.
Some homeowners may prefer a more bubbled texture, in which case the dollops would remain intact.
Lay drop cloths on the floor and tape plastic tarps on surrounding walls to prevent paint from spilling over.
Wear protective clothing including a mask, goggles and gloves.
Thin down joint compound with water until it reaches the consistency of thick pancake batter. Pour the mixture into a hopper gun.
Practice spraying the hopper onto a piece of cardboard to get used to the pressure and spraying mechanisms.
Spray the hopper gun onto the ceiling in a continuous even stroke, being careful not to overspray in one area. Let the compound set for 15 to 30 minutes until tacky.
Flat angle a trowel towards the ceiling and flatten out the dollops of compound, being careful not to flatten out the compound completely.
Flick a paint brush dipped in the joint compound onto any small, missed sections and flatten out with a putty knife.
Let the ceiling completely dry for 24 hours.
Prime and paint as needed.
11) Finishing a Basement Ceiling
Finishing your basement can increase the living space in your home, and can also hide ugly pipes and wiring along the ceiling.
Homeowners can choose from suspended grid ceilings or those built from gypsum wall board, or drywall.
Suspended grid ceilings are the easiest and most affordable option, but can take up several extra inches of ceiling space.
Drywall ceilings take up less space and have a cleaner look, but are more expensive and time-consuming to install.
12) Finishing a Garage Ceiling
There are several ways that you can finish the ceiling in your garage. Your ceiling can be left smooth or it can be textured.
Some homes have the same finish in the garage as inside the home.
The best way to finish your garage ceiling is to use the same finish that is on the garage walls.
Many newer homes have knock-down texture throughout the house including the garage.
A knock-down texture is not too difficult to apply, but as with any texture job it is messy.
13) APPLICATION…of dry wall gypsum board ceiling
First of all, screwing a hole in a slab and fix a fastener of 12 mm dia. with simply drilling into it.
Fix a soffit clip to that fastener and place a hanger for hanging the frame.
The metal strip and soffit clip placed vertically to take the load of frame and to provide a space between the slab and the ceiling.
Further, the furring channel has been fixed with the metal strip.
Another furring channel is also arranged to make the rectangular arrangement of the furring channel to pick the load of the gypsum board, the dimension of the arranged block depends on the size of gypsum sheets which is used.
Now fix the gypsum board by simply screwing to the furring channel and finally finished by two coats of compound.
---
Additionally, some ceiling finishes may have practical benefits, such as improving insulation, reducing noise, or preventing moisture buildup. Common types of ceiling finishes include suspended ceilings, drywall, exposed concrete, acoustic tiles, and decorative plasterwork.
---
Related video