If you want to know about the ceiling finishes or terrazzo and mosaic flooring or introduction of pile foundation, please click the link.
---
Tile flooring is a type of flooring that is made up of ceramic, porcelain, or natural stone tiles. It is a popular choice for many homeowners and can be found in kitchens, bathrooms, entryways, and other high-traffic areas.
1) Tile
A tile is a manufactured piece of hard-wearing material such as ceramic, stone, metal or even glass.
Tiles are generally used for covering roofs, floors, and walls, or other objects such as tabletops.
In interiors it can be used in bathrooms, kitchens, bedrooms, portico, foyer, drive way, drawing / living rooms, study, lobby, pooja room etc.
2) Ceramic tile
The most durable of all tile materials are ceramic tile that, when properly installed, lasts for the lifetime of a house.
This durability, combined with an incredible array of tile types, colors, patterns, and textures makes tile the material of choice when quality and character are important.
Ceramic tiles are clay bodies, which are fired at high temperatures to impart the necessary strength and other physical properties, which make them suitable for usage in homes and industries.
It is used for both functional & decorative purposes
Widely used in wet areas as it is impervious & smooth.
i) Classification of Ceramic tile
Classified on basis of density which also measures the amount of water they absorb & the classification is:-
Impervious Tile
Tile with water absorption of 0.5% or less of the weight of the tile.
Hardest tiles & most readily cleaned.
Vitreous Tile
Tile with water absorption of more than 0.5% but not more 3%.
Body density such that dirt can be easily removed.
Semi-Vitreous Tile
Tile with water absorption of more than 3% but not more than 7% of the weight of the tile.
ii) Finishes for ceramic tiles
Unglazed Tiles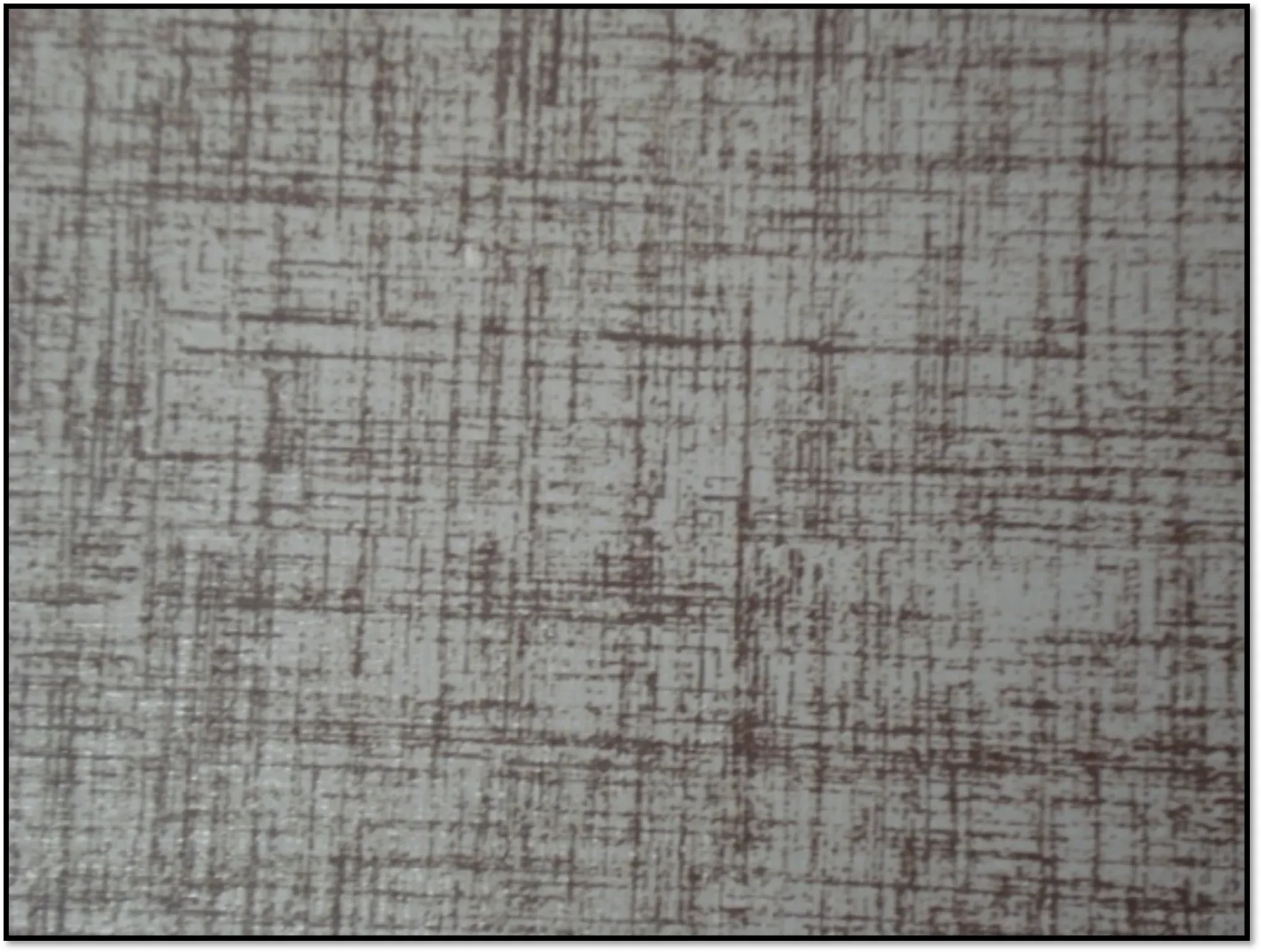 Same ingredient throughout.
Derive their colour & texture from the materials of which the body is made.
Glazed Tiles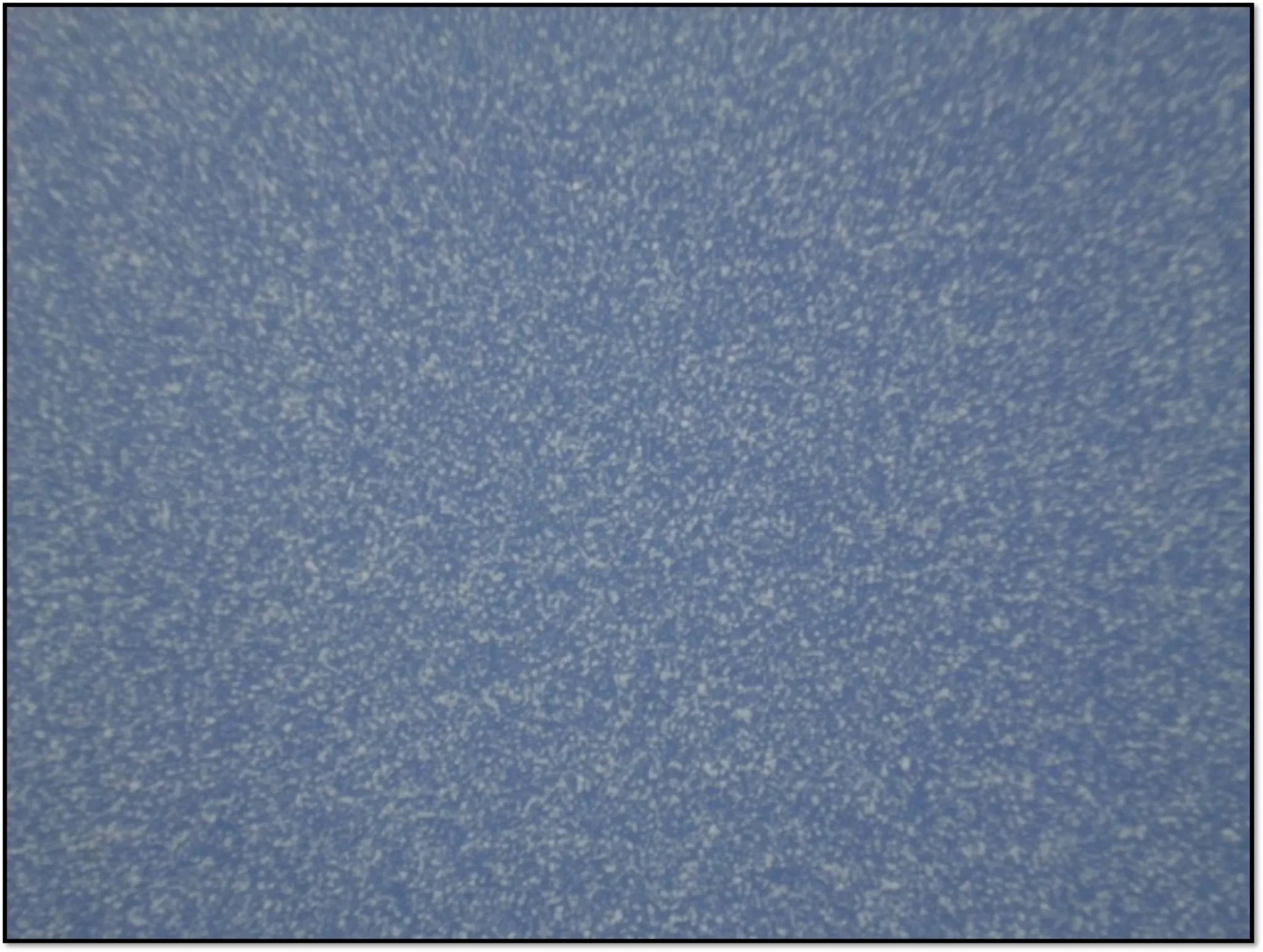 It has a Glossy surface of ceramic materials fused upon their face to give them a decorative appearance & to make the surface impervious moisture.
iii) Market survey of ceramic tiles (Not as per current survey)
sizes – 8"x8",12"x12",16"x16",12"x18"
Thickness – 8mm,10mm,12mm
Rate – Rs.20 – Rs.50/sq.ft.
Uses – generally used in residential bathrooms as traffic is very less. Also used in flooring in homes,shops,etc.
Brands available – Kajaria, Somany, Bell, Nito, Lorenzo, Euro, Orient, Johnson, Naveen, RAK, Asian, Romano, Fresco, Oreva, Granulite, Marbomax, Vrindavun
3) Vitrified tiles
Vitrified tiles are homogeneous bodies of clay, which have been fired at high temperatures to impart low water absorption as compared to ceramic tiles that are more porous in nature.
The tiles if exposed to abrasion will not show any signs of it as it is homogenous which is not in case of ceramic tiles These tiles have a very high dimensional accuracy and so are butt-jointed.
Vitrified tiles being harder are more abrasion resistant than ceramic tiles and therefore ideally suited for flooring.
The formats (sizes) possible in vitrified tiles are larger than in ceramic tiles, which again make them the ideal medium for flooring.
Vitrified tiles are much harder than natural stones, which makes them best suited for high traffic areas where abrasion resistance is required.
i) Uses of vitrified tiles
Vitrified tiles can be used for all kinds of Interiors, including heavy traffic areas like Drawing rooms, Bedrooms, Malls, shopping Complexes, Reception Areas, and Conference rooms, Passages, Hotels, Office Interiors, Hospitals, and Theaters etc.
ii) Market survey of vitrified tiles (Not as per current survey)
Sizes – 18"x18",20"x20",24"x24",36"x36"
Thickness – 10mm,15mm
Rate – Rs.30 – Rs.220/sq.ft.
Brands available – Kajaria, Somany, Bell, Nitco, Euro, Lorenzo, Orient, Johnson, Asian, Romano, Fresco, Vrindavun, Oreva, Marbomax, Granulite, Naveen
These brands produce only 5mm thick vitrified tiles.
RAK brand produces fully vitrified tiles hence most expensive i.e.Rs.120-Rs.220/sq.ft.
4) Vinyl tiles
Vinyl tiles are composed of colored vinyl chips formed into solid sheets of varying thicknesses (1/8" is most common) by heat and pressure and cut into 12" squares. Tiles are applied to a smooth, leveled sub-floor using a specially formulated vinyl adhesive that remains tacky but does not completely dry. Once in place, tiles are typically waxed and buffed using materials and equipment specially formulated for this application.
Vinyl tiles are used in high-traffic areas because of its low cost, durability, and ease of maintenance. If properly installed, tiles can be easily removed and replaced when damaged. Tiles are available in a variety of colors.
Vinyl tiles are used in schools, hospitals, offices, and public buildings
A damaged tile is very simple to remove and replace. Heat the damaged tile with a hair dryer until pliable. Then pry the tile out of position with a putty knife. Remove the adhesive residue from the subfloor and place a new tile into position.
5) Mosaic tiles
These are precast concrete tiles with marble chips at top surface.
Mosaic tiles are small, usually square pieces of glass or other material used to make a mosaic. The term derives from the Greek word meaning "four-sided". These small mosaic tiles which generally measures 1 inch by 1 inch are joined together by a clay based cementing material known as "grout".
i) Market survey of mosaic tiles (Not as per current survey)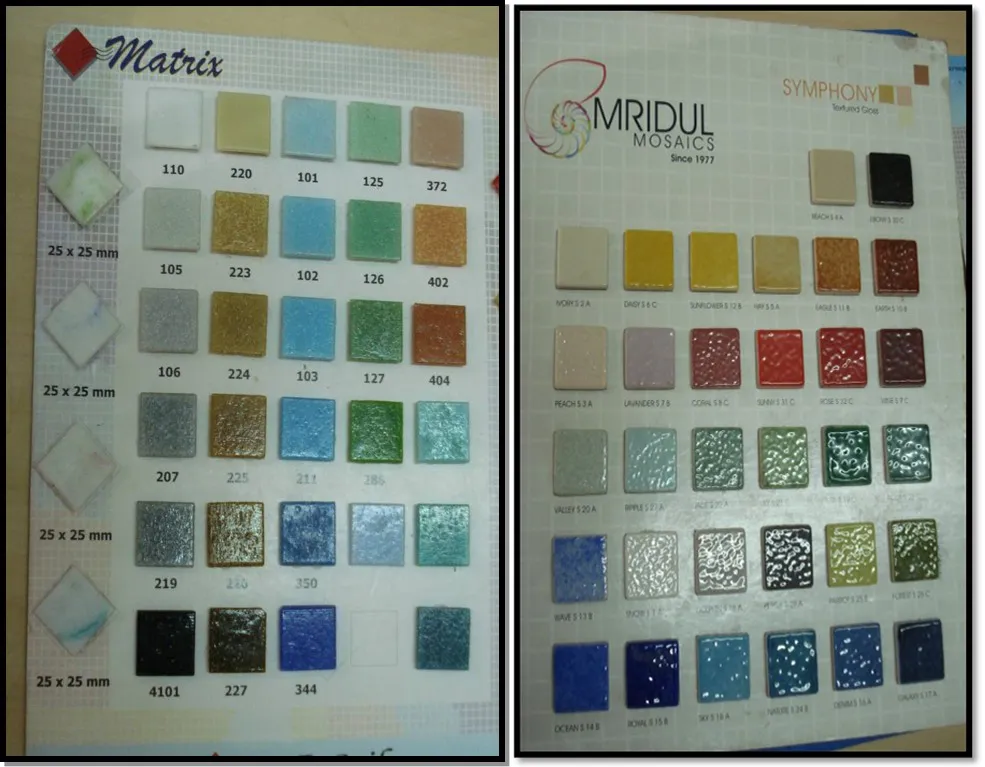 Sizes – 1"x1"
Thickness – 5mm
Rate – Rs.45 – Rs.200/sq.ft.
Uses –
Brands available – Mridul, Matrix.
6) Granite tiles
Granite, the hard igneous rock. Granite is a very hard crystalline, igneous or metamorphic rock primarily composed of feldspar, quartz and lesser amounts of dark minerals
This igneous rock is created deep within the earth from magma, cooled slowly under great pressure.
Granite, the hardest building stone has very dense grain which make it impervious to stain.
Granite tiles are available in a wide array of colors. varieties of different colors and textures such as black, grey, pink, multi colored etc.
Granite tiles are used in flooring and a variety of other interior and exterior applications.
i) Granite Physical Properties
In terms of its physical properties granite is a unique material. These properties lending uniqueness to granite are:
Porosity/permeability – Granite has almost negligible porosity ranging between 0.2 to 4%.
Thermal Stability – Granite is highly stable, therefore shows no changes with the change in temperature. Granite is impervious to weathering from temperature.
Variegation – Granite shows consistency in color and texture.
Hardness – It is the hardest building stone and hardness of granite that lends it excellent wear.
ii) Market survey of stone tiles (Not as per current survey)
Sizes – 12"x24"
Thickness – 7mm,8mm,10mm
Rate – Rs.30 – Rs.150/sq.ft.
Uses – can be used anywhere for flooring.
Types –
Granite Tile – Rs.45/sq.ft. — best from southern india.

Marble tile – Rs.120/sq.ft. — best from rajasthan.

katni tile – Rs.150/sq.ft. — best from madhya pradesh.
7) Porcelain tiles
Porcelain is a ceramic material made by heating selected and refined materials often including clay to high temperatures. porcelain tiles might be considered an alternative to standard ceramic wall tiles. Porcelain tiles come in various sizes, colors, and shapes.
Usually white or off-white, porcelain comes in both glazed and unglazed varieties, with bisque, fired at a high temperature, representing the most popular unglazed variety.
It has low permeability, whiteness, Translucence, resonance, brittleness, high durability, high strength, Hardness, Glassiness.
The hardness of the tile is rated from zero to five according to the Porcelain Enamel Institute scale. This rating, called the PEI rating determines the tiles suitability for various surfaces a rating of zero indicating a tile not suitable for use on floors.
Porcelain tile floors owe their popularity to the material Porcelain, which is a stronger material than most ceramic clays, and porcelain tiles might be considered an alternative to standard ceramic wall tiles. Porcelain tiles come in various sizes, colors, and shapes.
i) Market survey of porcelain tiles (Not as per current survey)
Sizes – 12"x12",20"x20",24"x24″
Thickness – 10mm
Rate – Rs.40 – Rs.60/sq.ft.
Uses – can be used anywhere for flooring.
Brands available – Kajaria, Somany, Bell, Nitco, Orient, Naveen, Romano, Oreva, Asian, Euro.
8) Pebble tiles
Pebble Tiles are uniquely hand-crafted with natural pebbles and flat stones
Each pebble tile includes approximately sixty handpicked stones bonded to a sturdy mesh backing. Because real natural pebble tile stones are used, each pebble tile weighs between 4 and 5 pounds. Every mosaic natural pebble tile fits the next as cleanly as a jig-saw puzzle… the difference being that each single pebble tile fits snugly and uniformly to any other tile on any of its four sides creating a totally seamless, hand laid appearance.
pebble tile flooring creates a floor surface that is attractive, water resistant and safe to walk on. Using unpolished pebble tiles in the bathroom or kitchen are safe and comfortable to walk on. These types of tiles are easy to clean, water resistant.
Pebble Border Tiles are 4″x12″ and are excellent for borders that you can add with other kind of tiles to add a breath-taking room wall or floor.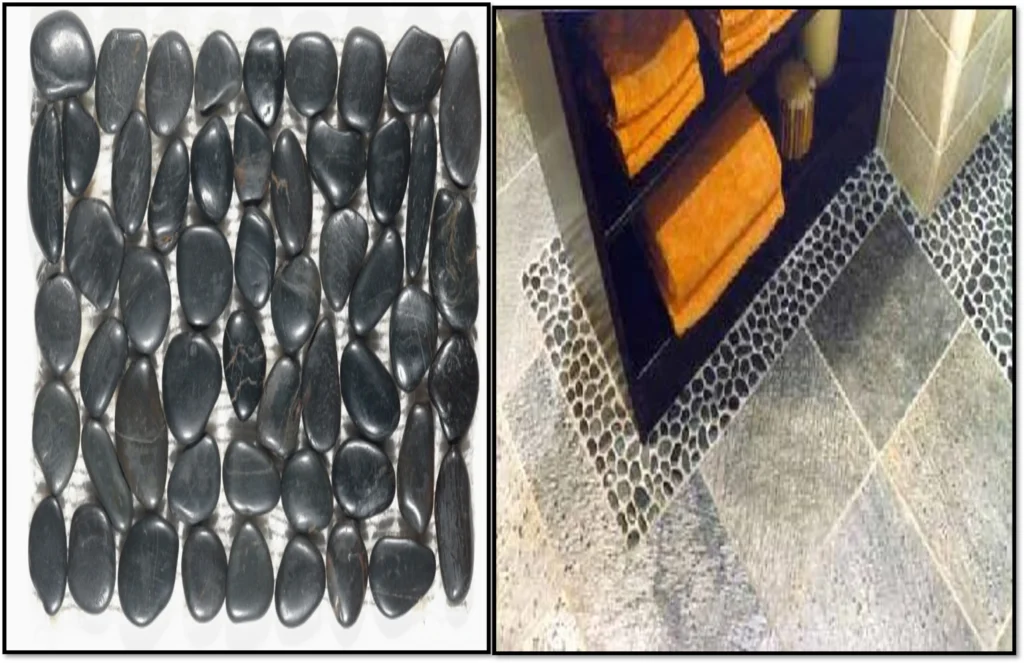 9) Layout of the floor area
Floor tiles should be centered in the room for the best visual appearance. Keep this in mind when you lay out the floor tile.
Measure and find the center of two opposite walls. Use these points to snap a chalk line across the length of the room in the center of the floor, dividing the room in half. Then snap another chalk line perpendicular to the first so the two lines cross in the center of the room. Check where the lines cross with a carpenter's square to make absolutely sure the center point is square.
Find the center of two opposite walls and lay tile along the chalk lines.
Dry-fit a row of tiles down both lines to the width and length of the room. Leave equal spacing for the grout joints. Most floor tiles do not come with spacers like wall tiles do, so you will need to approximate the appropriate spacing.
By laying out the tiles in this way, you can get an idea of any adjustments that need to be made to your original reference lines. The goal is to work with as many full tiles as possible. Also, you should end up with at least half a tile width in the areas where the tiles meet the walls. A slight adjustment at the center point may save you lots of time and money. Adjust the reference lines as necessary to achieve a layout you are satisfied with.
10) Installing tile on a Floor
Spread the adhesive with the trowel's notched edge.
Begin laying the tile from the center of the floor where your two final reference lines cross. Start by laying a tile at the intersection of the lines, then use the lines as a guide as you work your way outward toward the walls in each quadrant.
Spread the adhesive with the trowel's notched edge, combing it out in beaded ridges. Spaces between ridges of adhesive should be almost bare.
Insert plastic spacers between the tiles to help maintain straight grout lines if the tiles do not have spacer lugs. Remove these after placing the tile but before they become firmly set in the adhesive.
Safety note: Some adhesives emit toxic and flammable fumes. Provide good ventilation, especially in confined locations such as shower stalls. Always refer to the product label for safety precautions.
Exercise caution when using tile-cutting tools.
Use spacers to keep grout lines even.
If adhesive oozes up between the tiles, clean out the excess before it dries. Immediately wipe any adhesive from the face of the tiles with a solvent-soaked sponge or rag. (Consult the manufacturer's instructions to determine the appropriate solvent). Adhesives begin to set firmly in 20 to 30 minutes.
After you have installed several rows of tile, set them into the adhesive with the tile leveler and a mallet.
After laying all the whole tiles that will fit, begin cutting and adhering tiles to fill around the perimeter of the room.
11) Maintenance of tiles
Vitrified tiles require the least of maintenance compared to any other flooring material. Nonetheless, a little basic care and attention will reward you handsomely. Just after installation, is the time when most care is needed. Make sure you remove grout from the tile surfaces, preferably before it is dried.
Other than that, just use a neutral pH detergent or standard tile care product to mop or sponge tiles as required. The simplest way to clean tiles is with diluted soap water solution and a soft bristled brush. Tiles normally do not stain. In the event of some deposited stain or material, it can be scraped off with a butter knife. For some stubborn deposits you may use diluted household acid or lemon juice.
The special precautions must be kept in mind while laying the tiles.
Always pave (Lay) the floor tiles with gaps by using spacer this will ensure a durable and stable floor.
while working out the number of tiles required for covering a particular floor, always remember to add 5% for breakage and wastage.
If the area to be tiled is subject to excessive wet conditions, it is advisable to waterproof and treat the surface before commenting fixing of tiles.
After the tiling is completed, leave the floor untouched for 24 hours at least for the mortar bed to dry completely. The proceed to fill the joints between the tiles.
---
However, tile flooring can be more expensive to install than other types of flooring, and it can also be cold and hard underfoot. It is important to choose the right type of tile for your specific needs and to hire a professional installer to ensure that the job is done correctly.
---
Related video