If you want to know about the ceiling finishes or gypsum ceiling or tile flooring, please click the link.
---
Terrazzo and mosaic flooring are two types of decorative flooring that use small pieces of materials, such as marble, glass, or stone, to create intricate patterns or designs.
Terrazzo flooring typically uses a mix of concrete or epoxy and chips of different materials, while mosaic flooring uses small tiles to create designs. Both types of flooring are durable, long-lasting, and require minimal maintenance, making them popular choices for commercial and high-traffic areas.
1) Terrazzo Flooring
Terrazzo is an Italian word and Terrazzo flooring is made out of marble, granite, onyx and glass chips embedded in cement.
The terrazzo is then cured, polished and cut into tiles.
Terrazzo flooring is a type of mosaic flooring; it can also be used on walls, primarily in kitchens as a backsplash.
2) Advantages/Disadvantages
i) Advantages
Very durable material.
Water and heat resistant.
Nearly impenetrable
Lasts a lifetime
Low maintenance
ii) Disadvantages
Relatively expensive.
Can be slippery if wet
Hard and cold underfoot
Requires professional installation
3) Why Should I Choose Terrazzo?
i) Aesthetics
Terrazzo brings design flexibility not available in other flooring systems.
An unlimited color range coupled with a aggregate options from mother of pearl, to marble, to recycled glass
These are among the many advantages offered by terrazzo.
ii) Terrazzo is Green
In terms of green technology, nothing beats terrazzo.
Compressive strength nearly 500 pounds per sq inch.
Modern terrazzo floors are even more sustainable and durable than cement terrazzo floors.
We recycled content such as glass, into timeless terrazzo floors.
iii) Composition and Embodied Energy
Terrazzo is composed of natural occurring aggregates, recycled glass, plastic, or oyster shell, and a processed cement or epoxy binder.
The binder consists of 30 percent of the volume of the terrazzo.
Initial life-cycle assessments of embodied energy appear favorable due to the longevity of the floor and its low energy use for maintenance.
iv) Recycle/Reuse content
Glass aggregates are available from several suppliers.
Often post-industrial glass has no other recycling market.
Some stone aggregates are reclaimed from prior uses to be made into aggregates for the terrazzo market.
Plastic aggregates may contain up to 20-percent recycled content.
Twenty-percent recycled content may be achieved by using recycled glass fillers.
A flooring finish can incorporate glass aggregates and glass fillers in a recycled content of 70 percent.
v) VOC Off-gassing/Indoor Air Quality
Both cement and epoxy matrix floor systems are comprised of zero volatile organic.
Terrazzo exhibits little or no off-gassing over the life of the cured floor.
The nonporous, cleanable terrazzo finish does not support microbial growth, nor allows moisture to accumulate.
Helping to maintain a mold-free environment and improved indoor air quality.
vi) Life Cycle Cost
The cost of a flooring system over time includes the initial cost, plus maintenance costs and replacement costs over the life of the flooring system.
When calculating the life cycle cost of terrazzo based on these factors their isn't any product which compares to cementitious or epoxy terrazzo.
4) Terrazzo categories
Cement
Polyacrylate, and
Epoxy.
i) Cement
Cement used in both interior and exterior application.
It will accommodate the largest chip size.
It can be acid-washed for exterior nonslip surfaces.
Cement has the most limitations: It requires a 2½-inch allowance for installation, color choices are limited.
It also requires lengthy cure times.
ii) Polyacrylate
Polyacrylate is a modified cement system using an acrylic additive that allows the cement to be poured as thin as ½ inch thick.
Other advantages include its use in outdoor applications because it is breathable.
Glass chips can be used and it can also be acid-washed for outdoor applications.
Vibrant colors cannot be achieved, and it is limited to a smaller chip size.
iii) Epoxy
Epoxy terrazzo is the thinnest 3/8 inch.
It has virtually an unlimited range of vibrant colours because of the ability for the epoxy to accept colour.
Glass chips can be used.
It has the lowest cost for interior use.
One of the exciting new materials available in aggregates for terrazzo flooring is glass.
Glass gives terrazzo floors a transparency and depth that has not been available in marble.
With the increasing interest in green building, a glass terrazzo floor offers an eco-friendly option.
The durability and low maintenance of a terrazzo floor ensures use and enjoyment for years to come.
Few other floorings can boast of the advantages of a terrazzo floor. Its design can be as limitless as the creative process.
5) Advantages/Limitations of Terrazzo Types
i) Portland Cement sand cushion/bonded/acid-washed terrazzo
Advantages
Can be used in both interior and exterior applications
Can be acid-washed for added slip resistance for exterior use
Topping thickness will accommodate the largest chip size
System is breathable and not affected by moisture vapor transmission
Sand cushion terrazzo can accommodate substrate defects
Limitations
Requires minimum 2½-inch depression for system installation
Vibrant colors are limited in Portland Cement
Glass chips are not recommended in unmodified cement
Additives must be used to overcome alkali silica reaction between glass and cement
Design flexibility due to panel size limitations
Lengthy cure times to achieve final appearance
ii) Polyacrylate matrix terrazzo
Advantages
System thickness of ½ inch total; can be used over a wood substrate
Glass chips can be used in polyacrylate matrix terrazzo
Can be used in outdoor applications
System is breathable and not affected by moisture vapor transmission
Can be acid-washed for exterior nonslip applications
Limitations
½ inch total thickness requires high flatness tolerance of ¼ inch per 10 square feet in the substrate
Vibrant colors cannot be achieved in a polyacrylate matrix
Maximum chip size that can be used is a #2
iii) Epoxy resin matrix terrazzo
Advantages
System thickness of 3/8 inch total can be used over concrete or wood subspace
Virtually unlimited range of vibrant colors available
Glass chips can be used in epoxy resin terrazzo
Design flexibility due to minimal divider strip requirements
Accelerated chemical cure allows for faster installation
Good color uniformity on large installations due to sophisticated manufacturing process for epoxy resin
Limitations
3/8 inch thickness requires a high flatness tolerance of ¼ inch per 10 square feet of substrate
Not recommended for exterior use
System not breathable; effective moisture vapor barrier required for slab-on-grade applications
Maximum chip size that can be used #2
6) Pictures of different types of terrazzo flooring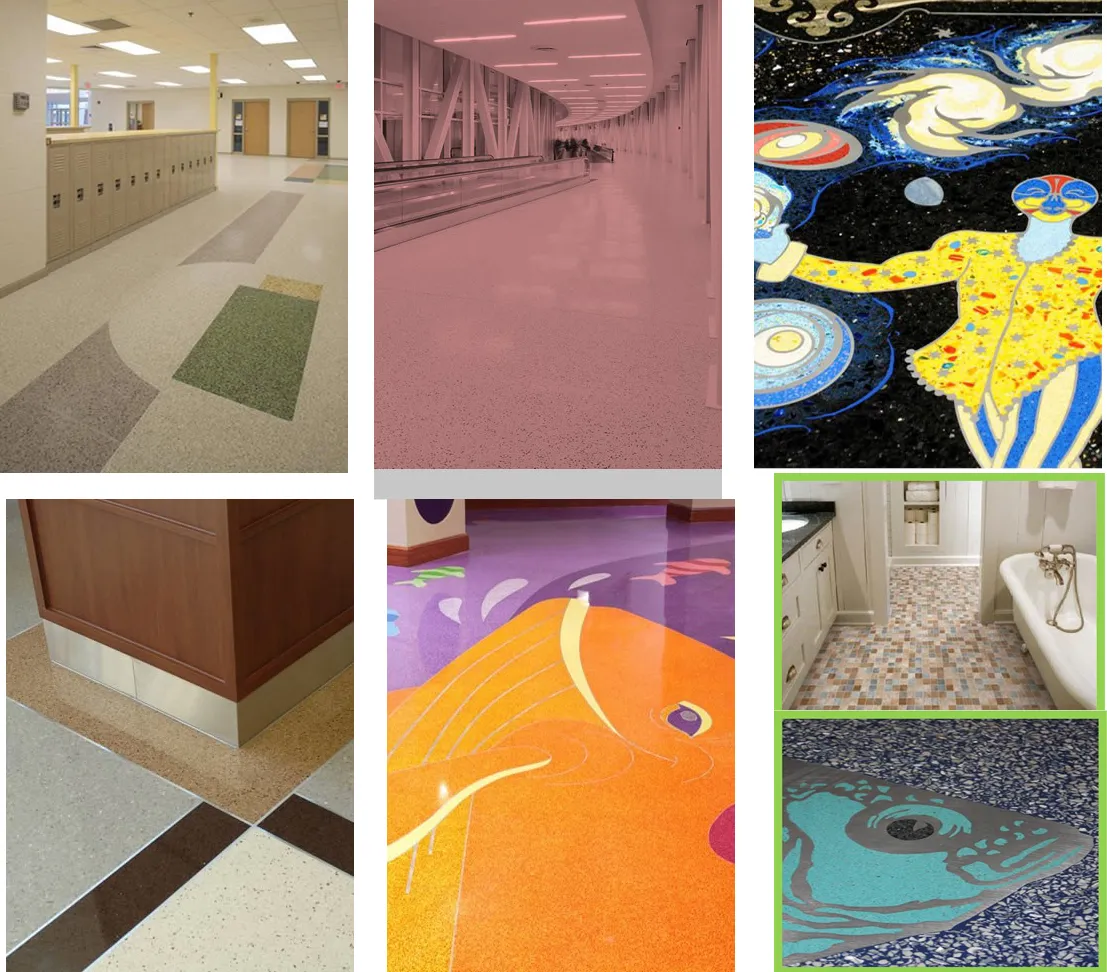 ---
7) Mosaic flooring
Mosaic is an art form which uses small pieces of materials placed together to create a unified whole.
The materials commonly used are marble or other stone, glass, pottery, mirror or foil-backed glass, or shells.
The term for each piece of material is Tessera
8) Types of mosaic flooring
There are types of mosaic tiles which are made up of
Glass
Ceramic
Porcelain
Stone
Marbles
9) Different mosaic flooring
Mosaic effects can change the feel of your home as they are natural and beautiful.
Even the shapes of mosaic tiles are different such as square, hexagonal and round.
Porcelain mosaic flooring is commonly used and found to be most durable as they can be glazed or unglazed. They are usually used in bathroom areas.
Hardwood and shimmering glass lend your home or office luxurious look of elegance and style.
Stone flooring is also known as pebble flooring which is usually installed in bathrooms and pool areas. It is naturally striking and stands apart from others.
Mosaic hardwood flooring is another option which is cost effective and sets a distinctive tone for any home or office.
10) Advantages and disadvantages of mosaic flooring
Advantages
High fired and durable
Dense hard and tough
Mosaic tile comes in a wide variety of colours and textures
Easy to customize yourself
Water and bacteria resistant
Great for do it yourself project
Low maintenance
Disadvantages
Glazed tiles can be slippery if wet
Cold and hard underfoot
Tiles may damage or crack
11) Features of mosaic flooring
i) Function
Strength and longevity are two main attributes of porcelain mosaic tile.
Glass and ceramic are also good choices for flooring.
Mosaic hardwood flooring sets a distinctive tone for any home.
ii) Identification
Identification Determining which type of mosaic tile would be meet your needs should be based on patterns, cost and personal design.
Porcelain, ceramic and glass are most often used in bathrooms.
While hardwood mosaic flooring is perfect for a foyer or reception area.
iii) Effects
The effects of mosaic flooring can change the feel of your home or office.
Luxurious hardwoods or shimmering glass indicate style and elegance.
Pebble mosaics show preference to a more natural beauty.
iv) Consideration
Hardwood mosaic flooring often includes exotic woods within the design.
Mosaic tile flooring is more affordable and also offers customization through vivid color and design.
Glass tiles also can be made from recycled material, an appropriate consideration for a green home.
12) Three techniques
i) Direct method
The direct method of mosaic construction involves directly placing (gluing) the individual tesserae onto the supporting surface.
The direct method suits small projects. Another advantage of the direct method is that the resulting mosaic is progressively visible, colors placement.
The disadvantage of the direct method is that the artist must work directly at the chosen surface.
ii) Indirect method
The indirect method of applying tesserae is often used for very large projects, projects with repetitive elements or for areas needing site specific shapes.
This method is most useful for extremely large projects.
iii) Double indirect method
The double indirect method can be used when it is important to see the work during the creation process as it will appear when completed.
Its greatest advantage lies in the possibility of the operator directly controlling the final result of the work, which is important e.g. when the human figure is involved.
13) Pictures of different of mosaic flooring
14) Mosaic Tile Flooring
Mosaic Tile Flooring is perhaps the most well known type of flooring used by homeowners today. This is because you can make your own patters, mix and match the tiles, and install them yourself. Homeowners like that they are able to customize the floor to their specific tastes using mosaic tiles.
Mosaic tile flooring can be laid down at random or as a pattern (such as a picture). Mosaic tiles can also be used in countertops, backsplashes and on small tabletops
13) Interesting and Very Unique
Mosaic tiles usually come in 2×2 inch squares; you can buy them separately or already mounted on a mesh backing. Mosaic tile flooring come either glazed or unglazed and are made out of either ceramic or porcelain.
You can even use old tiles you find lying around, smash them into small pieces and create a unique pattern on, for instance, a tabletop.
13) Advantages/Disadvantages of Mosaic Flooring
Advantages
Relatively durable material
Easy to customize yourself
Water and bacteria resistant
Inexpensive
Great for a do-it-yourself project
Low maintenance
Disadvantages
Glazed tiles can be slippery if wet
Cold and hard underfoot
Tiles may dam
18) Why Should I Choose Terrazzo ?
i) Maintenance
Mosaic tile is very easy to maintain.
Any stains should be removed using a brush with synthetic, non-abrasive brushes. Otherwise, you will permanently scratch the tiles
ii) Durable Materials
Both ceramic and porcelain are durable materials.
If mosaic tile flooring is laid properly, it will last quite a long time.
iii) Suitability
Mosaic flooring is hard and easy to clean.
It is most often used in kitchens, bathrooms and entryways. It is also very water and bacteria resistant.
Most commercial bathrooms are done in mosaic tile, due to its versatility.
In addition, mosaic tiles are very affordable.
20) Picture of mosaic tiles
---
Both terrazzo and mosaic flooring are popular in commercial and public spaces, such as airports, hospitals, and government buildings, as they are durable, easy to clean, and require minimal maintenance. They are also popular in residential settings, particularly in high-end homes, as they add a unique and luxurious touch to any space.
---
Related video