If you want to know about the Egyptian architecture or roman architecture or river valley civilization, please click the link.
---
The Indus Valley Civilization was an ancient civilization located in what is now Pakistan and northwest India, that existed from about 3300 BCE to 1300 BCE. It was one of the world's first urban civilizations, and it was characterized by well-planned cities, sophisticated drainage systems, and widespread use of brick architecture.
It is a BRONZE AGE CIVILIZATION.
TIME PERIOD = 3300 BCE to 1300 BCE (4100 years back).
One of the 3 early civilizations (Meso, Ancient Egypt, Indus Valley).
Also known as Harappan civilization and Saraswati Sindhu Civilization.
The Indus civilization is known to have comprised two large cities, Harappa and Mohenjo-Daro, and more than 100 towns and villages, often of relatively small size but well planned and walled also.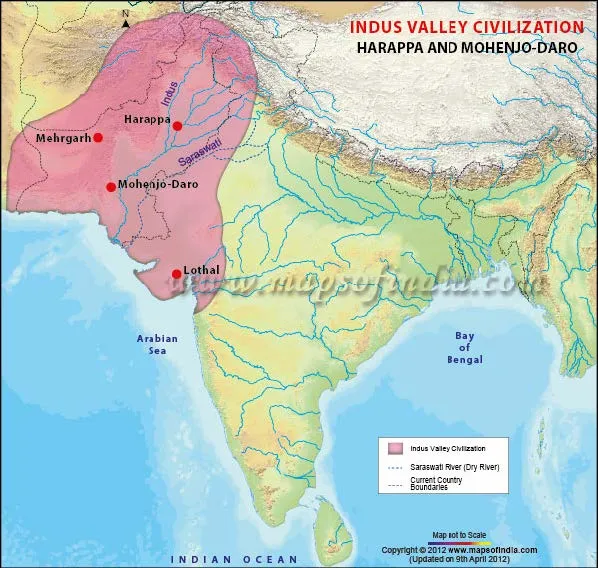 Location- It was situated on the basins of Indus River (today's dried up Saraswati River) coursed through northwest India and eastern Pakistan.
It may had a population of over 5million.
Indus valley developed new techniques in handicraft and metallurgy (copper, bronze, lead, and tin).
The Indus cities are noted for their urban planning, baked brick houses, elaborate drainage systems, and water supply systems.
1) History and geography of Indus valley civilization
i) Geography
Rich agricultural land surrounded by highlands, desert and ocean.
Dry Riverbeds along Ghaggar Hakra river (50cities).
Civilization had same situation as those in Egypt and Peru.
ii) Excavations
Harappa was first site to be excavated in 1920s, in what was then the Punjab province of British India and is now in Pakistan.
Excavation took place mainly in general regions of Indus River and Ghaggar Harakra rivers and their main tributaries.
1056 cities had been found out of which 96 have been excavated.
The discovery of Harappa, and soon afterwards, Mohenjo-Daro, was the culmination of work beginning in 1861 with the founding of the Archaeological Survey of India in the British Raj.
iii) Many things were found during Excavations..
Clay model of a cart, pulled by oxen or water buffalo.
People in the Indus Valley played board games like this, moving pieces between squares.
Maze puzzles and dice games were enjoyed by children and adults.
The "Priest King" Found in Mohenjo-Daro, Sindh.
A piece of painted pottery from Harappa, as it was found by archaeologists.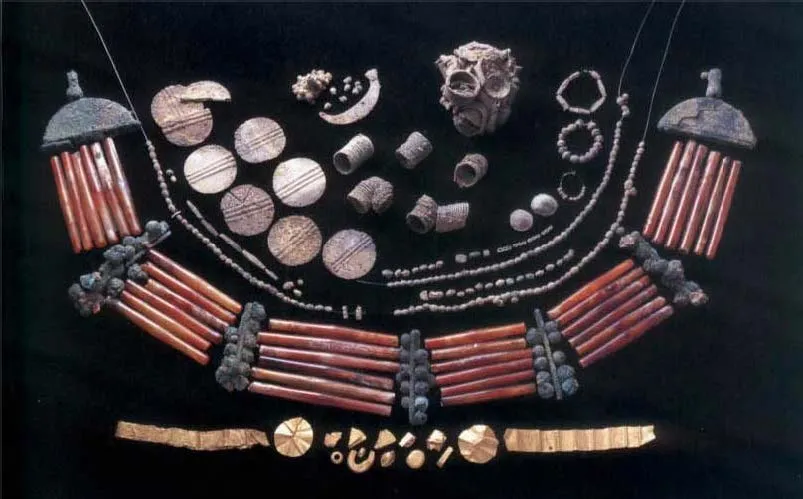 Jewelry found during the excavations…
2) Phases of Indus valley civilization
Early Harappan civilization (3300BC to 2800 BC)
Mature Harappan civilization
Late Harappan civilization
3) Sites of Indus valley civilization
Mohenjo-daro
Harappa
Kalibangam
Rakhigarhi
Dolavira
Lothal
Surkotada
4) Town planning and development pattern Indus valley civilization
i) Town planning system
The Town Planning System of Indus Valley Civilization was city based.
The excellent drainage and sanitation systems are remarkable.
The social conditions of the citizens were comparable to those in Sumeria and superior to the contemporary Babylonians and Egyptians.
ii) Urban cities
The Indus civilization flourished around cities.
The ruins of the cities show remarkable town planning, and excellent system of drainage and sanitation of the Indus Valley Civilization.
The city was the heart of the civilization. Eg Harappa, Mohenjo daro, Lothal, Dolavira.
The evidence suggests they had a highly developed city life; many houses had wells and bathrooms as well as an elaborate underground drainage system.
iii) Division of cities
Almost all the cities were divided into two parts –

A CITADEL, on Western Side
A LOWER TOWN, on Eastern Side.
The CITADEL consisted of large structures which functioned as Administrative Buildings.
LOWER TOWN consisted of housing for people. The houses can be divided into three main groups:
Dwelling houses
Larger buildings
Public baths
iv) Housing system
Town dwellers were divided into various social classes.
The Rich and the Ruling class lived in the multi-roomed spacious houses.
Poorer section lived in small tenements.
The public building and big houses were situated on the streets.
Encroachment on public roads or lanes by building houses was not permitted.
The modest houses were situated on the lanes.
Smaller houses had two rooms, while larger houses had many rooms.
They were plain, utilitarian and comfortable to live.
Some of the buildings were probably multistoried.
Most of the houses had baths, wells and covered drains connected with street drains.
Ordinary buildings had little ventilation arrangements, as doors and windows were rarely fixed in the outer walls.
Doors of entrance were fixed not on the front wall but on the side walls.
One could enter a house by the door facing the side lanes of the house.
Large buildings had spacious doors.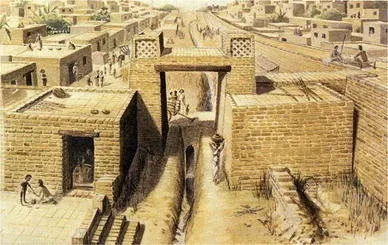 v) Building material
The main materials used were sun-dried and burnt bricks, which were made in molds of 1:2:4 ratios.
Easy availability of wood for burning meant baked bricks were used in abundance in Harappa and Mohenjo-Daro.
Mud mortar and gypsum cement is also in evidence, and mud plaster and gypsum plaster are also found to have been used.
Wooden frames were probably used for the doors and windows which have since rotted away.
The staircases of big buildings were solid; the roofs were flat and were made of wood.
vi) Streets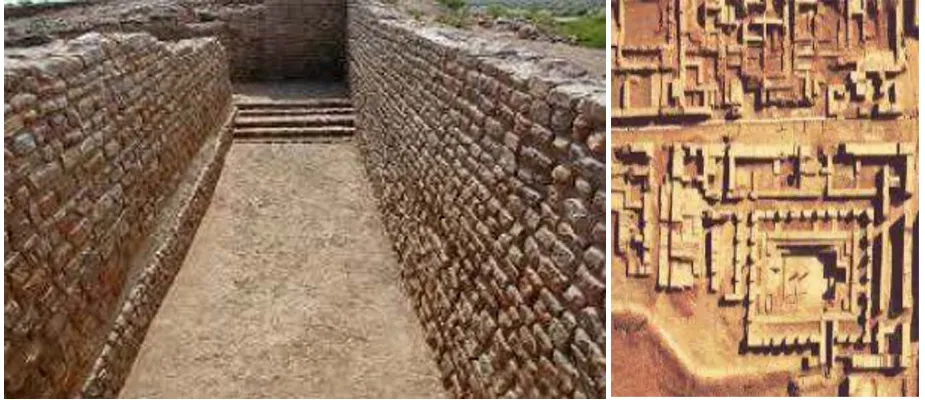 The streets were broad varying from 9feet to 34 feet.
They ran straight to a mile.
Lanes were joined with the streets.
Street lamps were provided for welfare of public.
vii) Drainage system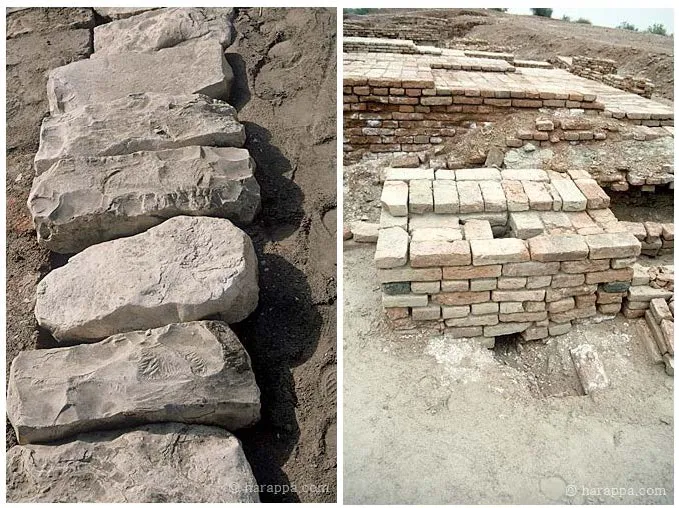 The elaborate drainage system was a remarkable feature of the civilization.
No ancient civilization before, had such an advanced drainage and sanitation system.
Each house had horizontal and vertical drains.
House drains emptied themselves into the main drains which ran under the main streets and below many lanes.
Huge slabs were used to cover the drainage system.
Spaces for rainwater to add to the efficiency of the drainage and to keep down the natural smell.
It is a toilet and a marvelous invention for the drainage system.
5) Important cities of Indus valley civilization
Uniform culture over a wide area.
Cities built on a common plan.
A grid: always NS and EW axes.
Mohenjo-Daro
Harappa
Kalibangan
Rakhigarhi
Dholavira
Lothal
Surkotada
i) Lothal : the city of trade
It had remains of a beads factory, a huge tank and store house.
Beads industry – made beads of stone, shells and metal.
Huge tank – used as dockyard, where boats and ships came from the sea through river channels.
Store House – The goods loaded at the dock yard were probably stored in the store house which is close to it.
Trade was done with people of Mesopotamia through Arabian sea.
Lothal
DOCK was used for trade of beads and other valuable for spices.
Raised platform for bathing , 300mm above ground level
ii) Dholavira
Dholavira was 2nd largest site of Indus Valley Civilization.
Unlike, all the cities of Harappa were divided into the two parts Dholavira was divided into three parts.
The citadel
The middle town
The lower town
Each part was surrounded by massive stone walls with entrance through gateways.
Dholavira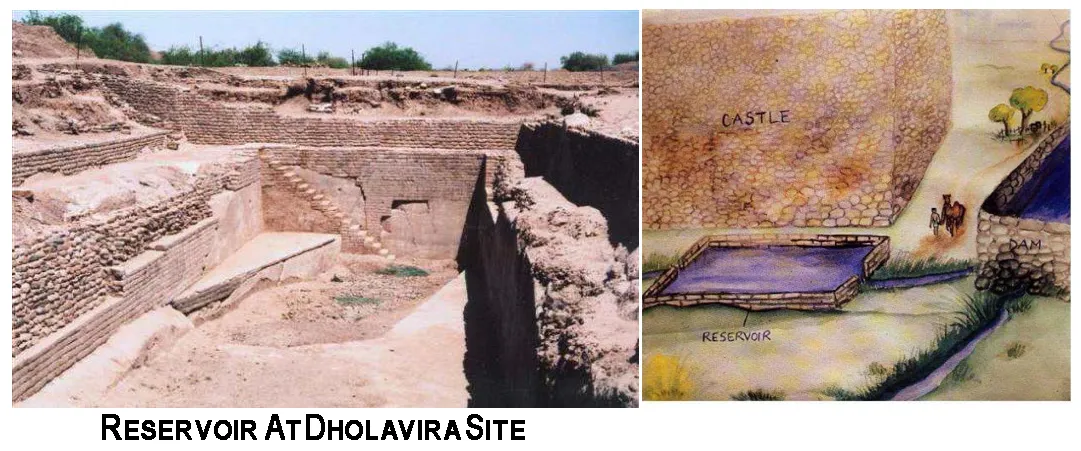 Sketch depicting water canalized from dam to the reservoir.
Water carried to reservoir though covered channels.
iii) Kalibanga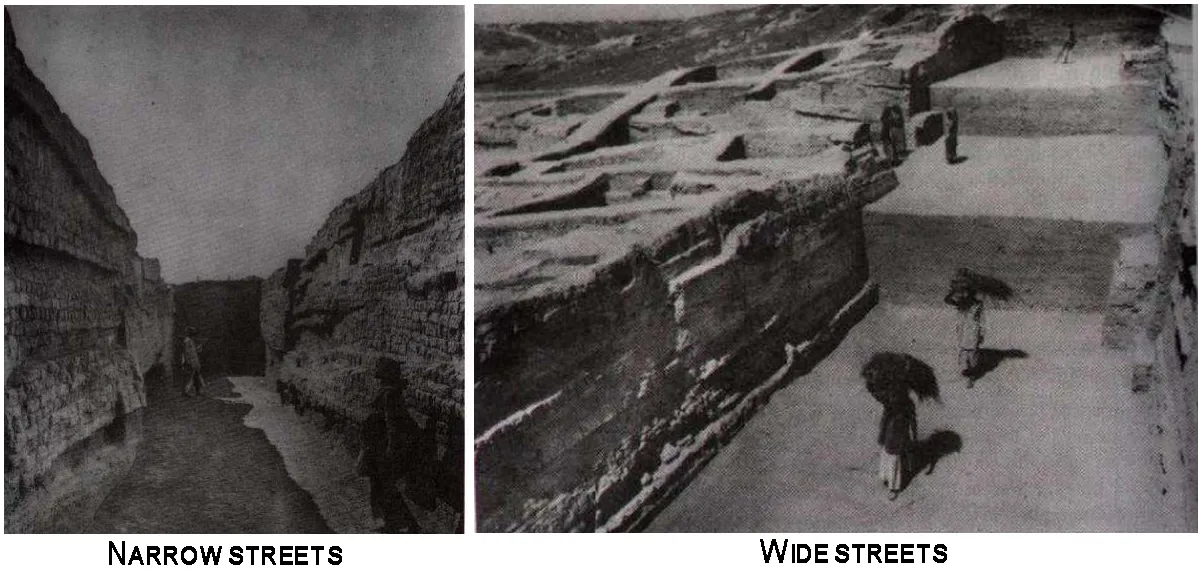 Street-widths were: 1.8 m., 3.6m, 5.4mand 7.2 m. (note the ratio of 1:2:3:4).
The city excelled in clay, copper and bronze.
It depicts a prosecution of seven men wearing kilts & helmets and attacking a tiger.
BRONZE BULL CLAY SEALS were extracted in plenty and figures were embossed
TERACOTTA BULL
BULL was an essential figure as it was used in agriculture.
iv) Harappa
Harappa town planning
Citadel mound and lower town surrounded by a massive brick wall.
Large open areas inside the gateway may have been used as a market or checkpoint for taxing goods coming into the city.
Outside the city walls a cluster of houses may represent temporary rest stops for travelers and caravans.
No division of the society is reflected in the layout of the city. Since large public buildings, market areas, large and small houses as well as craft workshops have been found in the same neighborhood.
Arrack-like group of single-roomed tenements were for the poorer classes
Harappa
A. Plan of circular platforms.
B. sections of sediments above platform and section through central pit.
The circular working platforms located to the south of the "granary" or Great Hall.
They were used for husking grain.
Even at that time, structures were plastered; with mud.
v) Mohenjo – daro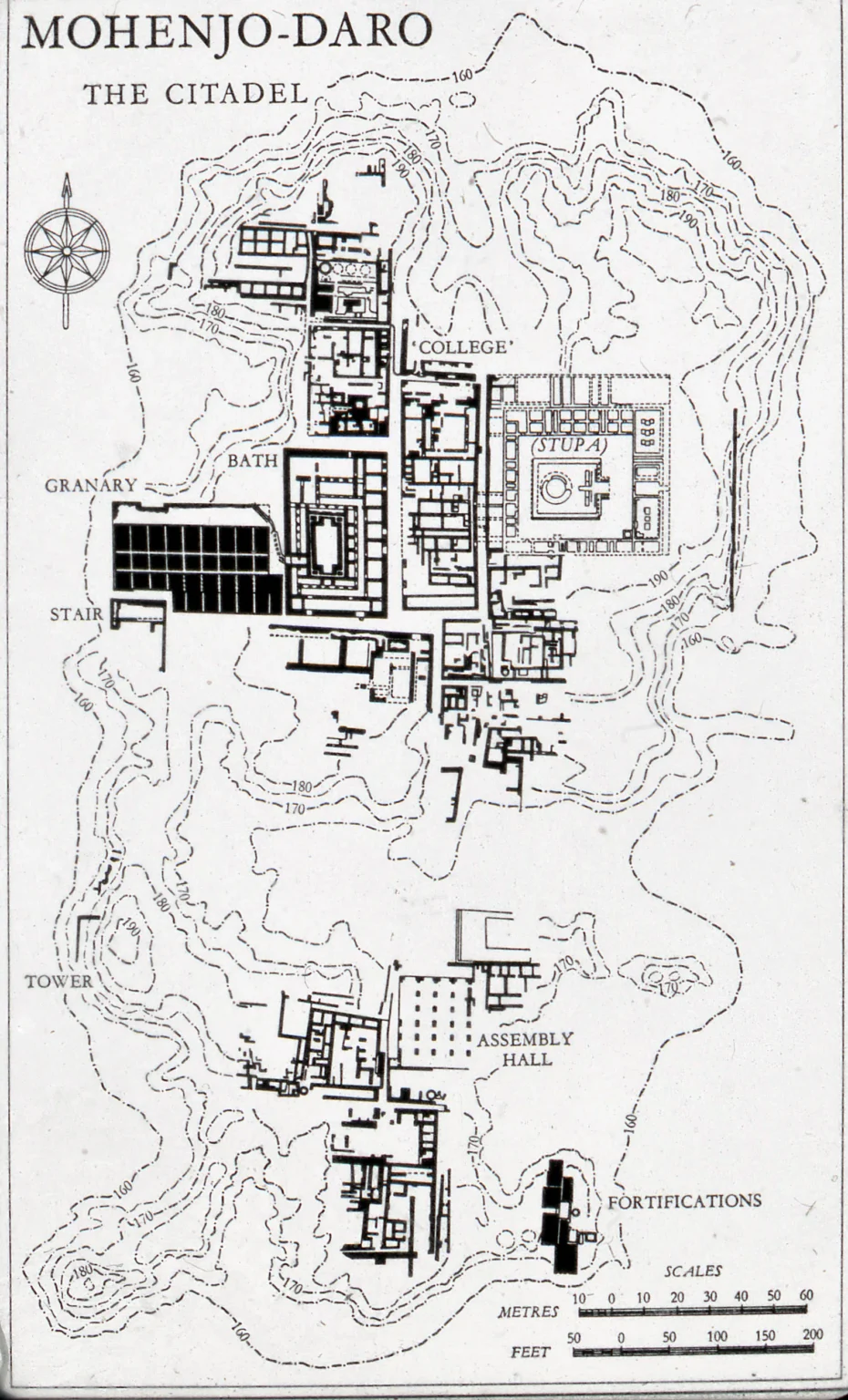 The site plan of Mohenjo-Daro showing the city and locations of the city and the citadel with the view of the great bath.
No fortification
Major streets in north south direction.
Integration at right angles.
Streets within built up areas were narrow.
Distinct zoning for different groups.
Settlement divisions
Religious, institutional & cultural areas – around monastery & great bath in the western part.
North – agriculture & industries.
South – administration, trade & commerce.
Great bath
12x7x3 m in dimensions.
Earliest public water tank in great bath ancient world.
Watertight floor – thick layer of bitumen.
Floor slopes in south-west corner with a small outlet connecting to a brick drain rooms located in the east.
Citadel
Mohenjo-daro had straight streets and large public building and meeting places, its two-story houses were built of baked bricks, and many included rooms for bathing.
Granary
50×40 m in dimension, 4.5 m tall.
Massive mud brick foundation.
2 rows of six rooms along a central passageway [7m wide & paved with baked bricks].
Each room 15.2×6.1 m has 3 steeper walls with airspace between a wooden superstructure supported in some places by large columns would have been built on top of the brick foundations, with stairs leading up from the central passage area.
Small triangular openings – air ducts for fresh air beneath hollow floors.
The large size of the granary probably indicates a highly developed agricultural civilization.
Interpretations of archeologists
A view of the GREAT BATH of Mohenjo-Daro; computer generated according to the interpretation of the archaeologists.
A view of the multistorey GRANARY in the CITADEL; used for storage with small entrances were goods are taken through pulleys.
6) Economic life of Indus valley civilization
i) Agriculture
Their economy was entirely dominated by horticulture.
Farming along Indus lead to steady food source which led to surplus in agriculture.
Main agricultural products comprised wheat, peas, melons, dates, barely, rice, cotton, vegetables etc.
There were vast storehouses to gather food grains etc.
Sickles and other types of agricultural equipment's have also been found.
They relied on the technological achievements of the pre-Harappan culture, including the plough.
They practiced rainfall harvesting.
This was the first civilization to cultivate cotton for the production of cloth.
ii) Domestication of Animals, Seals
This was another means of sustenance of the Indus Valley civilization.
The seals identified, depict that primary animals were cow, bulls, buffaloes, sheep, goat, camels etc.
Seals were used for long distance transportation.
Seals were imprinted on a wet clay and that was attached to parcel.
iii) Hunting
Besides being a means of entertainment, hunting was also a means of sustenance.
Merchandised the skins, hair and bones of different animals.
Fishing was also admired.
iii) Weaving and Spinning
Various objects excavated, establish that weaving and spinning were admired among the community.
Cotton as well as wool was used for designing clothes.
Cotton weaving by women at home.
Women wear skirt and man wrapped long pieces of clothes along themselves.
iv) Pottery
Great skills in pottery.
The pots were made of baked clay. It was constructed on a wheel.
Potteries were more refined and decorated with a red slip and a black paint.
They decorated the pots by depicting snake, flower etc.
Most popular design is a series of intersecting circles, which has probably not been used by any other ancient civilization. Other designs included tree pattern, the chase board pattern, figures of animals and birds.
Domestic vessels like heaters, store-jars, offering stands etc., were manufactured.
Glazing vessels of copper, bronze, silver and porcelain were also created.
v) Metals and Minerals
Gold, silver, bronze and lead were utilized.
Most of the pots unearthed were made from copper and bronze.
Ornaments
Both women and men were fond of ornaments made up of gold, silver, copper.
Women wore bracelets and necklaces made of gold, beads of shells, silver were used.
The other ornaments include bangles, chokers, long pendant necklaces, rings, earrings, conical hair ornaments, and broaches.
These ornaments were never buried with the dead, but were passed on from one generation to the next.
vi) Trade and Commerce

This ancient civilization had trade relations with other countries like Egypt, Mesopotamia and China.
Gold, silver, copper and other precious stones which have been excavated in Mohenjo-Daro and Harappa, must have been fetched from foreign countries, because till then they were not found here.
Trade of cloth was accomplished with other countries.
The trade was achieved through river routes. The designs of boat substantiate it.
vii) Weights and Measures
Particular weights and measures were excavated during diggings in Harappa and MohenjoDaro. Some of the weights were so large that they were hauled by ropes. Others were of a small size, normally used by jewelry makers.
Besides the measure of cubic system, foot system was also in used.
Exchanges were regulated by precise system of WEIGHTS.
It had cubical shape and made up of stone called chert.
viii) Writing
The Indus Civilization had a writing system which today still remains a mystery: all attempts to decipher it have failed.
This is one of the reasons why the Indus Valley Civilization is one of the least known of the important early civilizations of antiquity.
Examples of this writing system have been found in pottery, amulets, carved stamp seals, and even in weights and copper tablets.
ix) Religion
Seals bearing depiction of gods, goddesses and animals point towards Buddhism and Hinduism.
The seated human like figure shown is the so called "proto-shiva" (Hindu god).
No evident religious buildings but some structures do serve to the ambiguity being what looks as remains of temples.
Buried human bodies: evidence of a cemetery.
Burial urns with ashes: evidences of cremation.
The religious beliefs among the dwellers of this civilization remain uncertain until specific evidence is found.
x) Burial
The body was placed inside a wooden coffin (which later decayed) and entombed in a rectangular pit surrounded with burial offerings in pottery vessels.
The man was buried wearing a necklace of 340 graduated steatite beads and three separate pendant beads made of natural stone and three gold beads. Burial of woman and infant, Harappa.
This burial was disturbed in antiquity, possibly by ancient Harappan grave robbers.
The body is flipped and the pottery disturbed, the left arm of the woman is broken and shell bangles that would normally be found on the left arm are missing. The infant was buried in a small pit beneath the legs of the mother.
xi) Reasons for decline
The law of nature: Its decline set in around 1800 B.C. and in course of time came its extinction. People started to leave the cities.
Floods: The massive floods in the indius.
Earthquakes: The Harappan culture occupied an area that was prone to earthquakes as it came under a seismographic zone. Repeated seismographic vibrations must have led to erosion that brought down the buildings.
Change of the course of Indus: The Indus delta shifted away from Mohenjo-Daro and water became scarce.
Plague: Skeletal remains from the main roads of Harappa and Mohenjo-Daro were found.
Foreign Invasion: Invasion of an Indo-European tribe from Central Asia called "Aryans". Skeletal remains in Mohenjo-Daro reveals damages caused by sharp objects or weapons.
Draught and decline in Trade with Mesopotamia and Egypt.
---
Overall, the Indus Valley Civilization was one of the most advanced and sophisticated ancient civilizations in the world, and its legacy can still be seen in the languages and cultures of South Asia today.
---
Related video