If you want know about Auditorium design or Theory of proportion or Origin of architecture or Principles of design please click the link above.
---
A loading dock or loading bay is an area of a building where goods vehicles are loaded and unloaded. They are commonly found on commercial and industrial buildings, and warehouses in particular.
1) Loading bays
Gaps between dock ramps and vehicles have to be safely bridged to allow loading and unloading operations to be carried out easily and smoothly.
Loading bridges should safely link a dock with any type of vehicle or railway truck.
The loading platform of the vehicle can be either higher or lower than the ramp. As shown in the figure below.
Aluminium wedge-shaped units are ideal for raising low vehicles into line with the height of the loading dock. As shown in the figure. These can be mounted on rollers and easily moved to various work locations.
Aluminium hinged loading platforms can be set at various levels. As shown in the figure below.
Portable loading bridges can be rolled and carried, and can also be used for loading on to railway trucks. As shown in the figure.
Loading platforms with projecting lips are also available with automatic hydraulic action. As shown in the figure.
Hydraulic scissor lifts are used to adjust for differing levels between the yard and the vehicle platform. As shown in the figure.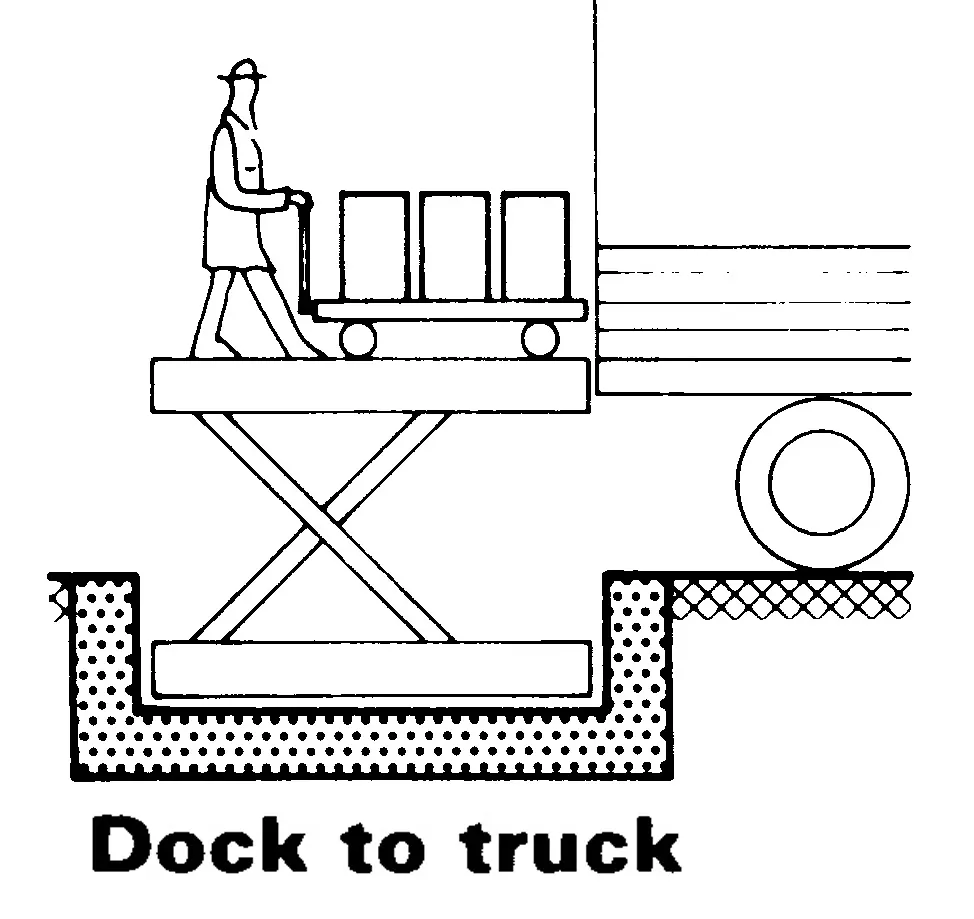 Between the vehicle and the dock ramp as shown in the figure below. Or between two dock ramps. Mobile lift platforms are also available.
2) The loading pit
A good loading pit is straight and has a maximum gradient of 10%.
3) The platform
There is wide variety in models and truck dimensions, so it is likely that trucks of different heights will park at the same dock.
Special trucks, such as refrigerated trucks, will be higher, even when they are built on the same frame as other trucks, due to the insulated floor.
To determine the average floor height of the trucks, you should look at the lowest loaded truck and the highest unloaded truck.
However, it is advisable to omit occasional vehicles with extremely low or high floor when calculating the average floor height.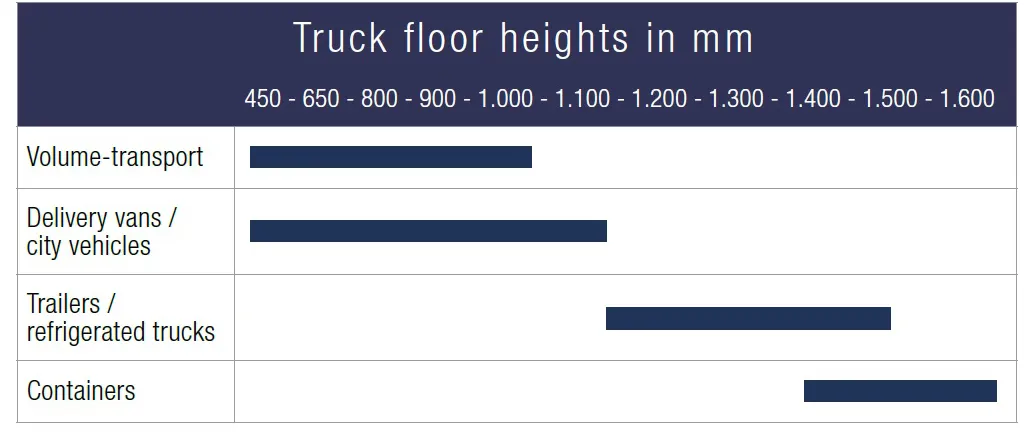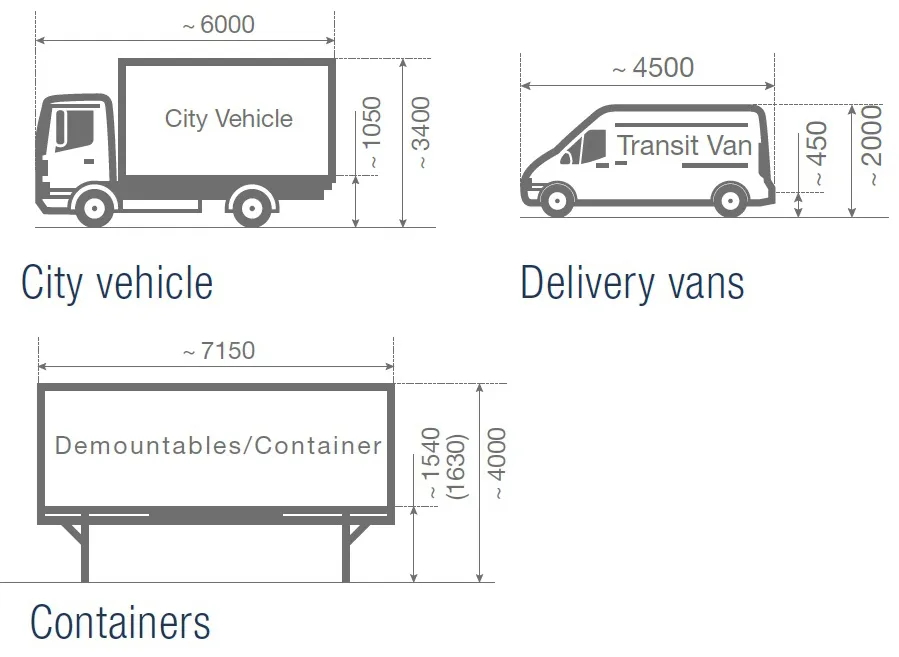 4) Internal transport equipment
Continuous height adjustment to any particular level during loading or unloading of the truck is best achieved using forklift trucks, which are available with electric, diesel, petrol and LPG engines as shown in the figure.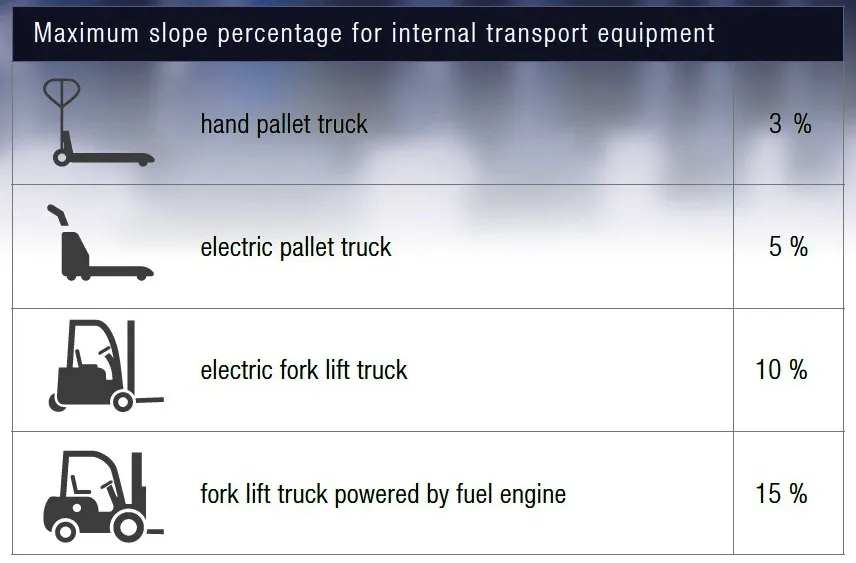 The height of mobile drive-on ramps for loading containers, lorries and railway trucks can be automatically adjusted according to the suspension of the truck during loading and unloading.
5) The site
It is important to avoid bottlenecks as trucks arrive on site to access loading bays.
Properly designed road layouts that enable vehicles to travel quickly and safely with a minimum of manoeuvring will help to eliminate the problem.
Efficient traffic management, including strict control over the directional flow of trucks, will also contribute greatly to safe and smooth vehicle movement.
Make sure you have enough space to dock your vehicle.
An example of the ideal depth of yard for articulated trucks with overall lengths of 18m is shown in the figure below.
Calculations based on experience show that under these conditions a length of 35m is required for access. Even the longest articulated truck can then be driven swiftly in and out. This is an important factor in controlling the turn-round of the vehicles on scheduled runs.
If the above mentioned conditions cannot be met, the saw-toothed bay layout, with an angle of 10°-15° offers a practical solution.
The largest turning radius for an articulated truck is about 12.00 m.
The safe distance to be allowed between two adjacent trucks is a minimum of:
1.50m with the use of a loading dock;
3.00m with the use of loading doors.
6) Turning radius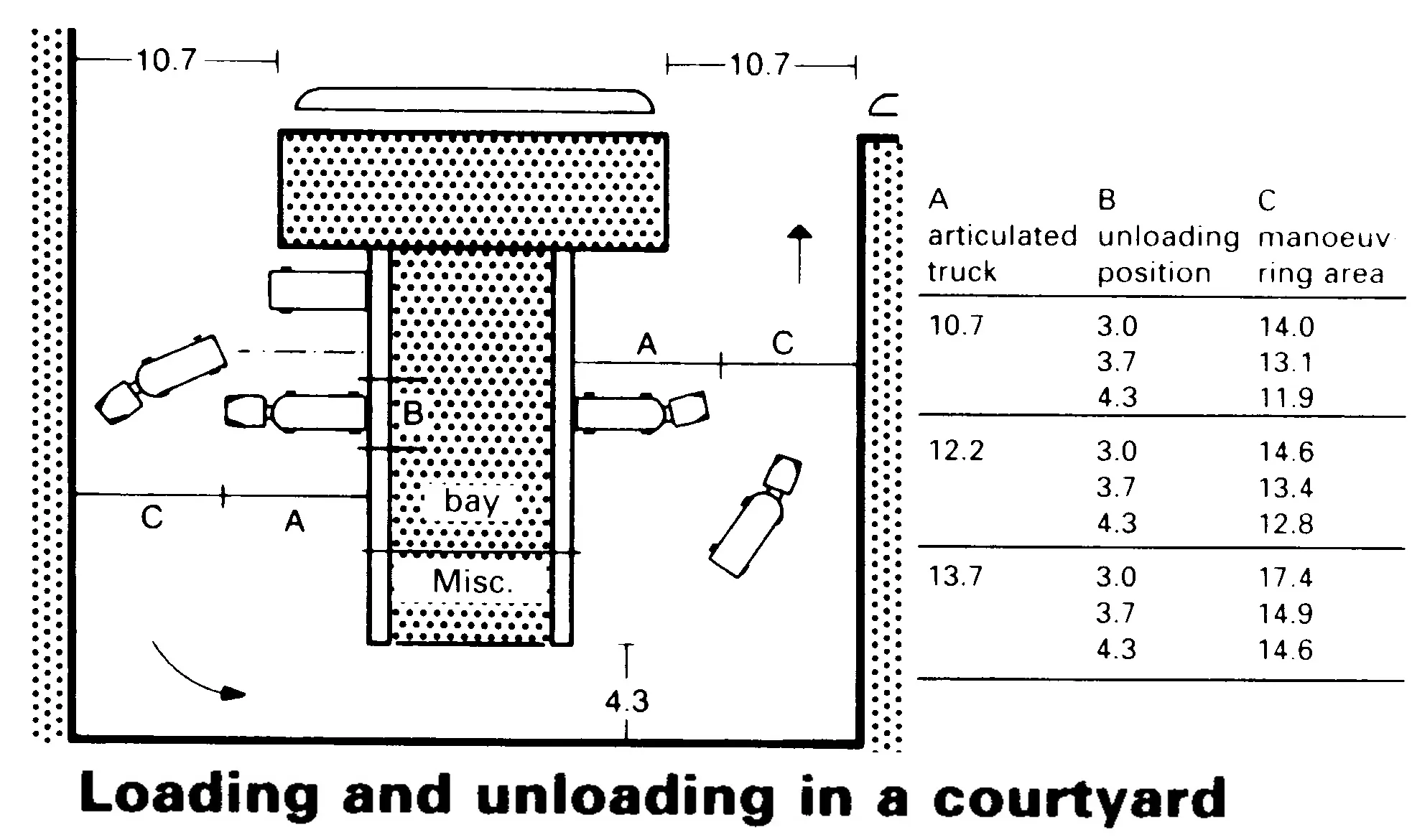 7) Traffic movement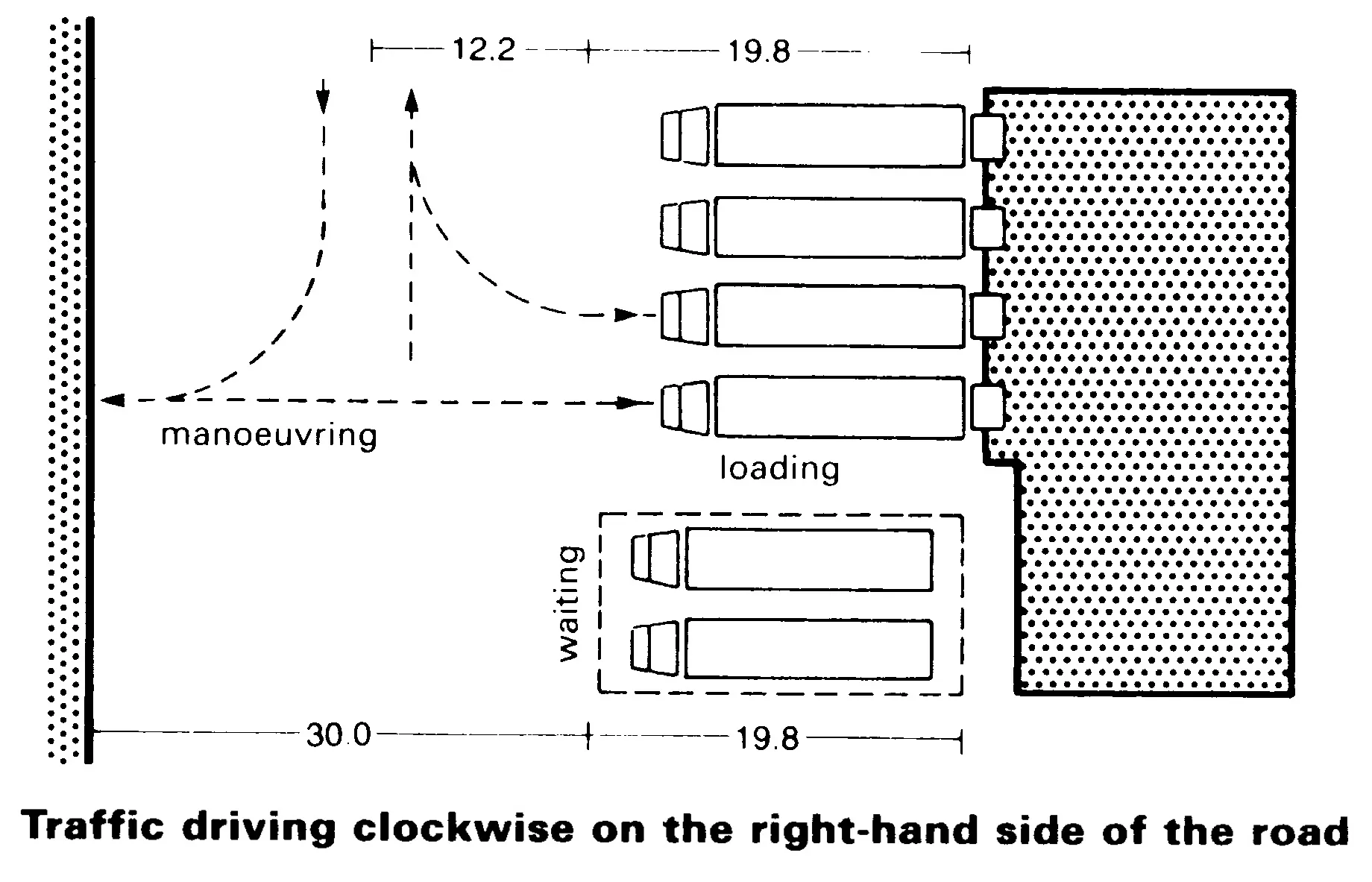 ---
Related video