If you want to know about the ekistics development theory or Chinese landscape architecture or town planning principles in ancient India, please click the link.
---
Radburn Theory is a concept in urban planning and design that was first proposed by Clarence Stein and Henry Wright in the 1920s. The theory is based on the idea of separating automobile and pedestrian traffic to create a more efficient and safer living environment.
1) Radburn theory
According to Radburn Theory, the design of a residential community should be focused on creating a central green space that is surrounded by homes. All the homes would face inward toward the green space, while streets and alleys would be located on the periphery of the community. This design would create a pedestrian-friendly environment, as it would minimize the amount of vehicular traffic within the residential area.
Radburn is located within the Borough of Fair Lawn, Bergen County, New Jersey, 12 miles from New York City.
Radburn, a planned community, was started in 1929 by the City Housing Corporation from the plans developed by Clarence Stein and Henry Wright.
The concept of the "new town" grew out of the older planned communities in Europe and the work of Ebenezer Howard and Patrick Geddes.
The intent was to build a community which made provisions for the complexities of modern life, while still providing the amenities of open space, community service and economic viability.
The community was intended to be a self-sufficient entity, with residential, commercial and industrial areas each supplementing the needs of others.
It is America's first garden community, serving as a world wide example of the harmonious blending of private space and open area. Radburn provided a prototype for the new towns to meet the requirements for contemporary good living.
The residential areas include every type of housing unit with a wide range of cost.
2) Radburn's concept
The Radburn design has been implemented in several communities throughout the United States, including the town of Radburn, New Jersey, which was the first community to be designed using this theory.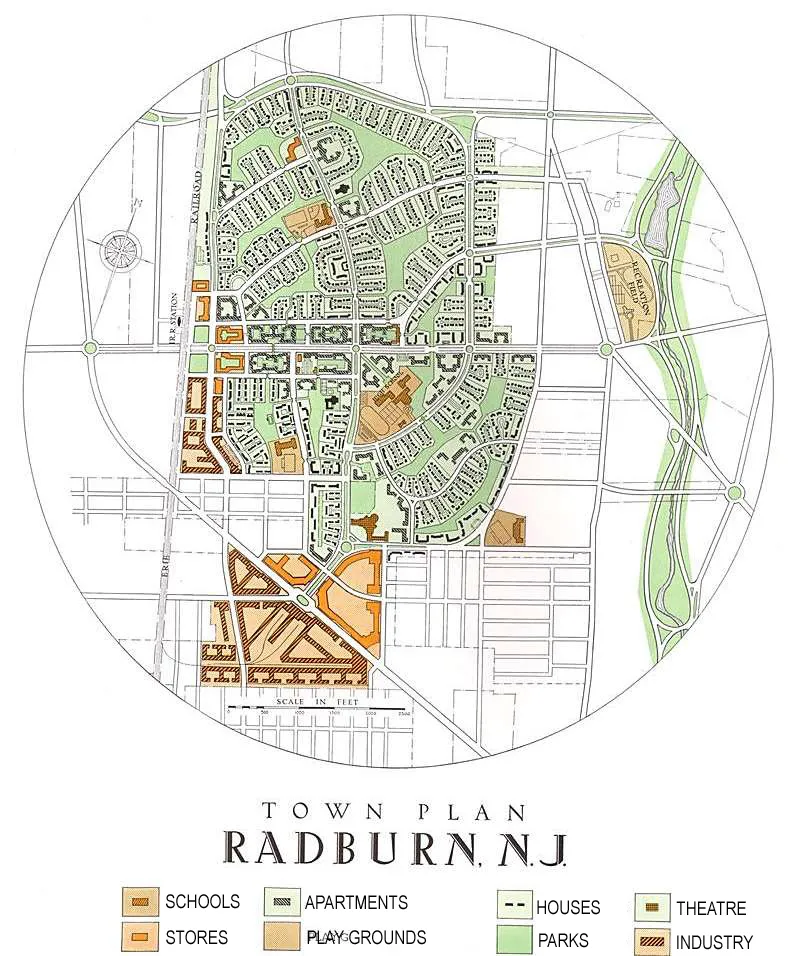 Radburn, New jersey – Plan of model community
SEPARATION of pedestrian and vehicular traffic.
SUPER BLOCK –large block surrounded by main roads.
Houses grouped around small CUL DE SAC each accessed from main road. Living, bedroom faced gardens & parks, service areas to ACCESS ROADS.
Remaining land- PARK AREAS
WALKWAYS – designed such that pedestrians can reach social places without crossing automobile street.
3) Radburn's planning Criterias
Elements of the Radburn Idea,
Super Block
Specialized Highway system
Complete separation of vehicular and pedestrian traffic
Park as backbone of the neighborhood
Turned around houses
HENRY WRIGHT"S "Six Planks for a Housing Platform"
Plan simply, but comprehensively. Don't stop at the individual property line. Adjust paving, sidewalks, sewers and the line like to the particular needs of the property dealt with- not to a conventional pattern. Arrange buildings and grounds so as to give sunlight, air and a tolerable outlook to even the smallest and cheapest house.
Provide ample sites in the right places for community use, i.e., playgrounds, school gardens, schools, theatres, churches, public buildings and stores.
Put factories and other industrial buildings where they can be without wasteful transportation of goods or people.
Cars must be parked and stored, deliveries made, waste collected (Vehicular Movement)- plan for such services with a minimum of danger, noise and confusion.
Relationship between buildings. Develop collectively such service as will add to the comfort of the individual, at lower cost than is possible under individual operation.
Arrange for the occupancy of houses on a fair basis of cost and service, including the cost of what needs to be done in organizing, building and maintaining the community.
5) Radburn's planning
Conceived by
CLARANCE STEIN & HENRY WRIGHT
Factors that influences
Rapid Industrialization after World War I
Migration of Rural to Cities
Dramatic growth of Cities
Housing Shortage
The need to provide housing and protect from motorized traffic.
Note – A partially built, planned settlement in northern New Jersey represents the influence of the English Garden City rational, scientific planning.
6) Radburn's super block
The basic layout of the community introduced the "super-block" concept, cul-de- sac (cluster) grouping, interior parklands, and separation of vehicular and pedestrian traffic to promote safety.
Every home was planned with access to park walks.
There are extensive recreation programs planned for the entire community.
While the orientation is primarily toward children, there is also a full range of adult activities.
Some of the programs are: Tot Lot, Radburn Preschool, sports, aerobics, amateur dramatics, library, clubroom facilities.
A diagram showing the street network structure of Radburn and its nested hierarchy.
7) Radburn city
---
Nonetheless, the Radburn design remains an important contribution to urban planning and design, and its principles continue to influence the design of residential communities around the world.
---
Related video