If you want to know about the ekistics development theory or satellite town planning concept or the elements of a city, please click the link.
---
Ribbon Development is an urban planning and design concept that prioritizes walkability, mixed-use development, and creating a sense of community.
It involves creating compact, interconnected communities that encourage walking and cycling by providing a mix of residential, commercial, and public spaces along a street, often referred to as a "ribbon". The goal is to create compact, sustainable, and livable communities that reduce the reliance on cars and promote a healthy, active lifestyle.
1) Ribbon Development
"Ribbon development is the spreading of urban functions through an accessible road by the effect of urban and industrial dynamics."
It is building houses along the routes of communications radiating from a human settlement.
Following the industrial revolution, ribbon development became prevalent along railway lines- predominantly in the UK, Russia and United States.
Ribbon development can also be compared with a linear village which is a village that grew along a transportation route, not as part of a city's expansion.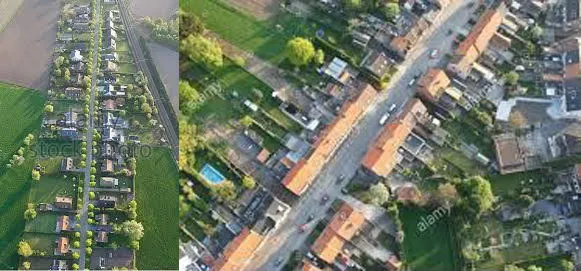 Here is development is in the form of ribbon or line i.e., single row of houses along the bus-stops, bus route, railway lines, railway stations.
In the beginning this growth is very small along the roads side but soon it occupies whole of the area. It happens especially in newly developing towns where rules and zoning regulations have not been strictly enforced
Ribbon development has become regular feature where we find overcrowding of all types of building such as schools, factories, petrol pumps. This type of development is more dangerous from traffic point of view.
2) Ribbon Development along with Highway
A system of buildings built side by side along a highway.
Like locating industries, repair shop, petrol pumps with direct access to the highways.
It has been observed that because of improvement of road surface and growth of motor traffic, it is the natural tendency of everyone to build as near as possible to the main road.
The building activity therefore expands in a natural way along the side of main road and long fingers or ribbons of houses, factories, shops, etc.
3) Disadvantages of Ribbon Development part – 1
Everybody wants to take advantage of road frontage. The interior is therefore left undeveloped, causing wastage of valuable land.
Overcrowding on the roadside streets become narrow and give rise to accidents
All kind of building creep in, at the frontage due to non-regards of zoning regulation. All these affects the health condition.
Town spreads far and wide which is costly to maintain.
Future development become very costly.
4) The problem of ribbon development in India
The development is marked as near all the cities and towns of the country.
Increasing urbanization and growing pressure on land near the city.
5) Effects of ribbon development
Towns and cities causing traffic and other issues.
The loss of food producing land.
Parking vehicles along roadsides.
Roadside encroachment.
Large number of advertisement cause driver distraction.
6) Disadvantages of ribbon development part – 2
Increase in cost of various utility services like water supply, power, telephone etc.
Loose and scatter community – lack of social life
Costly and difficult future improvement
Houses face heavy traffic, noise, dust
Interior portion left undeveloped, wastage of land
Traffic capacity and efficiency of main road reduces
More pedestrians on main road causes traffic accidents/ traffic delays
Harms naturalness of country, spoils countryside, aesthetically faulty
---
Examples of ribbon development
Early to mid-20th century ribbon development between hatfield woodhouse and hatfield.
Ribbon Development Belgium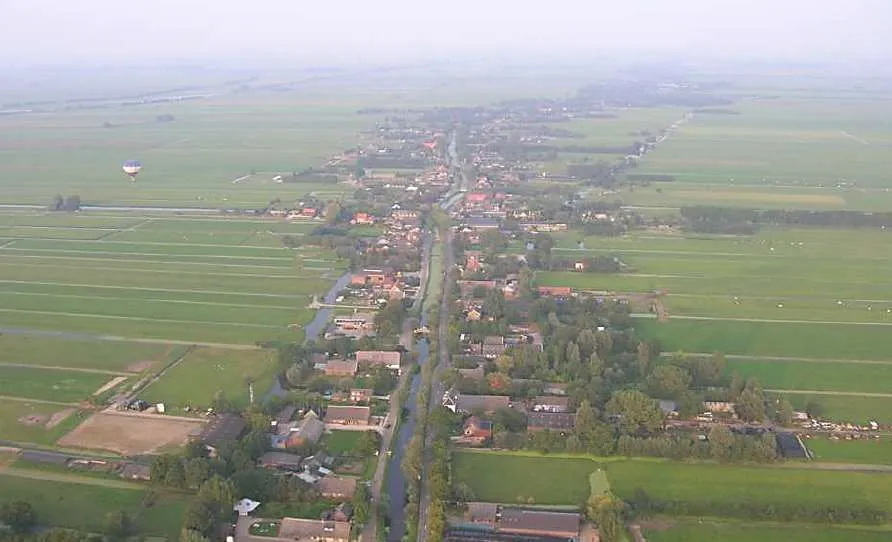 Mountain hare character area Industrial settlement of Isolated roads and Ribbon Development.
Ribbon Development near Ahmedabad
---
Related video