If you want to know about the radburn theory or ekistics development theory or satellite town planning concept, please click the link.
---
In urban design, the elements of a city are often considered in terms of five key components: paths, edges, districts, nodes, and landmarks. These elements work together to create the overall structure and character of a city.
The contents of the city images so far studied, which are preferable to physical forms, can conveniently be classified into five types of elements: paths, edges, districts, nodes, and landmarks. These elements may be defined as below:
1) Path
Paths: refer to the circulation systems within a city, including streets, sidewalks, bike lanes, and public transportation systems, which connect different parts of the city and facilitate movement.
Definition: Major and minor routes of circulation, which is customarily, occasionally or potentially used by the observer.
Role: Form one of the prime elements for experiencing the city/way finding or it becomes the medium for the visual exposure of other elements.
Categories: Three types given below.
Approach routes – Present the city to us, must "inform" and "conduct."
Surface arteries – Major routes through the city; carrier of high-volume traffic
Local Streets – Intricate Network; carrier of local traffic
i) Path – Characteristics
Linear elements used for movement.
Identity – Physical & visual form: Spatial qualities, façade characteristics, planting…
Continuity – width, spatial quality, facade characteristics, planting…
Directionality – End-from-end, side-to-side, gradient (regular, cumulative change in some quality – topographic, prolonged curve, etc.)
Scaling – Positioning oneself along entire stretch – achieved by a sequence of known landmarks along the path.
Relation with other paths – Structure / Hierarchy – path intersections, alignment, physical & visual form.
ii) Path – Case of Chandigarh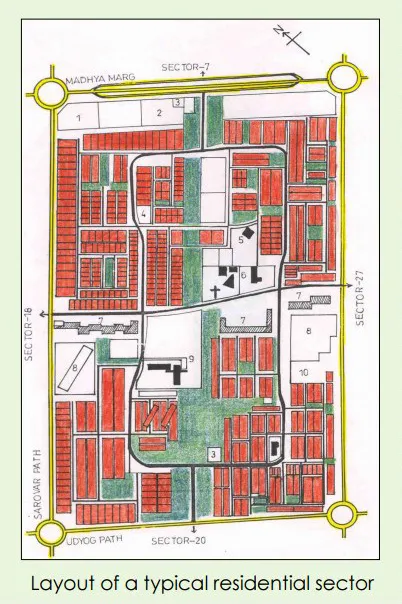 800 m x 1200 m
Self Sufficient, Introverted
V2: Jan Marg; Madhya Marg; Dakshin Marg.
V3: Sector Edges.
V4: Shopping Streets.
V5&V6: Access to houses.
V7: Pedestrian paths connecting the sector green.
Characteristics (Useful for wayfinding)
Identification of Path – Physical and visual character
Relationship with other path – Network/structure and hierarchy
Directionality
Scaling – Positioning oneself along entire stretch
2) District
Districts: refer to the distinct areas within a city, often defined by their land use patterns, cultural or economic characteristics, or history.
District: Series of parts of which the city is composed. Also called "enclaves", "sectors", "quarters", "precincts", "areas"….   Identified & Distinguishable on account of dominant, pervasive characteristics.

3) Edge
Edges: refer to the physical and perceptual boundaries within a city, including waterfronts, parks, and the edges of neighborhoods and districts.
Linear element but not the path.
Usually, boundaries between two districts.
Act as "lateral reference".
Visually Prominent.
Continuous in form.
May be directional like paths.
Barriers
Seams
Overhead Edges
i) Edge – Case of Chandigarh
ii) Edge – Categories
Barriers: Hard, Definite, Precise, Impenetrable for cross movement.
Helps in greater definition, reinforce identity of district, control growth but can also destroy the continuity, fragment the city.

Seams: Soft, Uncertain, uniting rather than isolating.
Overhead Edges: E.g., Elevated railways, roads-not barriers on ground, may be effective orientation element.
4) Nodes
Nodes: refer to the intersections of paths or the focal points within a city, such as squares, plazas, or transportation hubs.
Definition: Centers of Activity-strategic foci, which an observer can enter
Characteristics: Given below.
Conceptually small points in city's image.
May be large squares, or extended linear shapes, or even entire districts.
May be introvert or extrovert.
i) Nodes – Categories and role
Junctions of paths, places of breaks in transportation.
Important as point of "pause", where people perceive nearby elements with more than normal clarity.
Important, even when the physical form is vague or shapeless.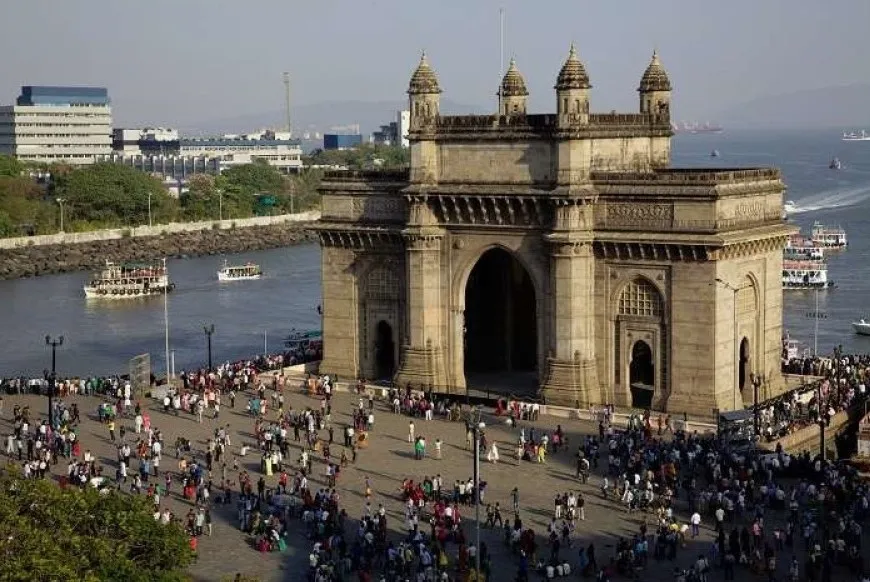 Thematic concentration of some surrounding characteristics (activity and unique physical features)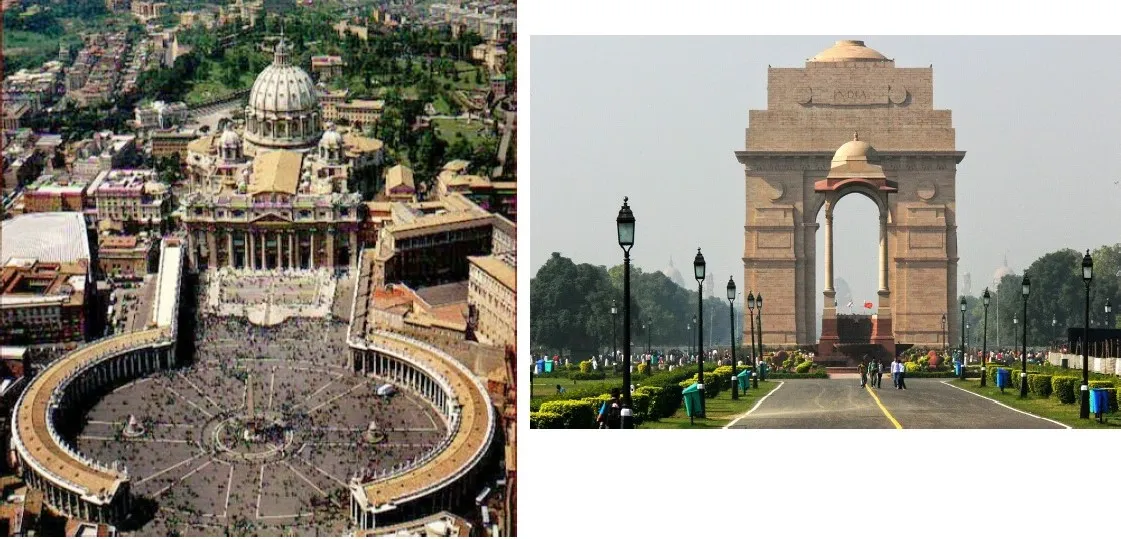 Palmanova, Italy
---
Junction – cum- Concentration Nodes
5) Landmarks
Landmarks: refer to the distinctive features within a city that help define its identity, such as monuments, iconic buildings, or natural features.
A point reference, Simple physical element/s, external to the observer
System of landmarks (Sequential series) important for way finding
Characteristics: Given below.
Key physical characteristics – Singularity (as use involves, selecting one from amongst many) – some aspect that is unique or memorable – clear form, contrast with the background, spatial prominence (e.g., Location at a junction) Activity associated with an element may also make it a landmark.
i) Distant Landmarks
Prominent point visible from many positions.
Generally used by people unfamiliar with the city for general orientation.
ii) Local landmarks
Visible only in restricted localities.
Number of the local elements that become the landmarks depends as much upon how familiar the observer is with his surrounding as the element itself.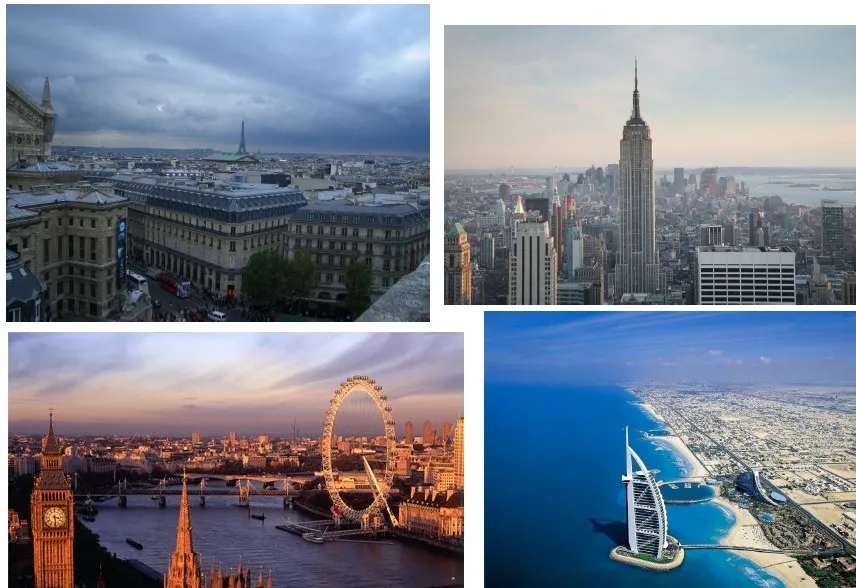 ---
By considering these elements, urban designers aim to create a city that is structured, accessible, and recognizable, with a distinct character and sense of place. They work to balance the needs of different stakeholders, such as residents, businesses, and visitors, and to ensure that the city is functional, livable, and sustainable for all.
---
Related video