If you want to know about the specifications for the carriage and stacking of material or specification on brickwork and concrete or fire tower, please click the link.
---
The specifications for the carriage and stacking of materials refer to the guidelines and standards that must be followed in order to safely and efficiently transport and store materials. Some of the key considerations for these specifications include:
1) Mode of carriage
Depending upon the feasibility and economy the mode of carriage is determined whether by mechanical or animal transport or manual labour.
Lead – All distances shall be measured over the shortest practical route and not necessarily the route actually taken. Route other than shortest practical route may be considered in cases of unavoidable circumstances.
Carriage by manual labour shall be reckoned in units of 50 m or part thereof.
Carriage by animal and mechanical transport shall be reckoned in one km unit.
2) Storage of bricks
Shall be stacked in regular tiers.
Shall not be dumped on site.
Bricks stacks shall be placed close to the site of work.
Shall be stacked on dry firm ground.
Stacks shall be 50 bricks long, 10 bricks high and not more than 4 bricks in width.
Clear distance between adjacent stacks shall not be less than 0.8 m
Bricks of different types and size shall be stacked separately.
3) Storage of Cement
Cement is received in bags, drums and silos.
Cement shall be stored at the work site in a building or a shed which is dry, leak-proof and as moisture proof as possible.
The building or shed for storage should have minimum number of windows and close fitting doors and these should be kept closed as far as possible.
Shall be kept free from the possibility of any dampness or moisture coming in contact with them.
Cement bags shall be stacked off the floor on wooden planks in such a way as to keep about 150 mm to 200 mm clear above the floor. The floor may comprise of lean cement concrete or two layers of dry bricks laid on well consolidated earth.
A space of 600 mm minimum shall be left around between the exterior walls and the stacks.
The height of stack shall not be more than 10 bags to prevent the possibility of lumping up under pressure.
The width of the stack shall be not more than four bags length or 3 m.
During the monsoon, or when it is expected to store for an unusually long period, the stack shall be completely enclosed by a water proofing membrane such as polyethylene.
In case cement is received in drums, these shall be stored on plane level ground, as far as possible near the concrete mixing place. After taking out the required quantity of cement, the lid of the drum shall be securely tied to prevent ingress of moisture.
In case cement is received in silos, the silos shall be placed near the concrete batching plant.
4) Storage of Steel
Steel of different classification, sizes and lengths shall be stored separately.
The ends of bars and sections of each class be painted in distinct separate colors.
Shall be stored in such a way as to avoid distortion and to prevent deterioration and corrosion.
It is desirable to coat reinforcement with cement wash before stacking to prevent scaling and rusting.
Reinforcement bars shall be stacked above ground level by at least 150 mm.
Also in coastal areas or in case of long storage a coat of cement wash or suitable protective coating of primer paint shall be given to prevent scaling and rusting.
5) Storage of aggregates
Aggregates shall be stored at site on a hard dry and level patch of ground.
If such a surface is not available, a platform of planks or old corrugated iron sheets, or a floor of bricks, or a thin layer of lean concrete shall be made so as to prevent contamination with clay, dust, vegetable and other foreign matter.
Stacks of fine and coarse aggregates shall be kept in separate stock piles sufficiently removed from each other to prevent the material at the edges of the piles from getting intermixed.
On a large job, it is desirable to construct dividing walls to give each type of aggregates its own compartment.
Fine aggregates shall be stacked in a place where loss due to the effect of wind is minimum.
6) Storage of Blocks
Blocks shall be unloaded one at a time and stacked in regular tiers to minimize breakage and defacement.
These shall not be dumped at site.
The height of the stack shall not be more than 1.2 m. The length of the stack shall not be more than 3.0 m, as far as possible and the width shall be of two or three blocks.
Normally blocks cured for 28 days only should be received at site. In case blocks cured for less than 28 days are received, these shall be stacked separately.
All blocks should be water cured for 10 to 14 days and air cured for another 15 days; thus no blocks with less than 28 days curing shall be used in building construction.
Shall be placed close to the site of work.
7) Storage of paint
All containers of paints, thinners and allied materials shall preferably be stored in a separate room on floors with sand cushions.
The room shall be well-ventilated and free from excessive heat, sparks of flame and direct rays of sun.
The containers of paint shall be kept covered or properly fitted
---
Specification on carriage & stacking of materials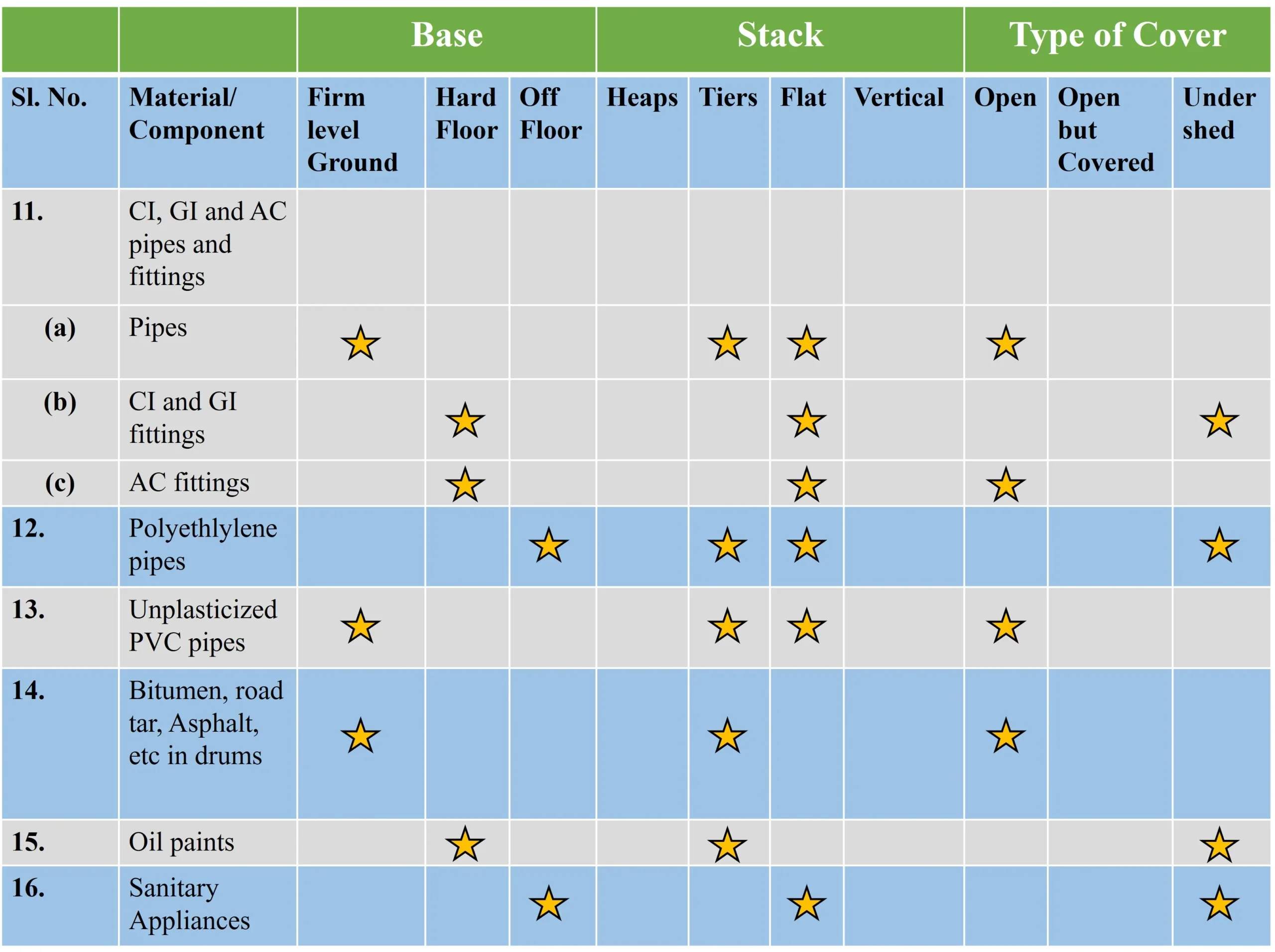 ---
Overall, the specifications for the carriage and stacking of materials aim to ensure the safe and efficient transport and storage of materials while minimizing the risk of injury, damage, or environmental impact.
---
Related video