If you want to know about the smoke movement in building or air distribution system or fire-fighting in multistory developments, please click the link.
---
In architecture, a firefighting shaft, also known as a fire safety or fire escape shaft, is a vertical enclosed space that is specifically designed to aid in firefighting and evacuation in the event of a fire. The shaft is typically located within a building and provides a means for firefighters to access different floors, while also providing a safe escape route for building occupants.
1) Fire tower or Firefighting shaft definition
An enclosed staircase which can only be approached from the various floors through landings or lobbies separated from both the floor areas and the staircase by fire-resisting doors, and open to the outer air.
A firefighting shaft provides the fire and rescue service with a safe area from which to undertake firefighting operations.
They link all necessary floors of a building, providing at least 2 hours of fire resistance to protect fire crews and are connected to fresh air.
2) Fire safety rules
The provisions of fire tower are applicable to,
all high rise buildings; and special buildings, those are,
Hotel, educational, institutional, business, mercantile, industrial, storage, hazardous and mixed occupancies, where any of these buildings have floor area more than 500 m2 on any one or more floors.
Educational buildings having height 9 m and above.
Institutional buildings having height 9 m and above.
All assembly buildings.
Buildings, having area more than 300 m2 of incidental assembly occupancy on any floor; and
Buildings with two basements or more, or with one basement of area more than 500 m2. unless otherwise mentioned specifically in the provisions.
Note – The owner of the building and parties to agreement, may however, decide to apply the provisions of this Part to buildings other than those given above.
Fire Tower
These are applicable for multi-storeyed buildings (over 8 storeys or 24m in height) and are considered as the safest escape route.
3) Firefighting Shaft (Fire Tower)
Firefighting shafts are usually made of fire-resistant materials such as concrete, brick, or steel, and are designed to withstand extreme heat and smoke. The shaft is usually equipped with firefighting equipment such as fire extinguishers, hoses, and sprinklers, as well as emergency lighting and communication systems to aid in evacuation.
In addition to aiding in firefighting and evacuation, firefighting shafts can also serve as a means of vertical circulation, allowing occupants to move easily between floors within a building. They are commonly found in high-rise buildings, hospitals, and other large buildings where the risk of fire is higher and the need for a safe escape route is critical.
An enclosed shaft having protected area of 120 min fire resistance rating comprising protected lobby, staircase and
fireman's lift, connected directly to exit discharge or through exit passageway with 120 min fire resistant wall at the level of exit discharge to exit discharge.
These shall also serve the purpose of exit requirement/strategy for the occupants.
The respective floors shall be approachable from fire-fighting shaft enabling the fire fighters to access the floor and also enabling the fire fighters to assist in evacuation through fireman's lift.
The firefighting shaft shall be equipped with 120 min fire doors.
The firefighting shaft shall be equipped with firemen talk back, wet riser and landing valve in its lobby, to fight fire by fire fighters (see Figure below for a typical firefighting shaft).
Notes
Where such lobbies and staircase in the firefighting shaft are naturally ventilated/cross-ventilated, the shaft may not be enclosed and fire door need not be provided.
For all enclosed firefighting shaft, the shaft's lobby should have floor plan duly displayed for the information of fire fighters.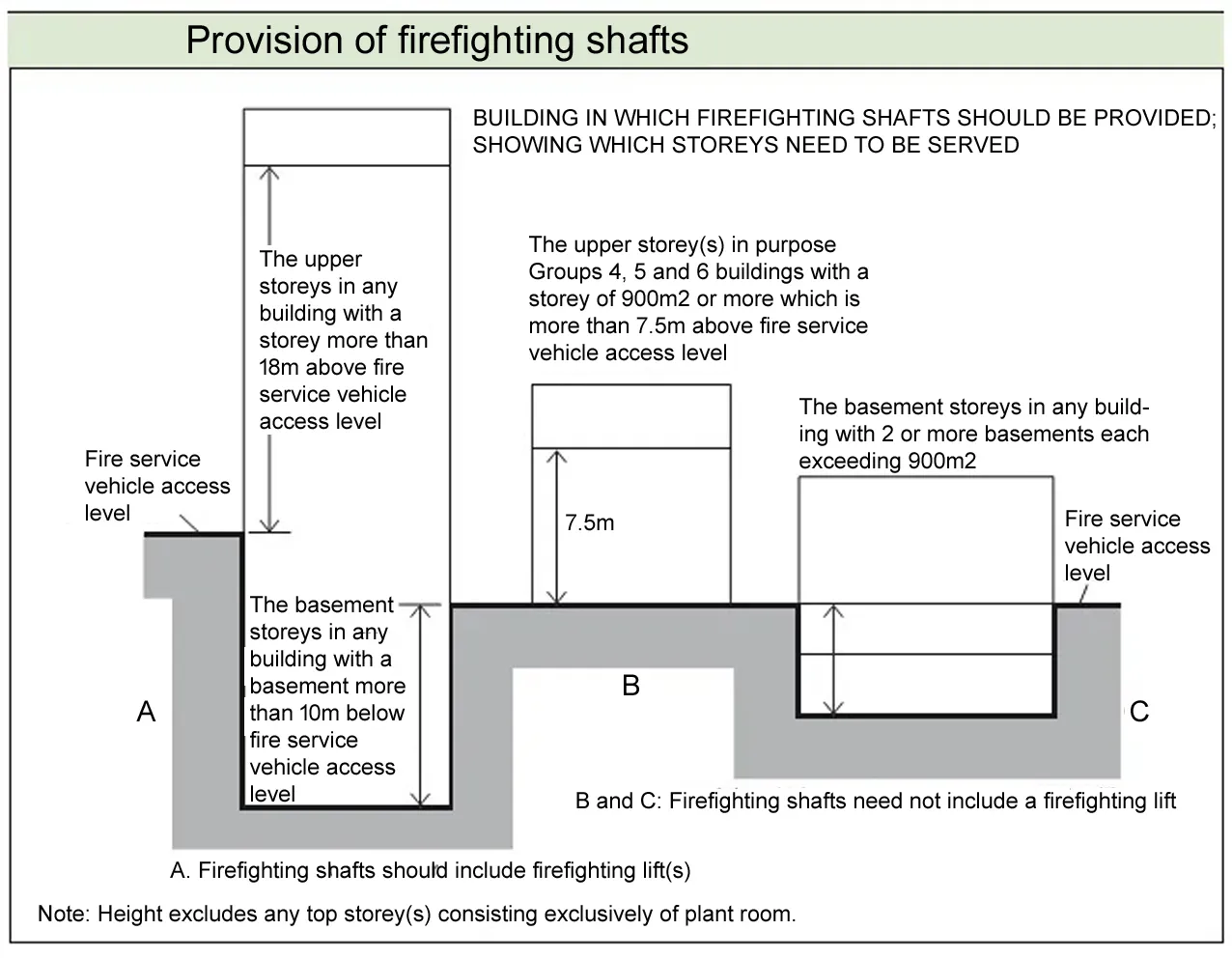 i) Fire Load
Calorific energy, of the whole contents contained in a space, including the facings of the walls, partitions, floors and ceilings.
ii) Fire Load Density
Fire load divided by floor area.
iii) Fireman's Lift
A lift or a group of lifts invariably associated with all the features and requirements of a fire-fighting shaft.
Such lift(s) are installed to enable fire services personnel to reach different floors with minimum delay, and shall meet the additional features as required in accordance with this Part.
This lift also serves the purpose of meeting the requirement of evacuation lift for assisted evacuation.
iv) Dry Riser
An arrangement of firefighting within the building by means of vertical rising mains not less than 100 mm internal diameter with landing valves on each floor/landing which is normally dry but is capable of being charged with water usually by pumping from fire service appliances.
v) Wet Riser
An arrangement for fire fighting within the building by means of vertical rising mains of not less than 100 mm diameter with landing valves on each floor/landing for fire fighting purposes and permanently charged with water from a pressurized supply
4) Egress and evacuation strategy
One firefighting shaft shall be planned for each residential building/tower, in an educational building/block, and for each compartment of institutional, assembly, business and mercantile occupancy types.
For other occupancy types, requirement of firefighting shaft shall be ascertained in consultation with the local fire authority.
The firefighting shaft shall necessarily have connectivity directly to exit discharge or through exit passageway (having 120 min fire resistance walls) to exit discharge.
Staircase and fire lift lobby of a firefighting shaft shall be smoke controlled.
It is recommended that the pressurization requirement for staircase in firefighting shaft and for other fire exit staircases in buildings greater than 60 m in height be evaluated to limit the force required to operate the door assembly (in the direction of door opening) to not more than 133 N to set the door leaf in motion.
The aspect of pressurization, door area/width and door closure shall be planned in consideration to the above.
---
Designing and constructing firefighting shafts requires careful consideration of building codes, fire safety regulations, and other factors such as building height, occupancy type, and layout. As such, they play an important role in ensuring the safety and security of building occupants, and are an important aspect of modern building design and construction.
---
Related video