If you want to know about the types of concrete and its uses or specifications in architecture work or types of footing, please click the link.
---
The purpose of a flooring is to provide a level surface capable of supporting the occupants of a building, furniture, equipment & sometimes internal partitions. A floor must satisfy the following requirements:
Adequate strength & stability
Adequate fire resistance
Sound insulation
Damp resistance
Thermal insulation
1) Preparation of Base
All earth filling under the floors must be thoroughly rammed.
All floors in contact with the ground shall be laid on 100 mm cement concrete over 100 mm of clean dry sand. This will keep out dampness and white ants.
All floors shall be perfectly level, except bathrooms & verandah floors, which shall be given an outward slope of 1:64
2) Types of Flooring
There are several types of floor finishes available, each with its unique advantages and disadvantages. Here are some of the most common types of floor finishes:
Brick Flooring or Brick-tile Paving
Marble Flooring
Cement Concrete Flooring
Granolithic Finish
Mosaic / Terrazzo (Marble Chips) Flooring
Coloured Flooring
Tile Flooring
Timber Flooring
Asphalt Flooring
Rubber Flooring
Linoleum Flooring (Covering)
Glass Flooring
Plastic or P.V.C Flooring
i) Brick Flooring
The bricks may be laid flat or on edge.
12 mm thick mortar bed is prepared and the bricks are laid such that the vertical joints are full of mortar
And where the joints are pointed, the joints shall not be less than 6 mm thick and shall be flush pointed after being raked out 25 mm deep whilst the mortar is still damp.
The work shall be protected from sun & rain, shall be kept moist for 10 – 15 days.
ii) Marble Floorings
All marble slabs shall have a minimum thickness of 20 mm and shall be bedded in 20 mm thick mortar.
The joints shall be kept as small as possible.
When properly set, the floor shall be rubbed with carborandum stone, and then with finer carborandum stone.
The surface then be finally smoothed down with pumice stone.
When the smoothing process has been completed, the surface shall be polished with putty powder with felt pads, plenty of water being used.
The flooring must have set fully before any walking over is allowed & no load shall be laid over for at least 7 days.
iii) Cement Concrete Flooring
Concrete floors may be laid in 30 to 50 mm thick layers over 80 to 100 mm thick base of lean cement concrete 1:6:12 or lime concrete, usually of 1:2:4 mix.
The top cement concrete has to be laid within 7 days before the base concrete is set.
Joints in Concrete Floors
Base layer of floor should be laid in a series of panels not exceeding 4.5 m in length or 18 sq.m. in area.
The top layer should be divided into panels not exceeding 2 sq.m.
This will avoid cracking due to contraction during setting.
Thin 1.5 mm jointing strips of iron, teakwood, brass, ebonite or plastic should be introduced between the panels and which should be oiled or whitewashed to prevent adhesion of concrete.
The effect of initial shrinkage is reduced to a minimum by constructing the floor panels either in alternate bays or in chequer-board pattern in such a manner that no bay is in contact with one already concreted until the initial contraction of the latter has taken place.
iv) Granolithic Finish
Granolithic Finish is used to provide a hard wearing, abrasion resistant & dustless surface to concrete floors, stair treads, etc. and also where smooth polished & rich surface is wanted.
Granolithic concrete is composed of cement and specially selected aggregate of hard rock.
Mix proportions are normally 1:2 or 1:3 by volume; or maybe 2 parts cement, 1 part of fine aggregate and 4 parts of coarse aggregate.
All dust to be removed and minimum water is to be used.
They have to be laid before the base concrete has set.
This is to be done between 30 minutes to 2 hours of placing the base concrete.
The granolithic layer has to be minimum 12 mm thick.
v) Terrazzo Flooring
Also known as 'Marble Chip Flooring'
It is called as 'Mosaic Flooring' when some pattern is followed.
40 mm layer of concrete is laid wherein crushed marble chips are used as aggregate; or
The top course is made with a mixture of 1 cement and 2 marble chips 3 mm size, laid 6 mm thick; or
Terrazzo topping of 12-20 mm thick of 1 part cement and 2-2.5 parts marble chips 3 mm to 12 mm size mixed, laid over 12 mm thick layer of 1:3 CM.
vi) Coloured Flooring
The colouring pigment to cement should not be more than 1:3 and not less than 1:12.
Colours are better mixed with white cement than ordinary Portland cement.
Most widely used colour pigments are Red Oxide and Ivory Black layered 6 mm thick.
vii) Tile Flooring
Ceramic Tiles – A ceramic tile is the resulting product, after a mixture of clays have been treated appropriately, pressed, fired at a high temperature and cut to size.
Vitrified Tiles – Vitrified tiles are made by mixing silica and clay to form a non porous tile with glassy texture.
The main categories of Vitrified tiles would be Vitrified porcelain tiles, Vitrified ceramic tiles, carbonite vitrified tiles and marble vitrified tiles.
The differences between vitrified tiles and ceramic tiles are that vitrified tiles are actually one kind of ceramic tile
Mosaic Tiles – The term mosaic refers to a picture or design that is made up of many smaller pieces of material.
Mosaic tiles are made from different types of clay.
The different clay types are coloured with different pigments and, therefore, the colour is prevalent throughout the tile.
Stone tiles – There are different stone tile available such as Granite, Marble, travertine, limestone, and slate which are highly suitable for interior or exterior floor and wall.
They come in varying sizes, but prevalent sizes are, 300 x 300, 445 x 445, 300 x 600, etc.
They are 6 mm thick laid over 10 mm CM (1:3)
First, 25 mm Plain Cement Concrete (1:2:4) is laid over the base Lean Cement Concrete (1:5:10) and then the Cement Mortar and Tile finish.
a) Ceramic Tiles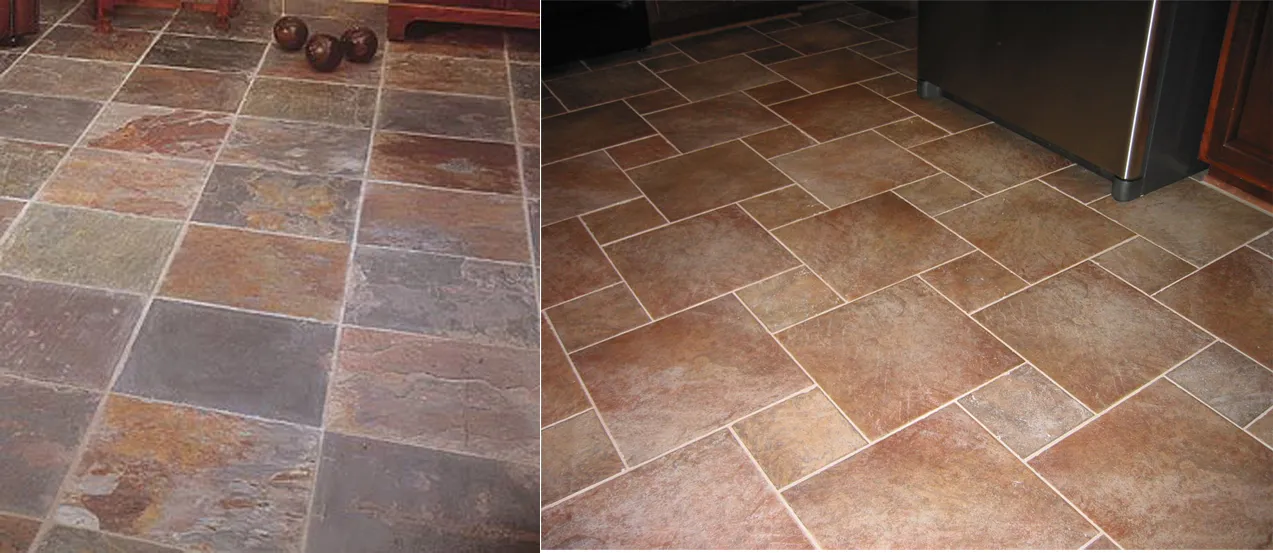 Ceramic tiles are not homogeneous titles.
Flooring made of these tiles as basic material, is known as ceramic tile flooring.
Clay
Sand
Crushed stone
Section through ceramic floor finish
b) Vitrified tiles
Pre polished tiles having glazed surface.
Made of same or homogeneous material.
Made of White burning clay, specially, suited to the verification process.
Has special qualities like compaction, hardness, strength and ultra-low water absorption
viii) Linoleum Tile & sheet finish
Linoleum is resilient, waterproof floor covering that consist of a backing covered with a relatively thick layer of wearing surface.. This wearing surface is a mixture that contains oxidized linseed oil processed in a special way, combined with wood or cork flour various filters, stone dust, whiting, diatomite), resins blinders, driers and inert color pigments.
——————————————————————
Linoleum Tiles
Its properties included in a remarkable degree of resiliency. Next to cork and rubber and of course, padded carpeting, linoleum is considered to have greatest degree of resiliency.
Linoleum was quite durable was resistant to oil and grease and don not shrink.
The negative aspects of linoleum was that it is highly susceptible to water and would the soften, causing it to loose its abrasion resistance and become more susceptible indentation. Even high humidity would have a negative effect upon this material.
——————————————————————
Linoleum can be divided into five classifications:
Plain
Marble
Spatter
Straight-line inlaid, &
Molded inlaid.
It is available in three gauges:
services (1/16")
standard (3/32") and
heavy (1/8")
It comes in rolls 2' and 6' wide and up to 30 ft. In length, and in 9*9 tiles for plain ans. marbled.
ix) Asphalt Floor finishes
These are close relative of linoleum because of the asphalt used in their contractions. Generally, the are composed filers, pigments and insert bound with asphalt in case of darker variants and some other resinous in case of higher colours.
Asphalt flooring are of many types:
Asphalt mastic flooring
Asphalt tiles flooring
Asphalt terrazzo flooring
Asphalt proof mastic flooring
All grades of mastic for flooring are available coloured red or black.
A complete range of coloured surface finishes is available using special compatible paints.
Usually the mastic asphalt should be laid in one coat, but multicast work should be used where a waterproofing membrane is specified.
Asphalt flooring are cheep, resilient, sound proof, acid proof and moisture proof.
x) Rubber Tiles
Rubber tile & sheet finish
Tiles: Rubber floor titles are as a rule made of neutral rubber for greatest resilience. Sizes thickness, as well as method of application and precautions to follow in installation, are much the same for vinyl floor tiles.
Sheet: Rubber flooring is manufactured in rolls 3' wide in thickness of 3/32", 1/8" and 3/16", with 3/32" most commonly used in home installation. Rubber sheet flooring is applied according to the general rules given for linoleum.
xi) PVC Floor finish
PVC flooring material is manufactured in different patterns to suite different conditions.
Given a resilient and non-porous surface.
Burning cigarettes will damage the neat surface of PVC sheet.
Rubber base adhesives are used for fixing.
Way to install sheet vinyl
Remote obstacles.
Create space for the new flooring t slip under.
Even out the floor surface.
Create a paper template.
Working around work trim.
Tape the paper template to underlayment.
Make the underlayment.
Use a rented staples.
Fill gaps and holes
Place the template on the flooring..
Cut the flooring.
Double cut the seams.
Press down the flooring.
xii) Glass Flooring
Glass flooring usually employs toughened/tempered glass for load bearing floor.
Usages-residential (floor, stairs) commercial
---
These are just a few of the most common types of floor finishes available. The best option for your space will depend on your budget, design preferences, and the specific needs of your space.
---
Related video