If you want to know about the planting design or Japanese landscape or utilities in landscape development, please click the link.
---
Types of gardens are a broad category that can encompass a wide range of styles, designs, and purposes. They can be based on the type of plants grown, the way they are arranged, the climate they are suited to, and the cultural or historical traditions they reflect.
Landscape architecture is the comprehensive discipline of land analysis, planning, design, management, preservation, and rehabilitation. The profession of landscape architecture has been built on the principles of dedication to the public safety, health and welfare and recognition and protection of the land and its resources.
Garden design is the art and process of designing and creating plans for layout and planting of gardens and landscapes. Garden design may be done by the garden owner themselves, or by professionals of varying levels of experience and expertise.
The domestic garden can assume almost any identity the owner wishes within the limits of climate, materials, and means. The size of the plot is one of the main factors, deciding not only the scope but also the kind of display and usage.
In the medium- to large-sized garden, the tradition generally continues of dividing the area to serve various purposes.
A main ornamental section to enhance the residence and provide vistas.
Walkways and seating areas for recreation.
A vegetable plot; a children's play area; and
Features to catch the eye here and there.
Because most gardens are mixed, the resulting style is a matter of emphasis rather than exclusive concentration on one aspect. It will be useful to review briefly the main garden types.
1) Formal garden
Formal garden is laid out in symmetrical or geometrical pattern. In this garden design is stiff (straight and narrow) i.e., everything is planted in straight lines.
Example: If there is plant in left hand side of a straight road, another similar plant should be planted at the opposite place on the right-hand side. The flower birds, borders and shrubbery are arranged in geometrically designed beds. Trimmed formal hedges, cyprus, asoka tress and topiary are typical features of a formal garden.
These gardens are precise and often arranged symmetrically around a central axis which divides the garden down the middle.
The central path may have paths crossing at it at right angles, dividing the garden into rectangles or squares.
A small garden may not have a central path but will just have a central feature and a path around it. A garden doesn't have to be large to be laid out formally.
Mughal gardens and Knot gardens are good examples of formal gardens. These were popular in Tudor times and developed into small, rectangular, intricate patterns.
The Features of formal garden
a) Plan
A formal garden requires planning like any good garden. A formal garden generally has excellent proportions and symmetry so it is important to get the planning right.
b) Lawns and paths
Paving materials need to be carefully chosen so that they are in sympathy with nearby buildings and materials should be well defined.
It is better to use fewer types of materials to create an overall sense of unity. Brick and stone are often used.
The planning of expansive lawn and the paths will lead from one area to another.
Many formal gardens use gravel paths, but we can also use prefabricated paving stones for a more modern look and for crazy paving.
c) Nooks
Many formal gardens include secluded areas where visitors can sit and enjoy the beauty of the foliage. These may be little alcoves, ideally in the shady part of the garden.
d) Hedges
Many formal gardens also use hedges to divide up the space. Depending on the available space we may choose to include a maze or simply dot topiary (hedges and shrubs trimmed into different shapes) around the garden.
Low hedges are often used to mark out patterns and emphasize the geometry and box hedges are ideal for this as they are slow growing and easier to maintain.
Taller hedges can create divisions between different areas or mark out the perimeter.
e) Water features
No formal garden is complete without a water feature or two. Many formal gardens include a fountain. The key thing with fountains is not just how they look but how they sound.
Water is often a part of a formal garden – a central pool in a geometric shape, perhaps with a fountain or water feature at the centre will greatly enhance the overall impression.
2) Informal garden
In an informal garden, the whole design looks informal, as the plants and the features are arranged in a natural way without following hard and fast rules. But the work has to proceed according to a set and well thought out plan; otherwise, the creation will not be artistic and attractive. The idea behind this design is to imitate nature.
The informal style is the opposite of the formal and uses the ideals of nature to get us to where we want to be.
This style is often structured using flowing lines and gentle contours.
These flowing lines create an irregularity and softness within the space.
Even though everything is under human control it has been designed to integrate with the surrounding landscape.
Features of informal garden
Informal gardens are characterized by flowing curves, non-symmetrical arrangements of features and spaces and plants that are allowed to grow into their natural shapes.
Traditionally, gardens have always had their most formal areas near the house, gradually becoming more informal as they get further away and this is still a good philosophy today.
In the informal garden, the underlying framework is almost entirely disguised by planting and the garden should look as though it has grown up naturally. These gardens are harder to design than formal ones as they are ruled by irregularity and natural looking planting.
A site which does not have a geometric shape can be a good basis for an informal garden. Some structure needs to exist or everything will relapse into uncontrolled wilderness. Diagonal or curved paths work well and boundaries between the various areas of your garden are often formed using native mixed hedging. It is better to have on long large curve than two or three small ones for pathways. Borders can be merged with paths so that they blend seamlessly together.
The Japanese garden, the Mediterranean garden, container gardening, Italian, succulent, indigenous gardens, the herb garden, the vegetable garden and vegetable container gardening, patio shade, and woodland gardens are also some examples of informal garden.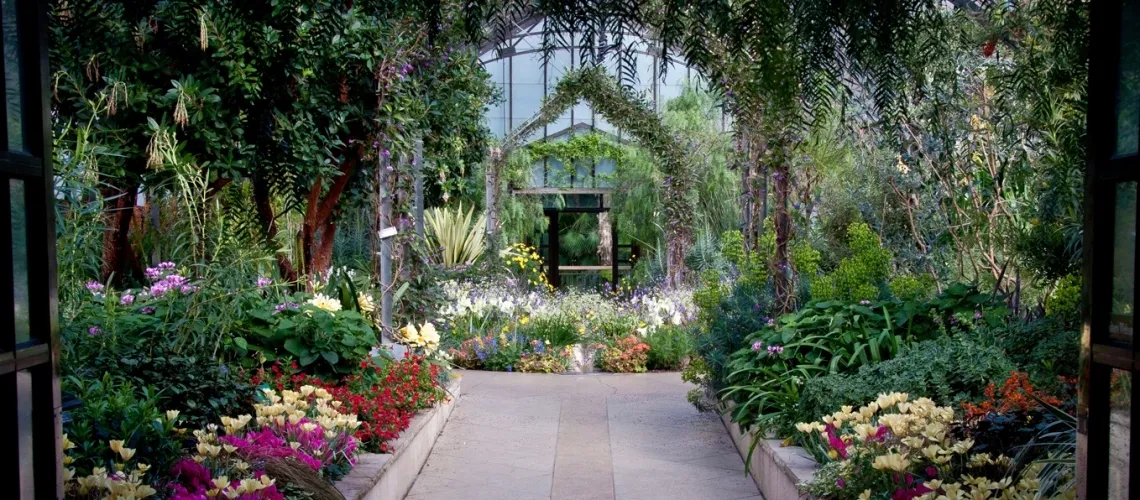 The garden lends itself open to many possibilities and yields a more natural look and feel to a landscape or garden.
3) Examples of formal and informal garden
i) English Garden
The main idea was that the garden should merge with the countryside without any artificial barriers such as fences, hedges, or the like. The main features of the English garden are lawn, mixed border especially of herbaceous annuals as well as herbaceous perennials shrubbery ad rock garden.
The specific characteristics of English Garden are Great variety: One of those factors is a feeling of abundance, whether seen in lush grass, stands of carefully chosen tree specimens and combinations, or floriferous borders.
The climate is given to a fullness of burgeoning growth, although it takes a lot of work and planning to give the best gardens their seemingly abundance unstudied artistic.
This type of garden creates a more naturalistic garden with plants that appear at home in their various gardened areas.
The features of this garden are….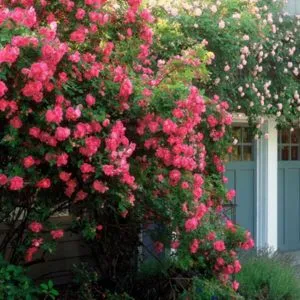 Richly layered planting
Full of flowers
Many details from weaving and vining plants, and containers of flowers
Naturalistic look and
Informality
It should be noted that whether the English garden is in the landscape style or the cottage style, it will always require constant attention to a carefully cultivated landscape so that it looks so beautiful and intensely personal a style of design.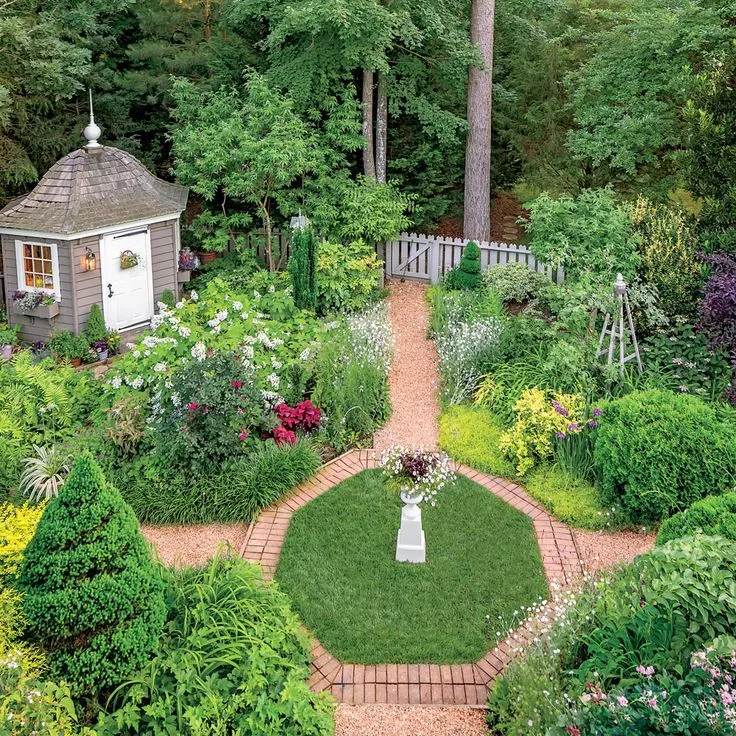 In many ways, the English garden styles are similar. Both strive to emphasize a natural look and merge an easy, unstudied grace upon the landscape.
However, the cottage style is essentially a plant lover's style which observes a natural harmony but emphasizes individual plants through textural, color and size differences, creating interesting contrasts and diversity of species.
The naturalistic style (landscape) focuses less on individual plants and more on the overall theme, spreading over a large area to create an appealing, romantic tableau in broad strokes.
The cottage garden invites closer inspection, while the naturalistic garden tempts a wide ramble.
The English cottage-style garden is exuberant and colorful, and although it may look unplanned, it really does have reason behind its layout.
ii) Italian Garden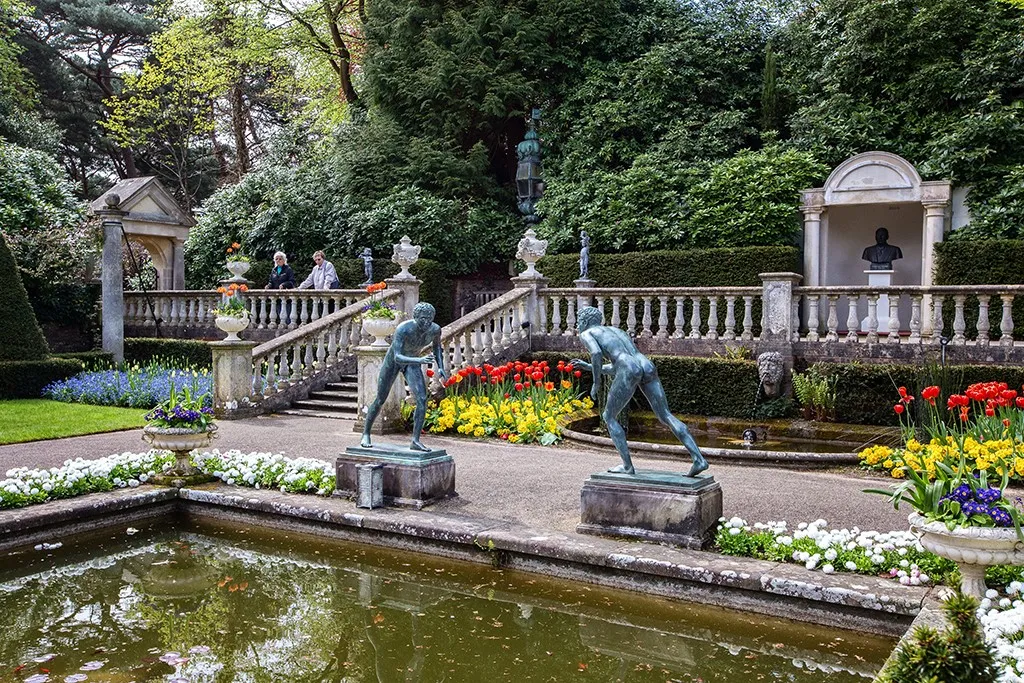 Traditional Italian gardens are formal in design, with symmetrical, geometric beds and garden "rooms" delineated by hedges and walls.
Plants are less important for their colour value than as design elements, such as for clipped topiary.
There is a striking similarly between the Persians and Mughal with Italian style.
In all these styles of gardening the similarity was the use of heavy masonry features.
The most prominent feature associated with Italian garden was massive flight of stairs, generally of marble complete with balustrade to connect the different levels in the garden.
Decorative urns, fountains generally in combination with stone sculpture or rather fountain themselves used to emerge from one part or other of statues are other important features of Italian garden.
The elements are…
a) Design
Symmetry is paramount in Italian gardens.
Beds are shaped geometrically in squares, rectangles or triangles, eschewing the curves and sweeps common to English borders.
Because many Italian gardens are on hillsides, they are laid out on several levels, or terraces, offering places to stand and enjoy the surrounding view. Order and balance are the design goals, illustrating man's power over nature.
b) Promenade
The promenade is a wide, usually raised, pathway flanked by formally clipped hedges where a family or visitors may stroll to view the garden.
Its purpose is both for seeing and being seen, and it provides a stage from which the owner can survey his holdings.
Hardscape — stone walkways, patios and walls — is a signature element of the Italian garden, rather than expansive lawns.
c) Secret garden and grotto
A hideaway in the garden that might contain a vine-draped pergola or just a tucked-away bench provides an intimate getaway space.
Often an Italian garden includes a grotto — an artificial cave filled with sculpture and furnishings where one can sip wine in a refreshingly cool space.
d) Water
The sound and cooling effects of water from bubbling fountain, pools or cascades are essential elements of the Italian garden.
Often, an ornate stone fountain and shooting arcs of water forms the focal point of the garden.
In old Italy, water triggers under the pathways would send water shooting out of hidden pipes when stepped on.
e) Statuary and stoneware
The garden is considered as an extension of the entertainment area of the home, so it is decorated in the same manner, with plenty of art.
Sculptures of gods, goddesses and heroes of ancient legends are common.
Lemon trees potted in stone urns are a favourite decoration for the patio or seating areas.
f) Plants
Traditional Italian gardens have few flowers.
The plants are mainly evergreens, manicured into geometric hedges or topiaries.
Italian cypress (Cupressus sempervirens), boxwoods (Buxus spp.) and junipers (Juniperus spp.) are some of the plants commonly used to form living walls and delineate different parts of the garden.
Other green plants are massed within the borders of the geometric beds. Italians also like to cover stone walls with trellied foliage vines or climbing roses.
iii) French Garden
The French style of garden design was very intricate and artificial.
To design a garden, Author Clenotred had to remove three villages to create his vista (garden).
The moral of French garden style "Lenotre teach the lesson how to think big".
His design completely defined the nature and dominated the gardens of civilized Europe for long time.
iv) Persian Garden
The Persian Garden style and the Japanese style both were based on their respective ideas of heaven. Except this similarity the two styles differ widely from one another.
The Persian styles were strictly formal and symmetrical. They used for their gardens all crafted materials such as masonry, carved pierced marble stones and highly polished stones.
The Persian gardens were laid out by cutting terraces on the hill slopes. They also tapped some natural spring to create a straight water source through the gardens and manipulated the water course to undertake different movement along its run.
If there were no natural sources of water this was created artificially by diverting some rivulet or a stream. So, the main style of Persian garden designs as NAHARS (flowing canals) of water.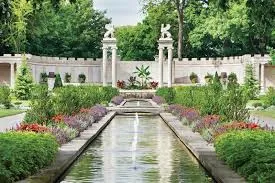 The concept of Persian paradise is "cooling water flows". The selection and placing of trees were very judicious. The fruit trees represented the symbol of life while cypress symbolized death and eternity.
v) Chinese Garden
Chinese gardens are constructed to recreate and miniaturize larger natural landscapes.
Traditionally, Chinese gardens blend unique, ornate buildings with natural elements.
Chinese garden contains architecture, like a building or pavilion; decorative rocks and a rock garden; plants, trees and flowers; and water elements, like ponds.
Most Chinese gardens are enclosed by a wall and some have winding paths.
These gardens aren't just thrown together. Instead, they're deliberately designed and visitors should walk through them in the particular order that the garden was laid out.
vi) Mughal Garden
The gardens laid during the rule of Mughal emperors in India are known as Mughal Garden.
The features of garden are…
a) Site and design
Mughals were very choosy about selection of site and always preferred a sight on a hill slope, with a perennial rivulet of along the bank of a river.
These gardens are generally rectangular or square in shape and different architectural features are the main style of the design.
b) Walls and Gates
The Mughals created the gardens not only for pleasure and recreation but also as forts and residence surrounded by high walls and with imposing wooden gates at the entrance which was studded with bold iron nails and pointed iron spikes.
The purpose of high walls was security from the enemies and shelter against hot winds.
c) Terrace
The Mughals come from the hilly terrains and so they were fond of terraces in the gardens for this reason they used to select the location of gardens near the hill slopes. Their fascination for terrace was too intense that even in the plains of Punjab they created artificial terraces. According to Islamic faith the paradise has divisions or occasionally the gardens may be composed of 7 terraces also representing the 7 planets.
---
The outer garden is comparatively a narrow area with a waiting place. This waiting place has a water basin for the convenience of the guest who can wash their hand and a stone lantern for illumination, but in present days this serves more as a decoration piece.
To illuminate the water basin and resting place, stone lanterns are set in appropriate places. The selection of water basins and stone lanterns is done with much care so that both the purpose of utility and beauty and elegance are fulfilled.
vii) Japanese Garden
Japanese gardens combine the basic elements of plants, water, and rocks with simple, clean lines to create a tranquil retreat.
The Features of Japanese Garden are….
a) Ponds
The geometric shape does not line up to the Japanese tradition and hence all ponds are of irregular shape.
The banks are generally bordered with stones piling work in a regular or an irregular fashion.
The ponds are generally fed by a stream or a waterfall.
b) Stream
Small streams in Japanese gardens are arranged most naturally with natural stones bordering the banks often fanciful stones are arranged in mid stream to break the flow of water.
The flow of water in the stream may be manipulated by changing the inclination.
c) Waterfalls
The presence of waterfalls in Japanese gardens is another attempt in imitating nature.
A waterfall may be made more effective by manipulating it to drop or flow in two or three levels.
To make the waterfalls dignified and natural, large sized stones are arranged around these.
d) Fountains
Often natural fountains are provided near the foot of the hill, on the hill side or in the forest.
Often water is conveyed from a hill side by means of bamboo piping
e) Wells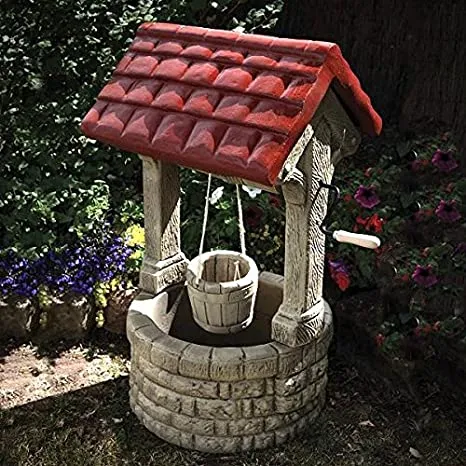 In older days wells in the garden were features of utility.
In modern times this feature is more in the nature of an ornament than a utility.
The wells may be square, circular or criss cross in shape.
The wells are generally provided with a pulley fitted on a framework.
Round or square shaped buckets are hung on either side of the pulley, suspended from a rope.
The well must be made very ornamental.
f) Island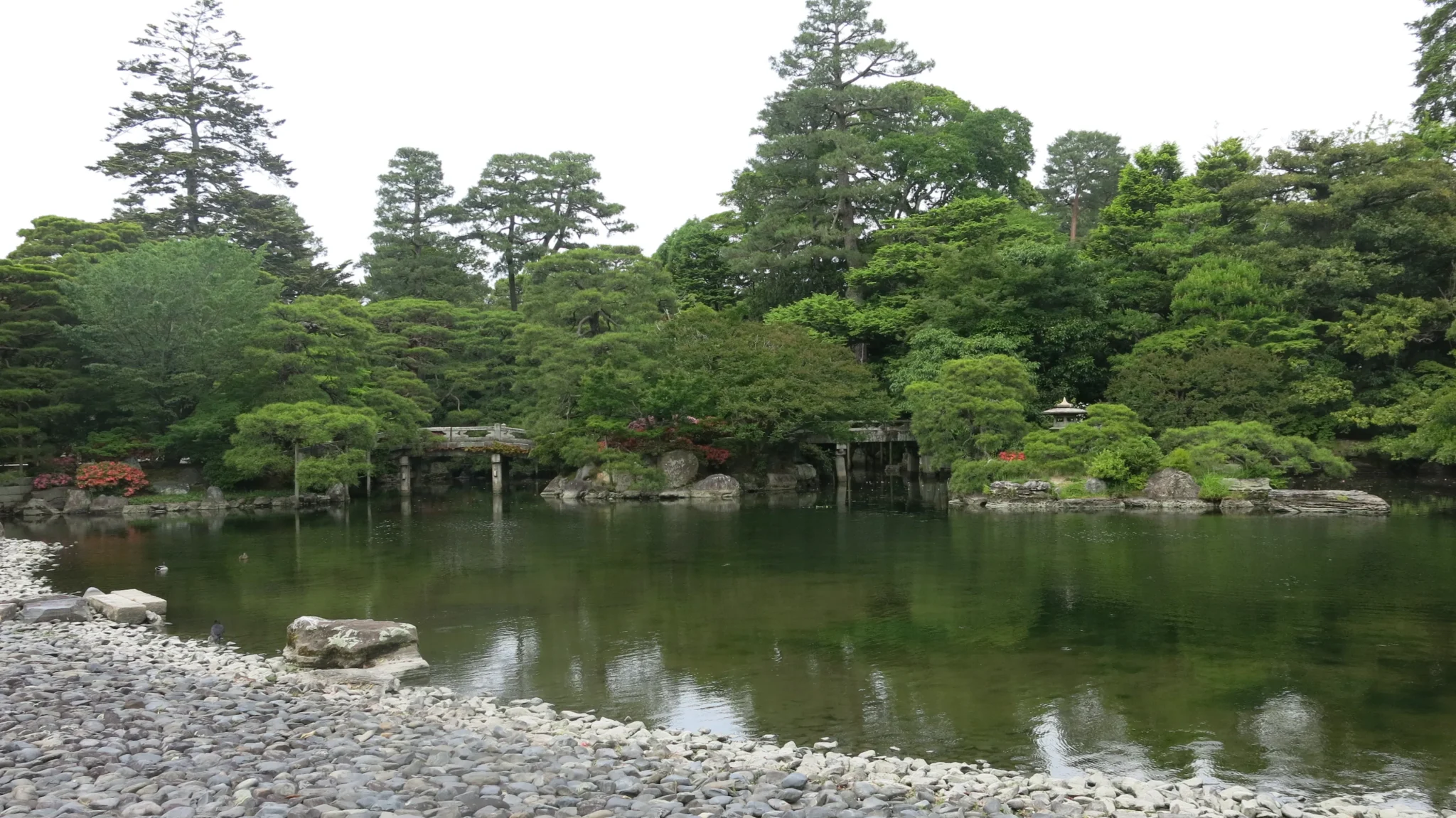 There are four important garden islands, the first two types represents Sea Islands. The first of such islands is constructed in the middle of a lake and is never connected by a bridge.
The beach is decorated with sand from the sea, shells and pebbles. No fresh water vegetation is planted over this island.
Often this island is given the shape of a tortoise. The second type of island is also an ocean isle and constructed in a similar way.
In addition to sand and shell, the beaches are decorated with the rocks.
g) Bridges
Bridges are a special feature in a Japanese garden. These are used to reach an island or for crossing a stream.
Bridges may be made of stone polished or unworked earth, wood and other materials. The main criterion is that the construction should be pleasing to the eye.
The Japanese concept of a bridge is not a just quick crossing of a water way. The aim is to prolong the crossing time to that the visitor gets enough time to enjoy the scenery around.
When the pond or waterway is large enough to permit boating, the bridges should be of arching type to permit the boats to pass under.
h) Stone Lantern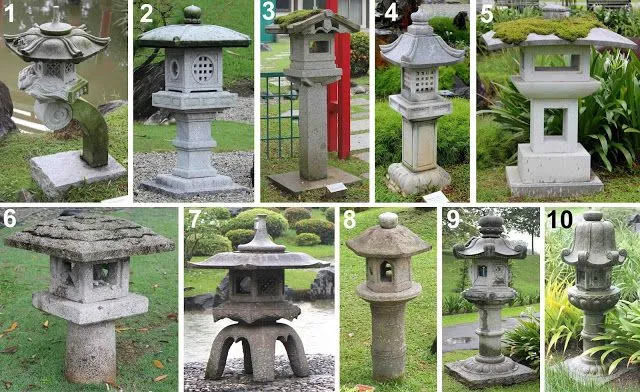 Stone lantern is an important feature of any Japanese garden. The usual stone used is granite, but sand stone or white marble may also be used. The latter one (marble) is especially used for 'snow-scene" type of lantern. The lanterns are used singly but along with a combination of rocks, fences, basined, shrubs and trees.
The lanterns are not exactly meant for illumination but as object of ornaments. Even when a lantern is lit in the night, the light emitted hardly illuminates the place because mostly a group of bushes are grown near it. The object of illumination then becomes a dim mysterious glow. When a lantern is near a river bank, this is lit to have a red reflection on the water surface.
i) Stones
Stones are selected according to size, shape and color. No stones should be disproportionate to the size of the garden or the features around it, like a lantern or a water basin.
The stones are rarely placed in isolation but rather arranged in groups of two to five. Each group will have stones of various heights and shapes.
The principle governing the arrangement of stones is to make them look natural. For this purpose, low growing bushes or upright trees are planted near the stones groupings depending upon the size of the nearby stones.
j) Pagodas
Another favorite feature of Japanese landscape is the stone tower or the pergola while is a structure consisting of 2,3,5 or more separately roofed stages.
k) Fences and gates
Fences in a Japanese gardens are of two types – one is for partition while the other is for the purpose of screening which are called "sleeve fences".
The latter is so named as its shape resembles that of the sleeve of a ladies Kimono. The Partition fences should look like light in appearance and house wood and twigs of bamboo are preferred to stone.
There are generally two gates one in the front entrance and second the back entrance. Gates are also made of light materials such as wood or bamboo.
l) Vegetation
The initial steps in a Japanese garden are to design the contour of principal rocks which are of primary importance. These form the basic structure or the skeleton of the garden.
After the stones the secondary garden framework i.e the evergreen plants are arranged. The trees are of permanent nature and stands as reference point in the garden.
The Japanese use both needle shaped leafed trees in the garden. Some typical trees of Japanese gardens are:
Evergreens, pines, different species of Albes
Deciduous : Maples , Mulberry
Flowering: The most commonly used plants are different prunus species, besides Magnolia grandiflora and others.
Shrubs in a Japanese garden are not introduced just because of the beautiful flowers, but mainly on the consideration of shape and foliage.
The Japanese never train their trees or shrubs in the topiary form. The commonly grown shrubs are camellia, rhododendrons and so on.
Bamboos play a special role in the Japanese gardens. The striking patterns of shadow cast by the arching bamboos against paved path, fences and patios look beautiful.
4) Conclusion
Hence, I conclude that the above-mentioned types and styles of garden with its characteristic's features will give a clear idea for you to create and develop a small garden in our house itself. Thus, garden can be developed by any individual of any type/style to bring beauty and mind relaxation to one.
---
5) These are also examples of type of garden
i) Wild Garden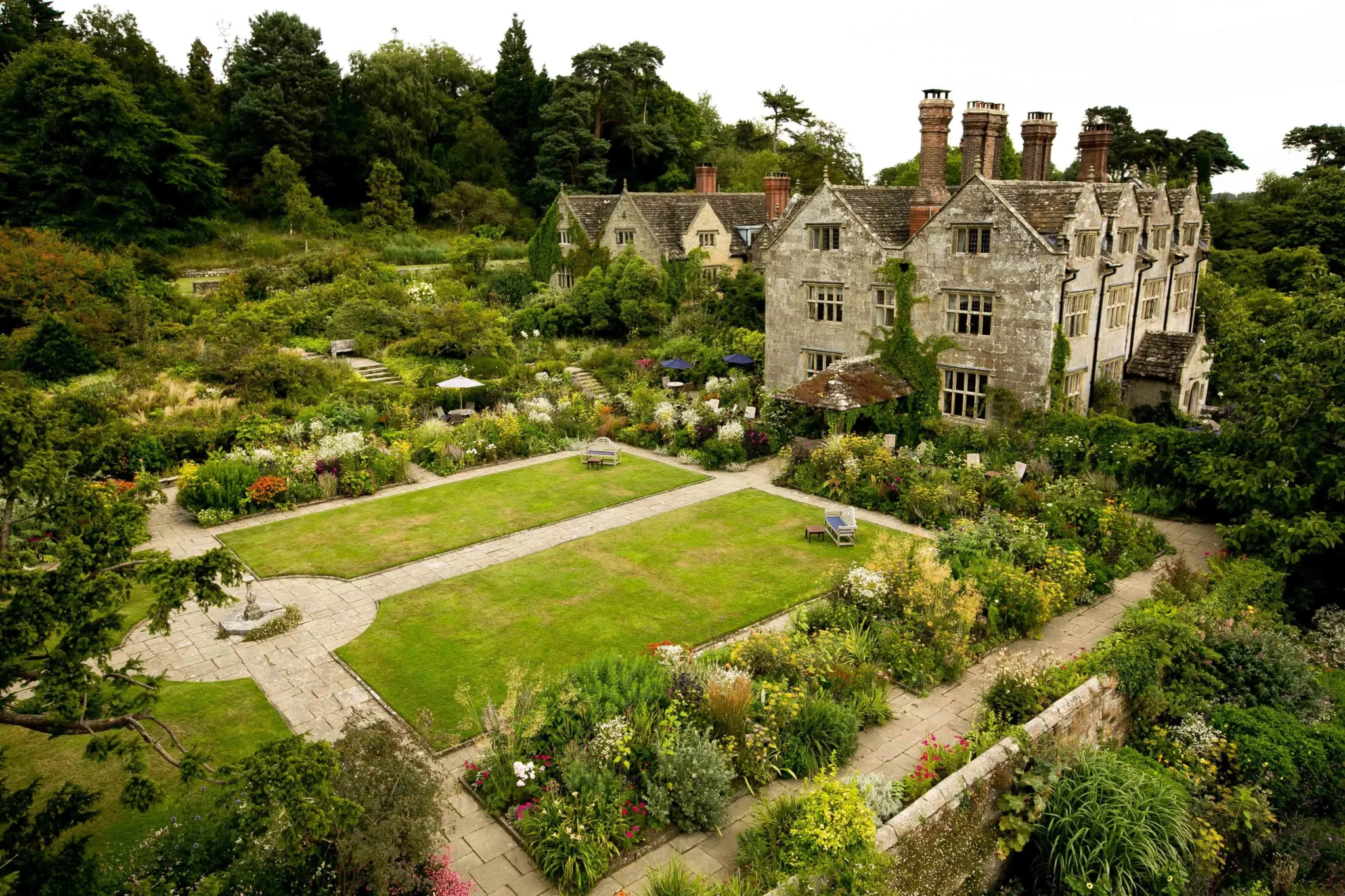 Recent style of gardening namely, wild gardens was expounded by William Robinson in the last decade the 19th century. He preached that grass should remain unmoved, as in nature and few bulbous plants should be grown scattered in the grass to imitate wild scenery.
He also suggested that passages should be opened in the woodland, and trees, shrubs and bulbous plants should be planted among the forest flora or to fulfil his idea of wild garden.
His other idea was to allow the creepers to grow over trees naturally imitating those of the forest.
A wildlife garden (or wild garden) is an environment created by a gardener that serves as a sustainable place of safety for surrounding wildlife.
Wildlife gardens contain a variety of habitats that cater to inhabitant and local plants, birds, amphibians, reptiles, insects, mammals and so on.
Establishing a garden environment that mimics surrounding wildlife allows for natural systems to interact and create equilibrium, ultimately minimizing the need for gardener maintenance and involvement.
These gardens can also play an essential role in biological pest control, and also support biodiversity, native plantings, and generally benefit the wider surroundings.
ii) Woodland Garden
The informal woodland garden is the natural descendant of the shrubby "wilderness" of earlier times. The main aspect of the woodland garden is informality and naturalness.
Paths curve rather than run straight and are of mulch or grass rather than pavement.
Trees are thinned to allow enough light, particularly in the glades, but irregular groups may be left, and any mature tree of character can be a focal point.
Plants are chosen largely from those that are woodlanders in their native countries such as rhododendron, magnolia and maple among the trees and shrubs; lily, daffodil, and snowdrop among the bulbs and primrose, hellebore, St.-John's-wort, epimedium, and many others among the herbs.
The woodland garden relies on form and texture and subtle variation in leaf color to provide dynamic interest.
Many plants are specifically suited to this setting and bloom here.
The key to woodland gardening is to think in layers, one medium to large tree is enough to start a small woodland garden.
Woodland gardens do not require much in garden statuary. Simple items that we would find in a wooded area work the top.
Examples of Native Woodland Plants are…
Understory Trees: Flowering Dogwood, Pagoda Dogwood, Shadblow, Redbud
Shrubs: Rhododendron, Flame Azalea, Elderberry, Virginia Sweetspire, Oakleaf Hydrangea, Viburnum species.
Perennials: Columbine, Wild Ginger, Jack-in-the-Pulpit, Blue Cohosh, Snakeroot (Cimicifugaracemosa), Bleeding Heart, Red & White Baneberry, Shooting Star, Blue Mist Flower (Eupatorium coelestinum), Heuchera, Twin-leaf, Virginia bluebells, Solomon's Seal, Bloodroot, Celandine Poppy, Foam Flower, Trillium, Woodland Phlox.
iii) Patio Garden
When considering where to put our patio, look for somewhere sunny and sheltered. Any extra warmth will make the flowers even more fragrant, while gentle air movements encourage even suitable aromas to build up and add to the bouquet.
The different types of scent your plants will emit can largely be split into four categories: sweet, spicy, fruity and heady. Plants also vary considerably in the amount of fragrance they produce.
For example, they're much better placed further down the garden, so only well-diluted wafts will reach the patio.
iv) Split level Garden
A split-level solution can be a very effective way of converting a large difficult space into two more usable spaces.
The transition from lower to upper levels must also be carefully considered and here too are opportunities to embrace the transition as both functional and aesthetic elements within the overall scheme.
The garden layout is largely influenced by a practical and easily maintained layout.
But here too style and plant selections fulfil ornamental and screening roles but combine seamlessly to produce a stunning composition with striking results
v) Low Maintenance Garden
Plants should always be selected to suit the conditions.
This will reduce watering if it is a dry spot or too sunny for the plant.
Plants in the wrong place will often grow poorly and will need digging out and replacing over time.
Plants have different growth habits, some grow quickly and can quickly take over the garden, whilst other are slow growing and need less pruning.
vi) Rose Garden
A rose garden or rosarium is a garden or park, often open to the public, used to present and grow various types of garden roses or rose species.
The roses such as ground-cover types brighten the soil with flowers, pillar roses stand like sentries and create colour throughout much of summer, and standard roses add height to rose beds, while miniature and patio types can be introduced into even the smallest area of courtyard or balcony.
Climbers and ramblers cover walls and fences and some are ideal for growing as flowering hedges.
The roses should be kept at least 45cm (18') from the outside edges of the bed to avoid problems when trimming the grass.
The bed should not be made any deeper than 1.5 m (5'0") otherwise we will have difficulty in reaching and cutting off dead heads.
The same points apply to borders and to beds, except that as the roses are not being seen from all sides the tallest should be at the back, medium-sized growers in the centre and low growers in the front row.
The roses can be planted in batches of three to five to form a group of one colour. Some roses make good hedges, but to the height and colour should be checked before we place the order.
There are different roses, such as the patio types. Sweet dreams, sweet magic, cider cup and the older "ballerina" with its five petalled blooms of light pink and white eye are ideal for planting in tubs and urns.
vii) Bush Roses
Bush roses usually form the main part of a rose garden.
The term refers to hybrid teas (correctly known as large flowered roses) and floribundas (known as cluster flowered roses).
Hybrid teas produce the largest and most beautifully formed blooms of all and they have a colour range that lacks only blue and deep black.
viii) Terrace Garden
In gardening, a terrace is an element where a raised flat paved or gravelled section overlooks a viewpoint. A raised terrace keeps a house dry and provides an alteration between the hard materials of the architecture and softer ones of the garden.
It has its own problems of difficult access, high winds, bright light and a burning sun.
If we can meet the challenge of turning all these seeming disadvantages into positive advantages, we can have garden on top of the world, with striking views that are as good at night as they are during the day.
The first problem to overcome with any terrace garden is the question of weight, and it is vitally important to clean the load-bearing potential with a professional architect or building engineer.
Irrigation should be taken into account at the planning stage itself so that it can easily be in-corporate during construction which saves an enormous amount of work later on.
The main planting areas are located around the edges of the roof top. This is reasonable since the strongest part of any roof is around the perimeter, where the ceiling supports or purpose – built slabs, adjoin the outside walls.
Even lightweight composts and building materials are heavy, predominantly when wet. The modern materials such as fibre glass which is less in weight can be used.
The planting areas can be kept in the edges to have the advantage of leaving the main part of the garden open for sitting, dining, and amusing.
As it is impossible to dig down, beds are raised which offers the chance for plants to cascade over the edges, softens the outlines and provides partial shelter.
Colour is important and the thin terracotta tiles are an ideal soil to the off white walls. Large areas of pure white should always be avoided, as the gloss can be unbearable
ix) Sunken Garden
This is formed taking advantage of a natural depression. The garden goes down through a series of terraces to a small pool or a fountain at the bottom. In the terraces, flower beds and strips of lawn are laid out. It breaks the monotony of flat ground in a garden.
The low box hedge can be used to ground the open sitting area. Although sunken, the surrounding hedge helps the terrace to feel less exposed and more restful in the vast open space
A sunken can consists of a swimming pool, patio, barbecue and driveway/ front entrance.
In exteriors planting trees in small city gardens can be invaluable to wildlife, providing nesting and roosting sites for birds, nectar and pollen for insects and a home for aphids and caterpillars, which are important sources of food for many birds.
Trees that offer environmental benefits and are best for space-challenged gardens include the hawthorns and rowans.
x) Marsh/Bog Garden
A bog garden employs permanently moist (but not waterlogged) soil to create a habitat for plants and creatures which thrive in moist conditions.
It may exploit existing poor drainage in the garden, or it may be artificially created using pond liners or other materials to trap water in the area.
Any such structure must allow a small amount of seepage to prevent the water stagnating.
Typically a bog garden consists of a shallow area adjoining a pond or other water feature, but care must be taken to prevent water draining from a higher to a lower level.
The minimum sustainable depth is 40–45 cm (16–18 in).
Good drainage is provided by gravel placed over the liner, and the bog can be kept watered by using a perforated hose below the surface.
Plants which enjoy boggy soil or shallow water around their roots include:
Butomus umbellatus (flowering rush)
Caltha palustris (marsh marigold)
Dionaea muscipula (Venus flytrap)
Drosera (sundews)
Iris pseudacorus (yellow flag)
Lobelia cardinalis
Lysimachia nummularia (creeping jenny)
Menyanthes trifoliata (bogbean)
Myosotis scorpioides (water forget-me-not)
Osmunda regalis (royal fern)
Persicaria amplexicaulis (red bistort)
Persicaria bistorta (bistort)
Pinguicula (butterworts)
xi) Water Garden
Water gardens otherwise known as aquatic gardens can be defined as any interior or exterior landscape or architectural element whose primary purpose is to house, display, or propagate a particular species or variety of aquatic plants.
The primary focus is on plants, but they will sometimes also house ornamental fish, in which case the feature will be a fish pond. It is concerned with growing plants adapted to pools and ponds.
Although water gardens can be almost any size or depth, they are typically small and relatively shallow, generally less than twenty inches in depth.
This is because most aquatic plants are depth sensitive and require a specific water depth in order to thrive.
The particular species inhabiting each water garden will ultimately determine the actual surface area and depth required.
Water can be used in many ways in the garden. It provides a medium in which plants of a special kind, the aquatics, can be grown.
It can also be stocked with fish which bring life and movement to the garden.
Plants and fish combine well, as the latter benefit from the protection that floating and submerged leaves provide.
One advantage of having both fish and plants in a pool is that the plants will help keep the water fresh.
xii) Roof garden
A roof garden is a garden on the roof of a building.
Roof plantings provide food, temperature control, hydrological benefits, architectural enhancement, habitats or corridors for wildlife, recreational opportunities, and in large scale it may even have ecological benefits besides the decorative benefit.
This gaeden is the ideal alternative way to enjoy all the merits of gardening and outdoor space when there is shortage of land.
It suits best for urban environments, where ground garden space is inadequate.
The training of cultivating food on the rooftop of buildings is sometimes referred to as rooftop farming.
Rooftop farming is usually done using green roof, hydroponics, aeroponics or air-dynaponics systems or container gardens.
These gardens are most frequently found in urban environments.
Plants have the ability to reduce the overall heat absorption of the building which automatically reduces energy consumption.
The main cause of heat build-up in cities is insolation, the absorption of solar radiation by roads and buildings in the city and the storage of this heat in the building material and its subsequent re-radiation.
Plant surfaces however, as a result of transpiration do not rise more than 4–5 °C above the ambient and are sometimes cooler.
This then translates into a cooling of the environment between 3.6 and 11.3 degrees Celsius (6.5 and 20.3 °F), depending on the area on earth (in hotter areas, the environmental temperature will cool more).
The modern trend in architecture for flat roofs has made possible the development of attractive roof gardens in urban areas above private houses and commercial buildings.
These gardens follow the same principles as others except that the depth of soil is less, to keep the weight on the rooftop low, and therefore the size of plants is limited.
The plants are generally set in tubs or other containers, but elaborate roof gardens have been made with small pools and beds.
Beds of flowering plants are suitable among which may be stood tubs of specimen plants to produce a desired effect.
6) Conclusion
Thus I conclude that the explanation of types of garden will make a clear picture about the different features of the garden. The clear understanding of the types of garden will create confidence among you to create garden of your own choice and make the surroundings of the garden in front of the home greener and colourful.
---
These are just a few examples of the many types of gardens that exist. Each type of garden offers its own unique benefits and opportunities for creativity and personal expression.
---
Related video