If you want to know about the interrelationship of spaces or circulation in architecture or general building requirements, please click the link.
---
A architectural drawing symbol is a graphical representation used in architectural drawings to represent specific elements of a building or structure, such as windows, doors, stairs, plumbing fixtures, electrical outlets, and more. These symbols are standardized and used across the architectural industry to ensure clear and consistent communication between designers, contractors, and clients.
The drawing of an architectural working drawing requires a knowledge of the symbols and terms commonly used in the design and construction industry.
All architectural working drawings must communicate in a clear and concise manner to the builders.
In order to simplify the details on a drawing and to speed drawing time it is necessary to use architectural symbols.
Many symbols are designed to approximate the appearance of an item, or the material from which it is constructed. Some symbols however, may have no graphic resemblance to the material or item that they are to represent.
1) Symbol Conventions
As a general rule when a symbol is not clear or a new type of material is to be noted on a drawing, a notation should be used with the symbol.
This will clarify the communication to the builders.
It must be remembered that architectural working drawings must be read by many persons in the building trades.
Everything must be clear so no guess work will be involved with the design, ordering of materials or construction phases.

2) Rules for Drawing Symbols
Always use drawing instruments. Never draw the symbols freehand on a working drawing. Use an architectural drawing template to increase the speed and clarity of the symbols Be certain that the template figures are the same scale as your drawing's scale.
The location of the symbol on the working drawing is closely approximated. If an exact location is required, dimensions must be added to the symbol on the drawing.
Symbols are not drawn to the exact size of the actual item. The general size of the architectural symbols will vary with the scale of the drawing. The symbol should be of convenient reading size.
Material symbols need not cover the full surface as shown. Repetitious drawing symbols need not be completely drawn.
Have references for architectural symbols available.
3) Types of Symbols in Architecture Drawing
There are many types of symbols used in architectural drawings, and they can be divided into several categories:
Door Symbols
Window Symbols
Wall Symbols
Kitchen Symbols
Furniture Symbols
Building Material Symbols
Plumbing Symbols
Landscape Symbols
Topographic Symbols
Lighting Symbols
Service Symbols
i) Door Symbols
Door floor plan symbols are usually large gaps between walls with a curved line showing the way the door will swing open. Different types of doors are depicted differently on floor plans.
Ordinary hinged doors are usually depicted with an arch that forms a quarter circle, while double doors appear like letter "M" with two curved lines merging at the center.
99% of built structures require entrance doors, and doors are key structural elements that play an important role in privacy and security.
Therefore, it is necessary to use the door symbol to indicate the location of the door on the drawing. Door symbols help workers, contractors, or customers understand where a door will be placed in a building.
The following door symbols are commonly used in architectural drawings to indicate the location of a door in a structure.
ii) Window Symbol
Windows, like doors, are the second most important element in a building and play an important role in the ventilation and security of a home or building.
The use of window symbols in architectural drawings can give you an idea of ​​where and what windows to install.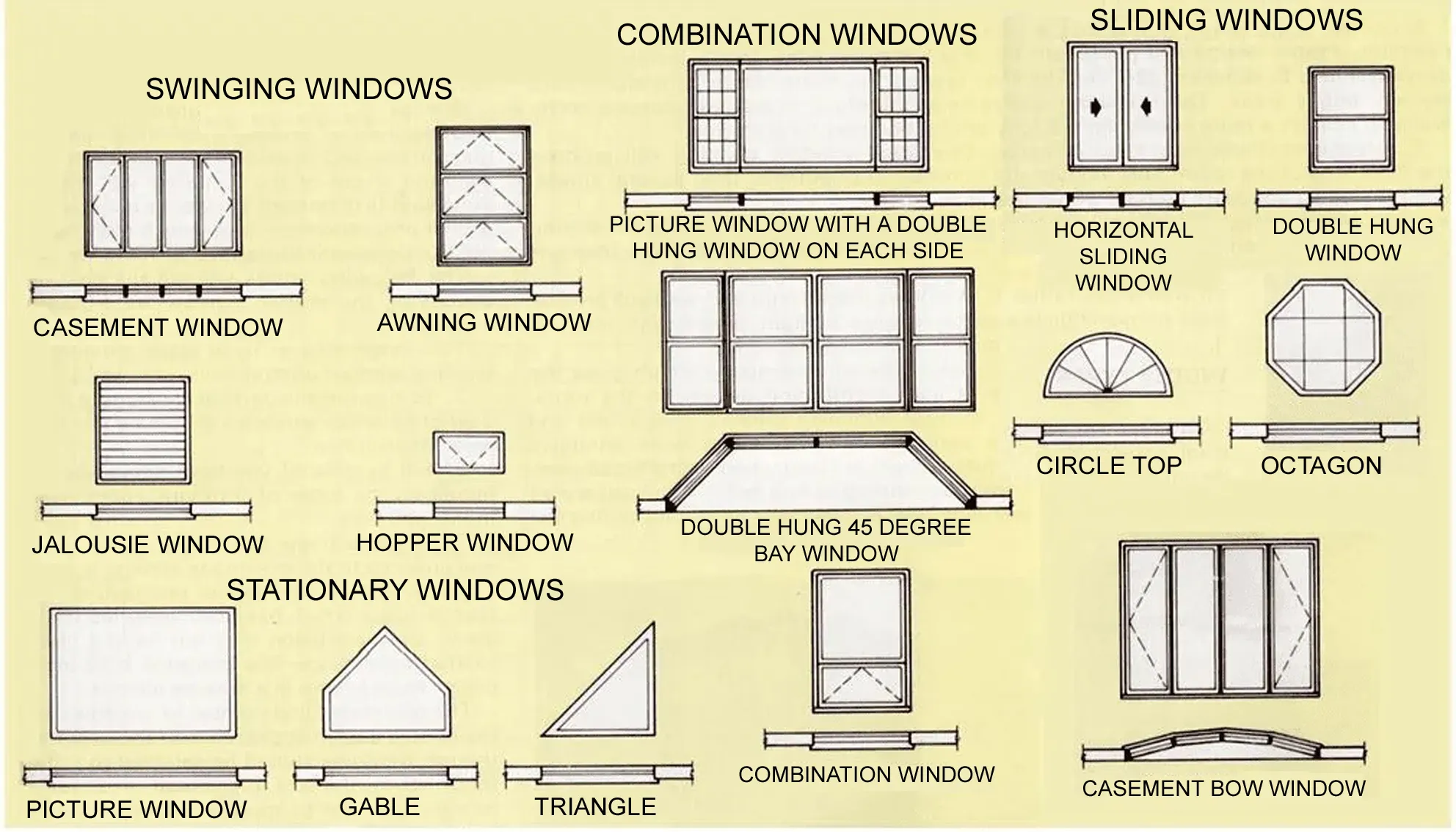 iii) Wall symbols
These are the main elements of a floor plan.
In most cases, thicker lines are used to signify exterior walls while thinner lines represent interior walls. External walls can also be represented by a black outline or double lines.
Walls can also be drawn with some patterns to indicate the materials to be used, e.g., concrete, brick, wood finish, plywood finish, etc.
iv) Kitchen Symbols
The kitchen contains many elements from cabinets to washbasins and should be marked on the architectural drawing with the symbols of the kitchen elements to avoid future problems.
These architectural symbols aid in visual presentation and help define the space or area of ​​a particular element.
These kitchen element symbols include cabinet, electric stove, sink, refrigerator, gas stove, sink, and more.

v) Furniture Symbols
Furniture symbols are used in architectural drawings to indicate the arrangement of furniture for living rooms, dining rooms, bedrooms, kitchens, etc. Furniture symbols include a sofa, chair, table, bar counter, daybed, and stool.
vi) Building Material Symbol
A building material symbol indicates a type of material used to build or install a specific structural element.
Building materials such as brick, steel, bronze, plastic, aluminum, cement, concrete, sand, wood, etc. are usually represented using a specific template as shown in the image below.
These building material symbols give contractors clear guidance on the type of material or pattern to use during construction.
vii) Plumbing Fixtures Symbols
Sanitary ware is an important design element that helps maintain indoor hygiene. Plumbing includes a sink. Sink (glass or stainless steel), bathtub, toilet, urinal, and flush tank.
These plumbing locations must be marked on the architectural drawing using plumbing symbols. These architectural symbols make drawings easier to understand and run correctly without confusion.
Bathtub, shower, toilet and sinks are commonly depicted in floor plans. Related bathroom fixtures such as toilet paper dispensers and towel racks may also be shown
viii) Landscape Symbols
Landscaping symbols are architectural symbols that help represent the landscape appearance of a building. Landscaping includes representations around a building, such as lawns, gardens, trees, patios, etc.
The following are some of the commonly used landscape symbols in architectural drawings to represent the landscape of a building.
ix) Topographic Symbols
The following are some topographic symbols used in architectural drawings.
x) Lighting Symbols
This symbol is used to indicate the type of lighting being installed. There are various lighting fixtures depending on the region, such as indoor lighting, outdoor lighting, and decorative lighting.
Assigning specific lighting symbols makes your drawings easier to understand and run correctly without confusion.
xi) Service Symbols
Service symbols are used to identify building utilities such as rain vents, manual vents, boiler chimneys, ground vents, intake vents, vents, and more.
The use of service symbols in the architecture makes it clear where to install and which elements of the service.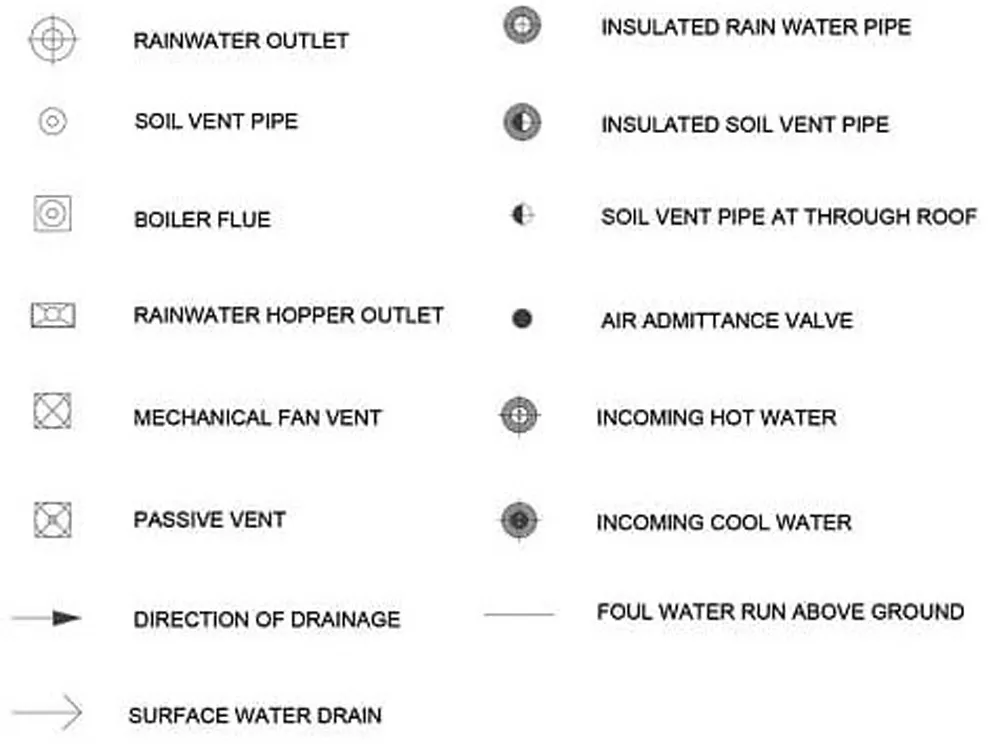 4) Section Marks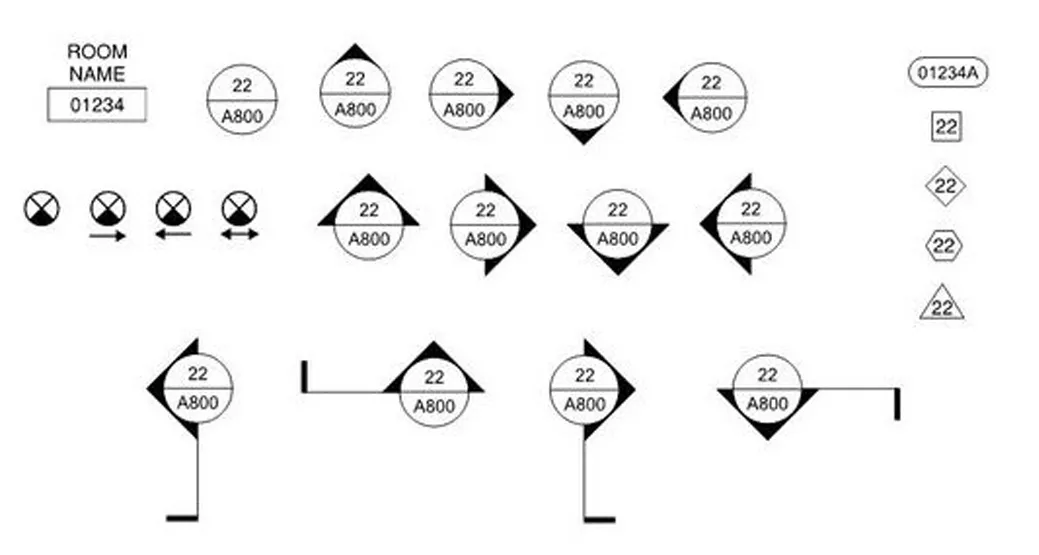 The arrow can be left open or colored in.
The short line segments extending from the circle represent the cutting plane line.
Generally a section call-out consists of two circles, one on each end of the cutting plane line.
It is permissible to omit one of the circles and replace it with a simple arrow.
These arrows are simple and can be left open or colored in.
5) Poche the building plan
The simplest way to highlight a structure is to crosshatch the entire building area or hatch around the perimeter of the structure.
The overall representation of the structure should conform to the overall style of the drawing and the other symbols used.
6) Plot Plan Symbols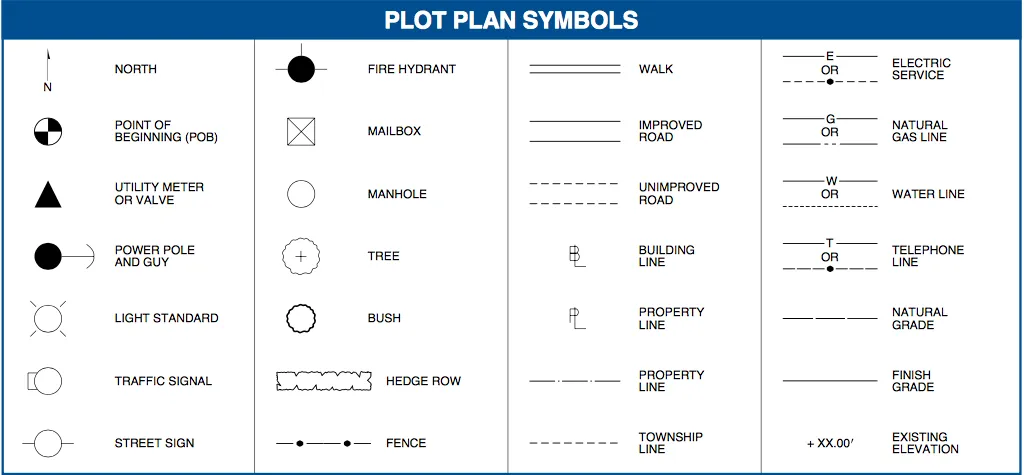 In conclusion, architectural drawing symbols play a crucial role in the design and construction process, and it's important for architects, engineers, contractors, and other professionals involved in a project to have a clear understanding of these symbols in order to effectively communicate and ensure that a project is built as intended.
---
Related video