If you want know about About the IGBC and its function or About GRIHA and its function or GRIHA rating process or About green building or GRIHA rating & registration please click the link above.
---
The purpose of the Energy Conservation Building Code (Code) is to provide minimum requirements for the energy-efficient design and construction of buildings.
The Code also provides two additional sets of incremental requirements for buildings to achieve enhanced levels of energy efficiency that go beyond the minimum requirements.
1) ECBC
Minimum energy efficiency standards
Applicable to large commercial buildings
(connected load of 100 kW/contract demand of 120 kVA and above)
i) ECBC prescribes standards for
Building Envelope (Walls, Roofs, Windows) Lighting (Indoor and Outdoor)
Heating Ventilation and Air Conditioning (HVAC) System
Solar Hot Water Heating
Electrical Systems
2) Purpose of ECBC
i) Key objectives of ECBC 2017 development
Set a long term vision for building energy efficiency
Include new types of buildings
Focus on design strategies for reducing energy use
Establish a baseline of energy performance and promote buildings that go beyond the code
Ease of compliance and enforcement
ii) Typical Electricity Use in Buildings
Application of building codes reduces electricity consumption by 25% – 30%
3) Scope of ECBC
i) Energy efficiency requirements for the Code
4) Compliance and Approach
i) Compliance and Approach
Energy Performance Index Ratio (EPI Ratio) is less than or equal to 1.
The Energy Performance Index (EPI) of a building is its annual energy consumption in kilowatt-hours per square meter of the building.
While calculating the EPI of a building, the area of unconditioned basements shall not be included.
ii) Determining EPI Ratio
The EPI Ratio of a building is the ratio of the EPI of the Proposed Building to the EPI of the Standard Building:
5) Building Envelope
Mandatory Requirements
Fenestration ( U-Factor, Solar Heat Gain Coefficient, Visual Light Transmittance)
Opaque Construction
Day lighting

6) Comfort Systems and Controls
Mandatory Requirements
Ventilation
Condensers
Service Water Heating
7) Lighting and Controls
Mandatory Requirements
Lighting Control
Interior Lighting Power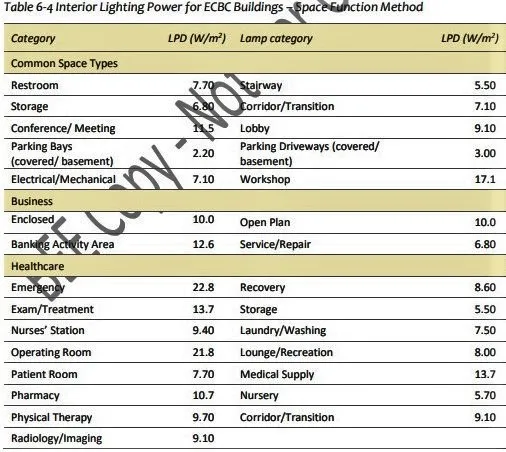 8) ECBC Impact
---
Related video