If you want to know about the toilet design or principles of design or cost-effective material, please click the link.
---
Furniture arrangement is an important aspect of interior design, as it can greatly impact the look and feel of a room.
Furniture sizes may vary slightly; those indicated are the averages commonly met with in upper middle-class homes and are little affected by changes in style or similar matters of individual preference. In studying furniture groupings, it becomes obvious that certain clearances are required. Spaces, lanes, or paths of different types develop naturally between furniture-group units.
1) Furniture sizes

Here are some tips for creating attractive and functional furniture arrangements:
2) Furniture arrangements
In all living rooms shown, main conversation group centered about fireplace is dark gray. Bay or picture windows may be used as focal points, instead of fireplaces.
Clearance between low coffee table (23) and easy chairs (6) ought to be maintained at 3′-4″ even though table is low, because the aisle here constitutes a major traffic way.
For larger families, or for those who entertain often, seating for 7 to S persons in the primary group is a reasonable design limitation . Off-center location of game group provides for a corner entrance door.
Minimum length for a room which must contain a baby grand piano is approximately 20′. If minimum clearances of 1′ between piano and wall, and 3′ between desk (15) and wall, are to be maintained, room length must be increased .
If sofa opposite fireplace is omitted, primary group can be brought closer together. In schemes I to 4, note that wide groups permit conversation without twisting to see speakers seated on sofa ; here this restriction is removed.
Here, presumably, doors at ends of room indicate use of one side of room as a traffic route. Primary furniture is grouped closely about fireplace ; wall pieces are all that can be used on opposite side.
Grouping for door locations at both ends of room; ideally, 1-ft clearance is desirable between piano and wall . Chairs (6) are smaller than those previously listed, 2`-6″ x 3′-0″.
If living room has a "dead end" (no doors), primary unit may be spread to include entire end of room. Inclusion of music or game group would demand more area .
Primary group shown is one of most popular arrangements. Unit placing suggests entrance at left end. Secondary conversation unit often becomes music or game group.
Writing or study group at left, music or game group at right, and center primary group, need minimum passages only when room is narrow.
Ten persons can be comfortably seated in this type of arrangement, in which primary and secondary conversation groupings almost merge into one.
Arrangement designed to permit door locations on side walls rather than ends. Angled chairs (6) are small size noted in Fig. 7, and often used in other arrangements .
Previous diagrams have shown schemes arranged symmetrically about centered fireplaces ; on this and the following page are schemes for cases when foci cannot be centered .
Off-center rooms often divide naturally into two parts: primary group, and other groups combined. Clearance no greater than 2′ will not accommodate a major traffic lane .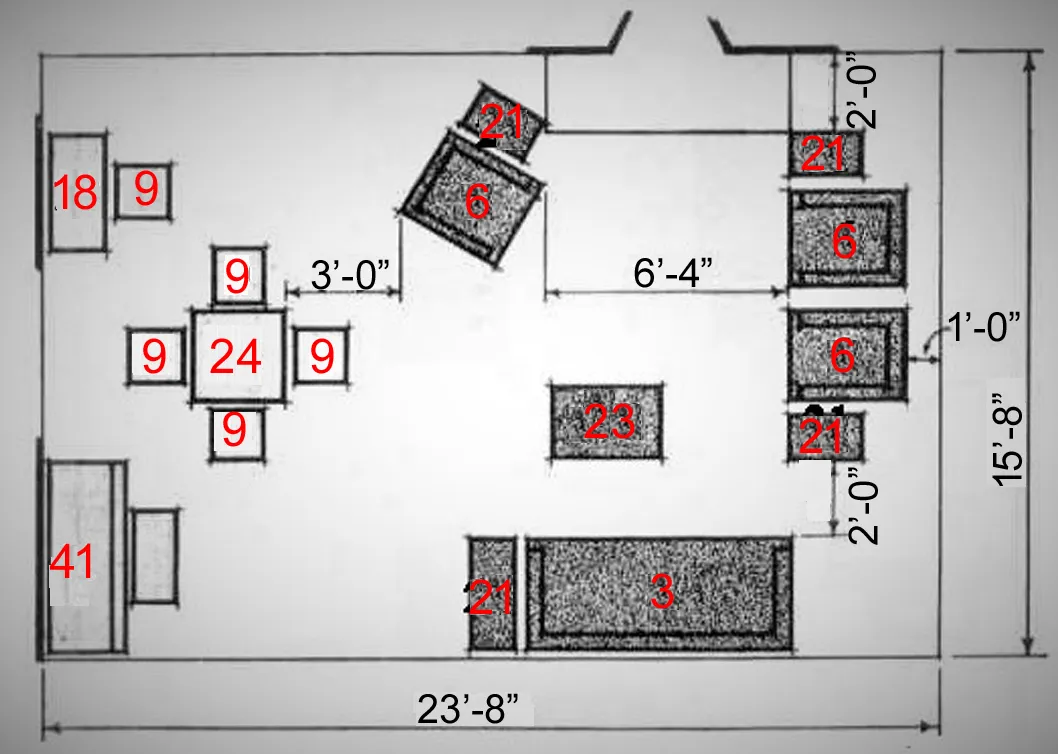 If primary, music, and game groups are all to be contained in a small area, one must be curtailed. Here game group consists of table and only two chairs .
In this case the primary conversation group is curtailed to permit inclusion of a grand piano; use of corner bench for game group may result in some loss of comfort.
Two smaller upholstered chairs (6), each 2′-6″ x 3′-0″ might be accommodated at the right of the fireplace in this room with only a slight increase in room width.
In a room with only one door the minimum traffic lane of 3′-4″ needs to be increased to at least 4′-10″, which will accommodate two persons side by side, without crowding .
Another example of wide entrance lanes. Placement of doors so that at least 10″ is allowed between room corners and door trim will permit installation of "built-in" bookcases.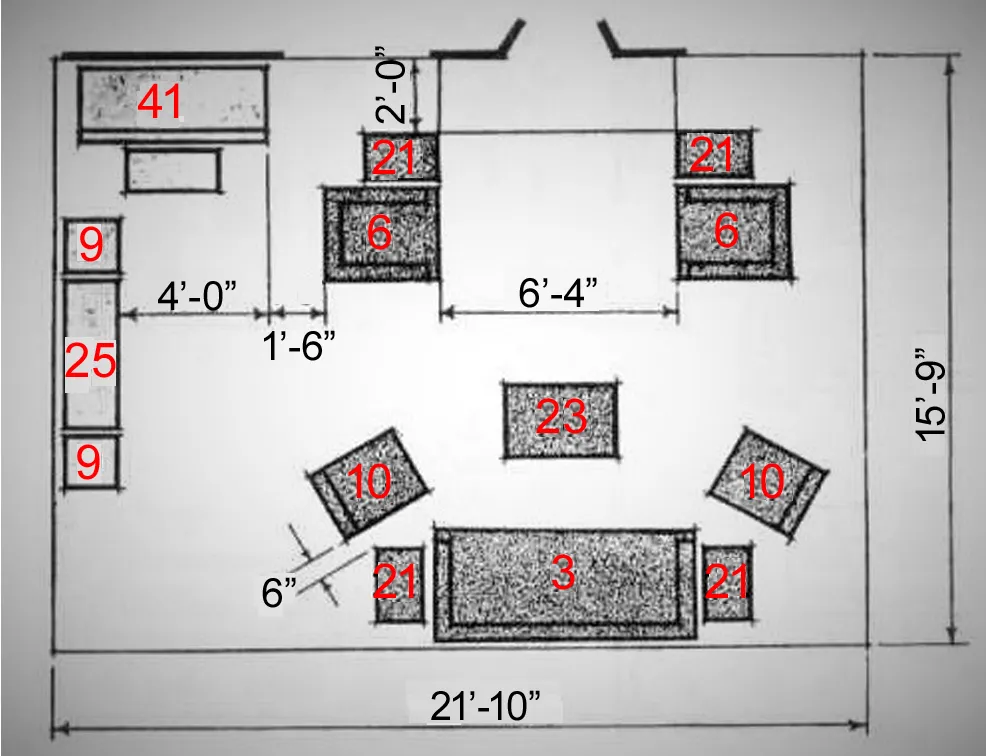 Several doors may be accommodated with this type of furniture-group unit arrangement. A traffic lane is assumed to exist at the left end of the room .
Notice that a game-table group occupies almost the same floor area as a baby grand piano. Placement at an angle is intended for informal rooms.
Larger rooms may contain four or more furniture-group units; it may be desirable to increase clearances . Use of chairs set at angles requires increased areas.
Fireplace chairs set 3′-6″ back from center line of fireplace permit occupants to gaze at the fire comfortably. General traffic cannot be accommodated in a 2°-ft lane .
By using love seats instead of pairs of chairs at sides of fireplace, considerable space can be saved even though seats are not placed the minimum distance apart.
In rooms with fireplaces in end walls, as in the schemes immediately preceding, furniture arrangements often fall naturally into two distinct groups.
One of the two groups may be adapted for dining, eliminating need for a separate dining room. Minimum clearance around dining table should be 3′-0″.
In this scheme, by placing the sofa on the long axis opposite the fireplace, furniture is held together as a single unit. There are two obvious positions for an entrance door. If is possible to back the sofa against a group of windows.
Backing the primary- group furniture against walls eliminates passage behind them and reduces room width to a minimum.
Here the left side and end opposite the fireplace are available for doors. Piano should, if possible, be placed against an inside wall.
Placing the sofa against one side of the room tends to open up the primary group in effect, to merge with it the secondary conversation – group furniture.
The entire area may be treated as a single unit, all furniture being brought into the principal group.
Here the placing of the desk group (14) allies it closely with the fireplace unit. Four units are included .
By interchanging the positions of the fireplace furniture in Fig . 32, a grand piano can be accomI modated.
Completely symmetrical arrangement in comparatively small space; music group might replace items 14 and 25.
Type of sofa shown is becoming increasingly popular. Chairs (6) may be units which can be added to sofa, if desired.
"Unit" types of sofas are particularly suited to corner groupings. Scheme shown contains three group units.
---
Remember, there is no one "right" way to arrange furniture – the key is to find a layout that works for you and your space. Experiment with different arrangements until you find one that feels functional and visually pleasing.
---
Related video