If you want know about Principles of daylighting design or Climate and thermal comfort or Climate and elements of climate or Site climate or Koppen climate please click the link above.
---
Koppen Climate Classification System is the most widely used system for classifying the world's climates.
Its categories are based on the annual and monthly averages of temperature and precipitation.
The Koppen system recognizes six major climatic types; each type is designated by a capital letter.
Each category is further sub-divided into sub-categories based on temperature and precipitation.
There are only 24 sub-categories.
1) Koppen classification of climate
Broadly divided into 3 categories
3) Koppen climate classification of temperature
Five primary categories of Koppen classification of temperature
A- Tropical climate (Megatherme Temperature)
B- Dry Arid climate (xerophyte )
C- Meso thermal climate- "moderate"
D- Micro thermal climate
E- Polar climate (Hekistotherme)
F- Mountain climate
4) Koppen classification of climate
5) Koppen climate classification of Rain and Vegetation
f- rainfall throughout year (fully humid)
m- monsoon
w- winter dry
s- summer dry
W- desert
S- steppe
h- hot arid
k- cold arid
a- hot summer
b- warm summer
c- cool summer
d- extremely continental
6) A – Tropical climate (Megatherme Temperature)
Essentially, no freezes. winds which change direction according to the seasons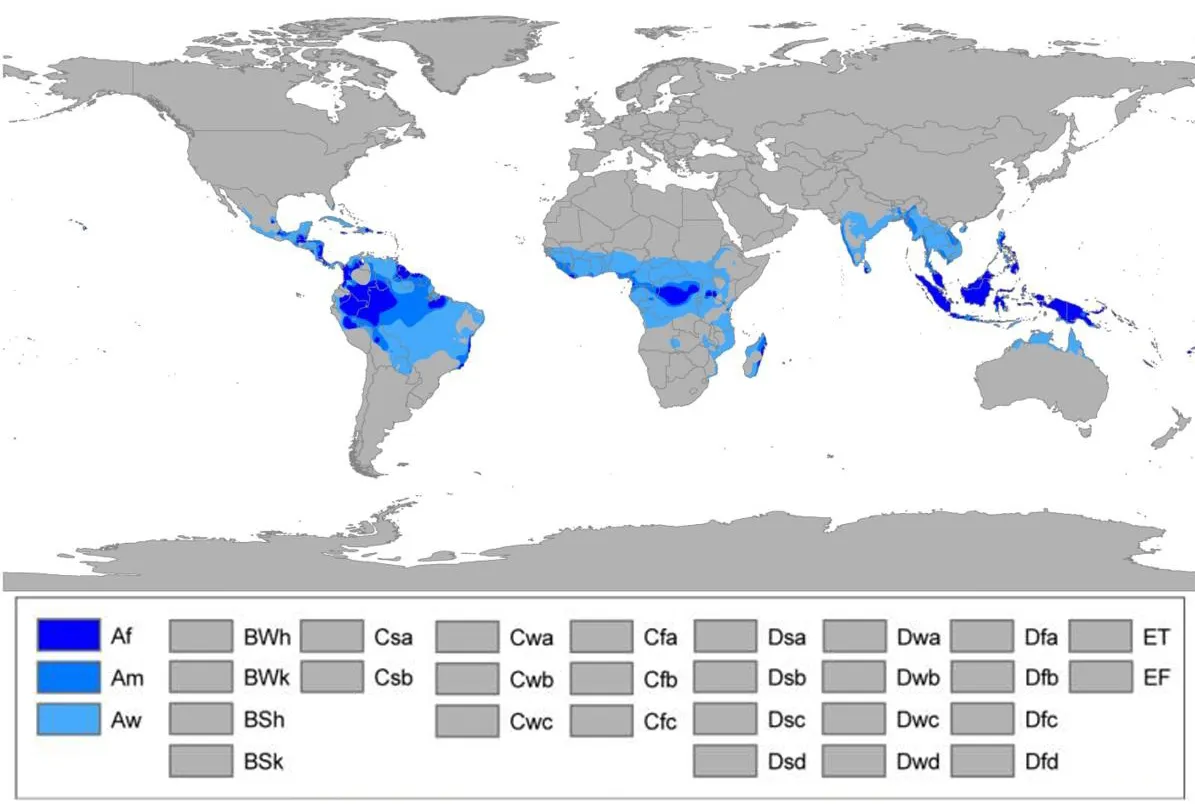 Tropical Rainy: no dry season
Annual precip > 80 mm
No real season
Sticky, humid air, with little wind
High sun angle all year
Tropical Wet-and-Dry: short dry season
Savanna: alternating 3 month wet and dry periods .
Monsoon: 5 – 7 month wet and dry regime
Both have 40 – 80 mm precip/year and average temps above 17°c every month
Tropical Monsoon: long dry season
7) B – Dry Arid climate (xerophyte)
Arid and Semi-arid climate
Abundant sunshine
Hot desert: Sahara
Cold desert: Gobi
Dry short grass regions surrounding deserts
There are cold and hot steppes
Hot steppes are subtropical: South Texas
Cold steppes are at mid latitudes: Montana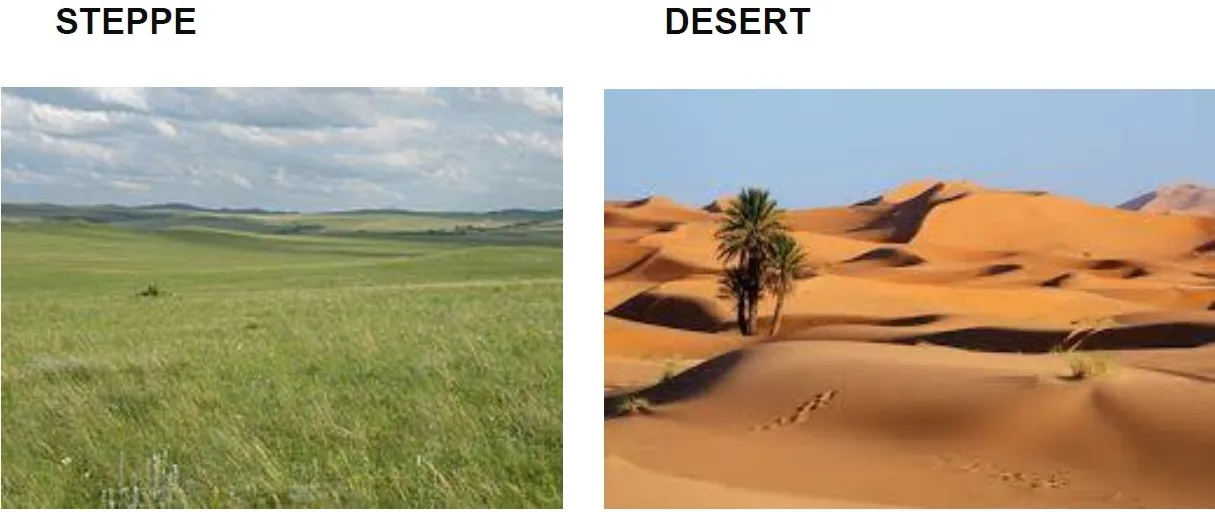 8) C – Meso thermal – "moderate"
It has a moderate amount of heat, with winters not cold enough to sustain snow cover. Summers are warm within oceanic climate.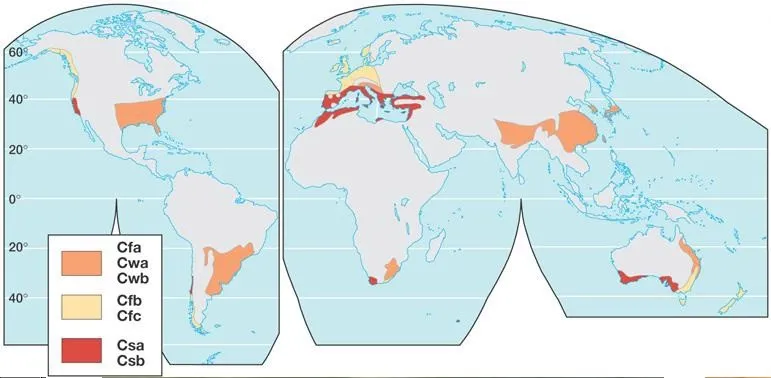 Mediterranean: dry summer
Wet-and-dry: dry winter
Humid: no dry season


9) D – Micro thermal – "low"/ Continental
Extremely rare due to the smaller land masses in the middle latitudes. Essentially, where snow remains on the ground for part of the winter.
Brutal winters
Coniferous forests
Not much precip 10 – 20MM
Northern Hemisphere only
Most of Canada, Russia
Cold winters and warm summers
Precip in every month :Northern U.S.
Humid Continental (cool summers):Southern canada

10) E – Polar climate (Hekistotherme)
The warmest temperature of any month is below 10 °C. Polar climates are further divided into two types: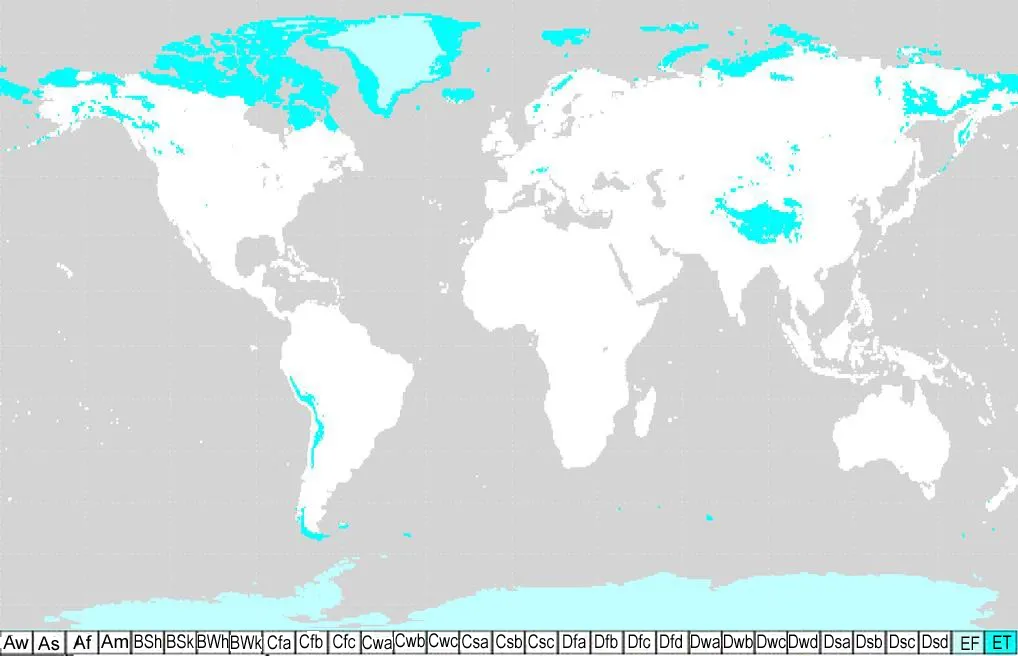 Tundra is treeless
Occasionally temperatures will rise above freezing
Complex climates because of altitude
Can be a little of everything depending on the elevation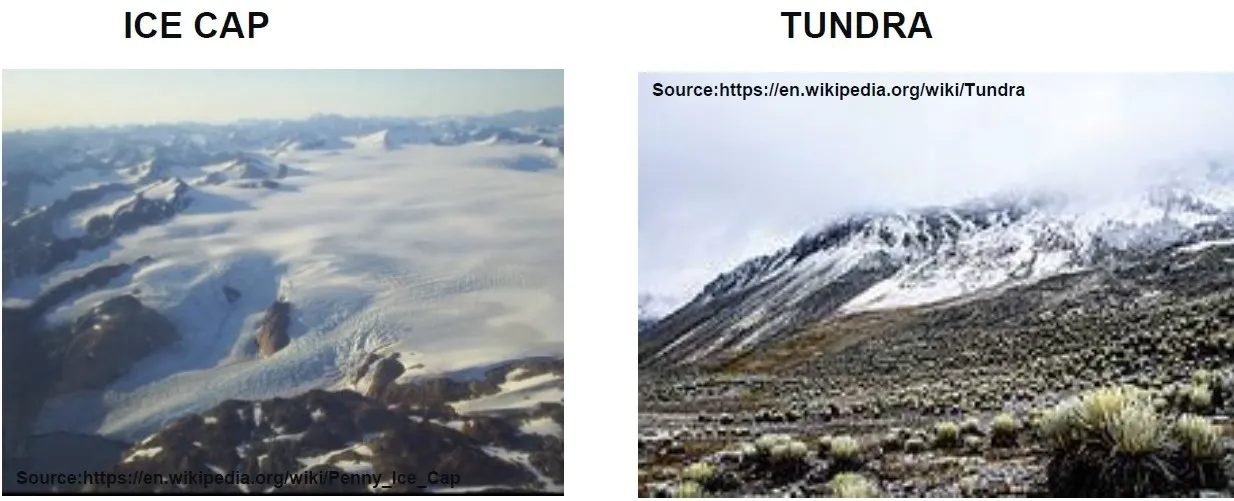 11) Koppen classification in India
---
Related video