If you want to know about the technical challenges for tall building or history of tall building or sitting of multistorey building, please click the link.
---
A tall building, also known as a high-rise building or skyscraper, is a building that is characterized by its height and is generally taller than the surrounding buildings.
1) Definition of tall buildings
Tall buildings are defined most readily by their height.
It is a building whose height creates different conditions in the design, construction, and operation from those that exist in 'common' buildings of a certain region and period" (Beedle, 1986: 3).
Höweler (2003) suggested that a tall building can be one in which there is a proportional relationship of height to width.
Something tall is either "of more than average height" or "higher than surrounding objects" Dictionary definition of "tall" reflects this relational view, but it is also helpful to define what "tall" is not.
Height can be measured in a variety of ways. It may be expressed as height in metres (or feet), or by number of storeys.
2) Council of tall buildings & urban habitat (CTBUH)
Tall Buildings, High rise buildings and skyscraper are difficult to define and distinguish solely from a dimensional perspective because height ia a relative matter that changes according to time and place.
The term high rise buildings have been recognized as a building type since the late nineteenth century, while the term tall building is very much older than that of term high rise buildings.
As for the use of the term skyscrapers for some tall rise buildings reflecting social amazement and exaggeration, it first began in connection its 12 storied home insurance building built in Chicago towards the end of the nineteenth century.
3) Tall Buildings as defined by Council on Tall Buildings and Urban Habitat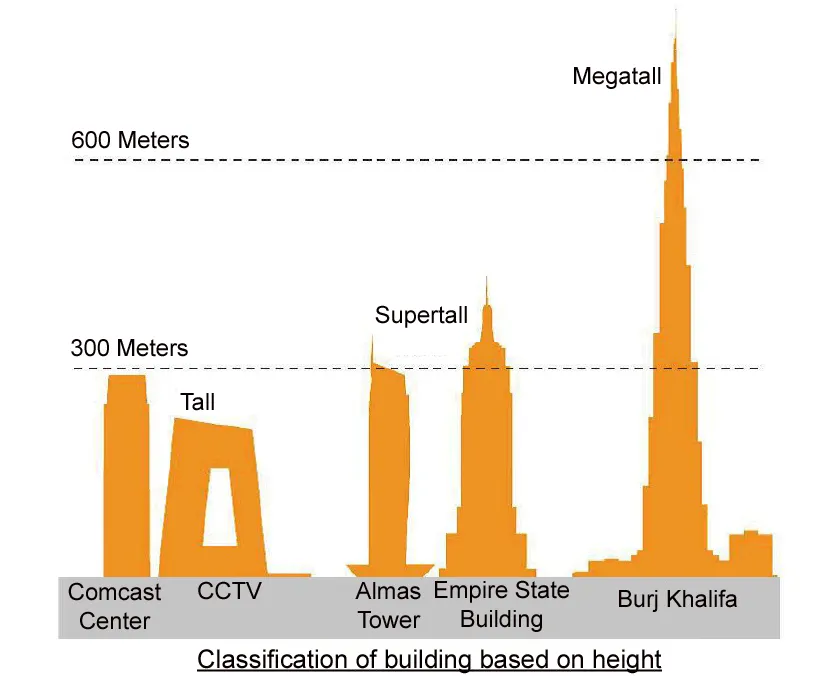 Buildings higher than 50m is termed as Tall Building.
Buildings higher than 100m is termed as skyscraper.
Buildings 300m or higher is termed as super tall.
Buildings 600m or taller is termed as mega-tall.
4) Need for high-rise buildings
Scarcity of land
Increasing demand for buisness and residential space
Economic growth
Technological advancement
Innovations in structural systems
Cultural significance and prestige
Human aspiration to build higher
5) Definition of tall buildings ( Conti…)
The most prominent tall buildings are called ' high-rise buildings 'in most countries and ' tower blocks in Britain and some European countries.
A tall building 'is a multi-story structure in which most occupants depend on elevators [lifts] to reach their destinations.
In India, NBC uses the term High-rise instead of tall buildings. Minimum height for terming a building high-rise is 15.0 M
6) Telecommunication tower vs building?
A tall "building" can be classed as such (as opposed to a telecommunications/observation tower) and is eligible for the "Tallest" lists if at least 50 percent of its height is occupied by usable floor area.
7) Council of tall buildings & urban habitat (CTBUH) Conti…
CTBUH is world's leading resource for professionals focused on the inception, design, construction, and operation of tall buildings and future cities.
Founded in 1969 and headquartered at Chicago's historic Monroe Building, the CTBUH is a not-for-profit organization
CTBUH facilitates the exchange of the latest knowledge available on tall buildings around the world.
Height of a building according to CTBUH?
8) Supertall & mega tall building
The CTBUH defines "super tall" as a building over 300 meters (984 feet) in height, and a "mega tall" as a building over 600 meters (1,968 feet) in height. As of June 2015, there were 91 supertall and 2 mega tall buildings fully completed and occupied globally.
What is a skyscraper then?
For buildings above a height of 300 m (984 ft), the term "supertall" can be used, while skyscrapers reaching beyond 600 m (1,969 ft) are classified as "mega tall"
A skyscraper is a tall, continuously habitable building of over 40 floors, mostly designed for office, commercial and residential uses.
What is a high-rise building?
A high rise building as defined by Emporis data community is – A building 35 meters or greater in height, which is divided at regular interval into occupiable levels.
9) High rise building – guidelines in india
National Building Code (NBC) defines a high-rise as "All buildings 15 m or above in height.
In 2012, the Brihan Mumbai Municipal Corporation (BMC) proposed that any building with a height of 30m (nine floors) be categorized as a high rise. This is an increase of 6m from the existing definition (24m or seven floors).
As per section 4.6 (a) of part 3 & 7.4.1 (a) of part IV of N.B.C. The road which abuts a High rise building to be constructed shall be more then 12-meter width. The road should be hard surfaced to carry a minimum weight of 18,000 Kgs, the maximum weight of a Fire Engine.
9) Historical development of multistoried buildings – An introduction
Human aspirations always has always been to create increasingly tall structures.
Pride seems to have been the principal motivation behind building structures like : Angkor Wat, Lighthouse of Alexandria, Yongning Temple, China, and many others.
Ego and competition still play a role in determining the height of buildings.
What was initially seen as an American urban phenomenon is seen in many small towns even in India.
10) Modern tall buildings evolution – (1885 – 2018)
11) History
12) Early skyscrapers
i) Ditherington Flax Mill (1796)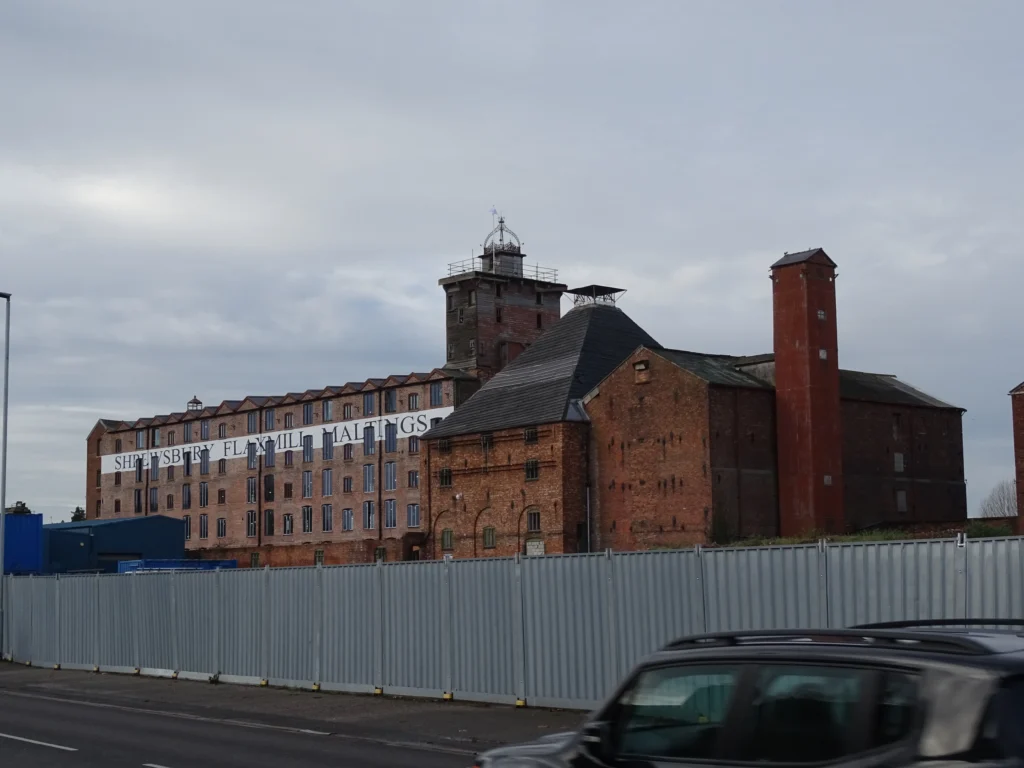 Located in England
Oldest iron framed building in the world
It is seen as the "grandfather of skyscrapers"
5 story tall building.
ii) Home Insurance Building (1884)
Location: Chicago, USA
First tall building to be supported, both inside and outside, by a fireproof metal frame
Height: 42m
iii) Flatiron Building (1902)
Located in New york
Considered to be a groundbreaking skyscraper
Steel-skeleton construction
22 stories (285 feet) tall
13) Evolution of Skyscrapers
In 1857 Elisha Otis introduced the safety elevator
Steel & RCC frame instead of stone or brick
14) What are the major innovations that initiated the idea of tall buildings
1855
Sir Henry Bessemer patents an affordable method of mass-producing steel: blowing oxygen through molten pig iron to remove impurities. The innovation changes architecture from the ground up.
1857
A tall building ceases to be a marvel when one takes the stairs. Elisha Otis makes the skyscrapers a realistic proposition by designing the first truly safe passenger elevator.
Challenges
Mobility (Elevator)
Materials (Steel & RCC frame, Curtain wall)
Heat (Air Conditioner, coated glass)
Speed of Construction (Prefabricated structure, kangaroo crane, jump forming)
Wind (inside frame to outside, extra skeleton, aero dynamic)
Earthquakes (flexible joints, taipe 101, polymer slurry)
Evacuation (fire resistant, refugee rooms, fire resistant duct for pumping fresh air)
15) The birthplace of skyscrapers
On 8 October 1871, a fire swept through the Chicago city along a four-mile corridor.
Three hundred people died, 100,000 were made homeless and 17,500 buildings were destroyed. A third of the city's wealth was reduced to cinders.
BUT
Chicago rip-roared back to life.
The city centre was laid out on a new grid. New forms of fireproof construction went with the latest building materials and components – these are cast iron and elevators.
16) Milestones in skyscrapers
1885
At 10 stories high – Chicago's Home Insurance Building is not the tallest structure in the town. But, it is the first to use structural steel in its frame and to be called a Skyscraper.
1891
60 Mtrs high – Monadnock Building used 6 ft unreinforced masonry walls.
1895
61.60 Mtrs high – Reliance Building used structural steel and introduced first curtain wall system. The skin could now be built after the frame is erected.
1903
A Cincinnati Reporter stays up whole night waiting for the 15 story Ingalls Building – the first RCC skyscraper to collapse. The building is still standing – the Reporter isn't.
1931
NYC reaches for the stars with the Empire State Building, completed in 410 days. The Art Deco marvel is the first to exceed 100 floors; it's the tallest until 1972.
A few Statistics: 57480 tons of steel, 47400 cum of concrete, 10 million bricks, 6400 windows and 67 elevators were installed.
1972
The 110 storey of the North Tower of World Trade Centre outgrows the Empire State Building. A Year later, the South Tower becomes World's second tallest building.
1973
Chicago's on cloud nine when the Sears Tower becomes the world's tallest building, at 1451 feet. In 2009 the structure is renamed Willis Tower and adds retractable all-glass balconies.
---
Hardy Cross, one of the greatest structural engineers of all time, published a 10-page paper titled: "Analysis of Continuous Frames by Distribution in Indeterminate Structures in 1930.
In Lake Shore Drive Projects (1951 & 1956) in Chicago – Skidmore & Merrill LLP (SOM) developed building designs that used structural steel to create long, column-free spans allowing for flexible open office spaces.
17) Modern Skyscrapers
Built with steel or reinforced concrete frameworks and curtain walls of glass or polished stone
Mechanical equipment such as water pumps and elevators.
1930 onwards, skyscrapers began to appear around the world
Geo-technical engineering led by engineers like as Clyde Baker, provided feasible foundation solutions in moderate to poor soil conditions.
One of the most important contributions was SOM's late partner Dr. Fazlur Khan's development of economical structural systems for tall buildings. His designs were closely linked with architecture and became the architecture in some cases.
1998
The 1483-foot Petronas Twin Towers, in Kuala Lumpur, Malaysia, become the world's tallest buildings. The towers connect via a sky bridge that retracts during high winds.
2004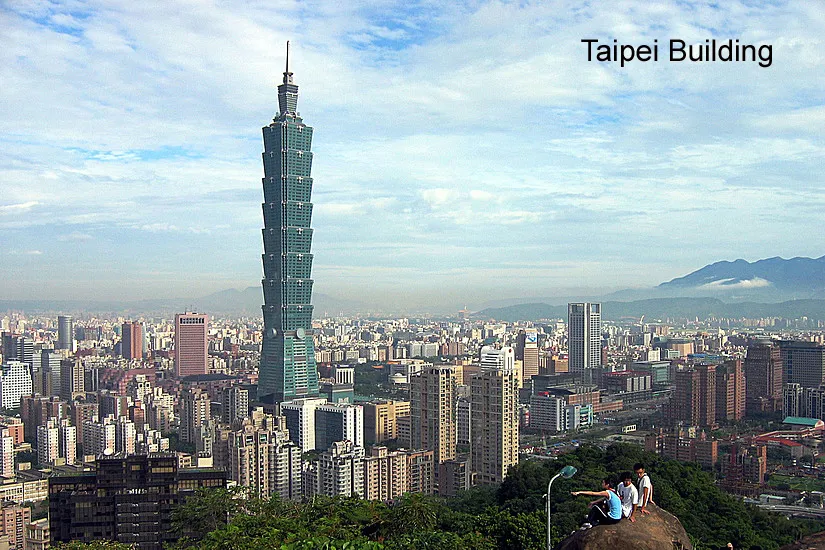 Taiwan erects the 1670 ft tall Taipei 101, the tallest sustainable skyscraper. It has the biggest sundial, the largest countdown clock, the fastest ascending elevators (37.7 mph)
2010
Dubai's 2722-foot colossus, the Burj Khalifa, surpasses Taipei 101.
Burj Khalifa was designed to be the centerpiece of a large-scale, mixed-use development that would include 30,000 homes, nine hotels (including The Address Downtown Dubai), 3 hectares (7.4 acres) of parkland, at least 19 residential towers, the Dubai Mall, and the 12-hectare (30-acre) man-made Burj Khalifa Lake.
18) What would be the certain features of modern skyscraper
One common feature of skyscrapers is having a steel framework that supports curtain walls.
These curtain walls either bear on the framework below or are suspended from the framework above, rather than load-bearing walls of conventional construction.
Modern skyscrapers' walls are not load-bearing, and most skyscrapers are characterized by large surface areas of windows made possible by the concept of steel frame and curtain walls.
Modern skyscrapers often have a tubular structure and are designed to act like a hollow cylinder to resist lateral loads (wind, seismic, etc.).
19) Indian timeline
India has developed so many tall structures and high-rise buildings such as Qutb Minar, Rajabai Clock Tower, Brihadeeswarar Temple and Fateh Burj.
Currently the Imperial Tower of Mumbai is the tallest completed buildings in the country and World One, a supertall residential skyscraper under construction in Mumbai will be the world's tallest residential tower
Brihadeeswarar Temple, 65.9 metres – 1368
Brihadeeswarar Temple of Thanjavur also known as Raja Rajeswara Temple and one of the largest temples in India. The temple is part of the Great Living Chola Temples along with Gangaikonda Cholapuram and Airavatesvara temple
Taj Mahal, 73 metres – 1878
The most beautiful white marble mausoleum is a UNESCO world heritage site and also the masterpieces of the world's heritage. Taj Mahal is the jewel of Muslim art in India and one of the New 7 Wonders of the World.
Rajabai Clock Tower, 85 metres – 1970
Rajabai Clock Tower in the fort campus of the University of Mumbai is the tallest clock tower in India. The tower was the tallest structure in the city of Mumbai and stands at a height of 85 m
World Trade Center, 156 metres – 2008
World Trade Centre of Mumbai was the tallest building in India until the 2009. The two towers of World Trade Center are destination for all the trades at international level in south of Mumbai.
Planet Godrej, 181 metres – 2009
Planet Godrej is a residential tower located in South Mumbai. The Planet Godrej Tower is 181 m high high building and one of the tallest towers in India.
Imperial Tower 254 metres – 2016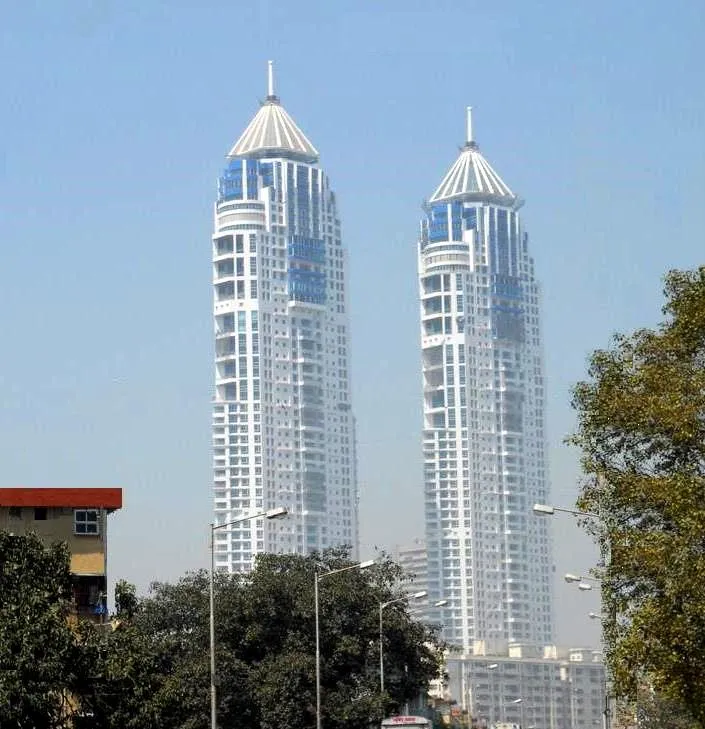 The Imperial Tower of Mumbai is a twin tower residential skyscraper and also the tallest buildings in India. Twin tower of Imperial are located in Tardeo of South Mumbai and the under construction Imperial 3 tower would be one of India's first supertall skyscrapers.
World One, 442 metres – 2018
World One is the tallest under construction building in India,located in Lower Parel of South Mumbai. This supertall residential skyscraper is expected to be completed in 2018 and after completion, World One will be the second tallest residential tower in the world.
New Secretariat Building
The construction of the fourteen-story New Secretariat Building at Calcutta marked the beginning of high-raise construction in India.
Following Independence, new areas of administrative activity generated an enormous demand for office space. The programme for the New Secretariat called for maximizing floor space on a one-acre corner plot a kilometre away from the old Secretariat.
In the absence of height and F.A.R. restrictions, the only constraint was the soil condition and high water-table, which hurled out the possibility of a basement for service-areas.
Calcutta's New Secretariat Building remained the tallest modern building for a decade, a showpiece for the Government of West Bengal.
Chatterjee, Malay. "I. 1947 – 1959: Options after Independence, the Evolution of Contemporary Indian Architecture." In Architecture In India, Paris and Milan: Electa Moniteur, 1985.
---
Today, tall buildings are an integral part of many urban skylines and are seen as symbols of technological and economic progress. However, the construction of tall buildings also presents numerous challenges, including structural, safety, and environmental concerns. As a result, architects and engineers must continue to innovate and improve building techniques to ensure that tall buildings are safe, sustainable, and functional.
---
Related video