If you want to know about the introduction of vastu or vastu evaluation for house and flat or vastu for plot selection, please click the link.
---
Vastu Shastra is an ancient Indian science of architecture and design that involves creating harmonious buildings and spaces to promote positive energy, prosperity, and well-being.
Here are some tips for a Vastu-compliant shop:
A known and famous shop is identified by its name & good which can be earned by proper construction of shop/showroom.
A Vastu complaint shop is constructed with proper orientation, directional method and keeping in mind to design quintessentially for the placement of things like cash counter, placement of shop material.
Today a greater number of people is running after Vastu guidance to make their shop according to Vastu norms which is believed to bring success and overall peace and economic growth.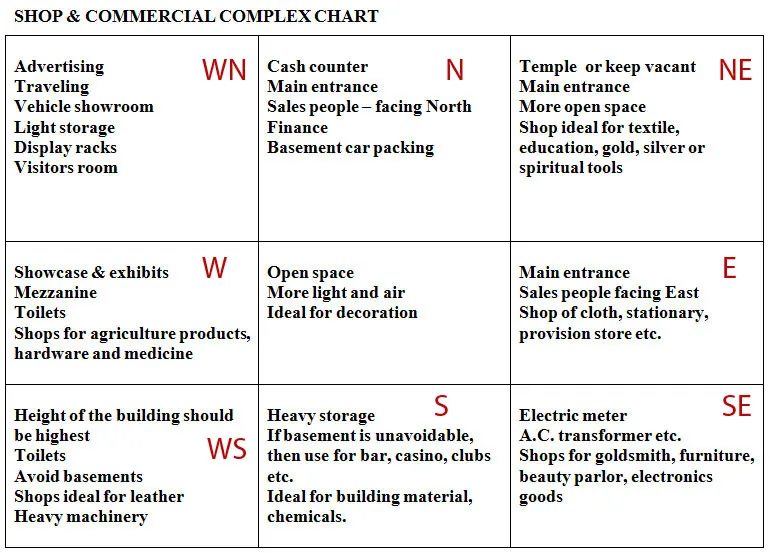 1) Important Points
If there are roads in the East and North and if the entrance of the shop is in the North or East a lot of prosperity will be got.
The shops with entrances in the South-East or North-West will give good business for 10 to 20 years. Then the business slowly decreases. (This is the observation of 70% of such shops. 30% shops are exceptions.)
The racks of showcases should be in the South and West of the shop.
The counters should be in the South, South-East, South-West, West or North-West. But it should never be in the North or Northeast.
Maximum furniture should be made of wood.
While sitting the customer should face the West or South and the owner or Salesman should face the East or North.
Drinking water should be in the Northeast.
The electric meter and the main switch board should be in the South-East.
The owner or the Salesman or the accountant's seat should not be under a beam.
The cash counter in the Shop should be along the south wall and should open towards the North or it should be along the West wall and should open towards the East.
The goods to be sold immediately should be kept along the North in the North-West corner.
The counters in a shop should be at right angles (90 Degree) and should not be rounded off.
Stationary, and Study books will be sold easily along the East in the Book shop.
Shops facing the North-road will transact good business.
It's important to note that while many people believe in the principles of Vastu Shastra and find them useful in guiding the design and layout of their spaces, the science is not supported by scientific evidence.
The most important factor in creating a successful and prosperous shop is to provide excellent customer service, offer high-quality products, and maintain a clean and attractive environment.
---
Related video